Dun & Bradstreet (NYSE:DNB) is a great company that despite being in the mature credit & commercial information market, generates huge cash flows. Add to that its recent growth initiatives and its massive share buyback program, and you have a stock with the potential for a 50% increase in value for the next two years.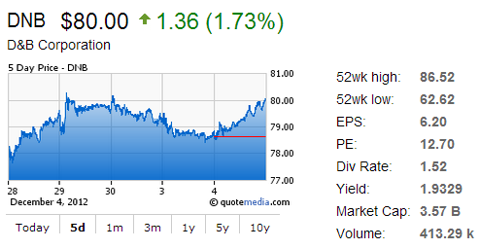 A Few Words About The Company
Dun & Bradstreet has a long history dating back to 1841. In the '90s it was an information services giant that provided:
Debt ratings through Moody's Investor Service
Marketing and commercial credit information through Dun & Bradstreet Information Services
Marketing information to the pharmaceutical and healthcare industries through IMS International
Marketing information for consumer packaged goods companies through AC Nielsen
Audience measurement for electronic media companies through Nielsen Media Research, a subsidiary of AC Nielsen
Advisory services to high-technology companies through the Gartner Group
Yellow pages marketing and information through R.H. Donelley
After a major break up in 1996 and the Moody's spin off in 2000, Dun & Bradstreet took the form it has now. A $3.5 billion company that provides credit and commercial information to its clients, who mainly use them for their risk management, marketing and sales functions.
The main source of income for D&B is its Risk Management solutions. Through this web-based service, businesses are able to assess the financial credibility of their counterparts and make well-informed decisions when to give credit and when to demand cash. The second major source of income is its Sales & Marketing solutions. This service provides businesses with info about potential business customers and contacts. This way their marketing efforts are more focused and more effective.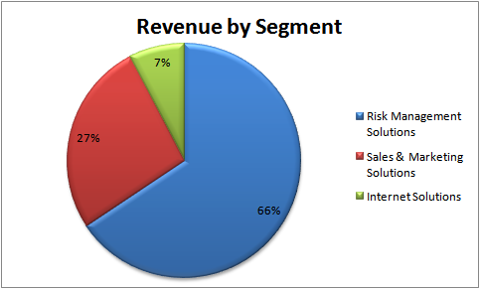 (Data from Dun & Bradstreet's corporate website.)
Most of the company's revenue comes from North America, and this hasn't changed much in the last few years. However, Dun & Bradstreet has initiated a new B2B portal that has the potential to leverage its vast knowledge of U.S. businesses into revenue from the Asia-Pacific area. More on that later.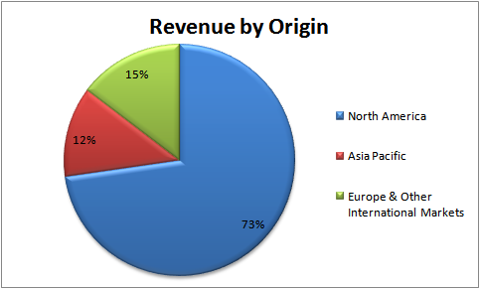 (Data from Dun & Bradstreet's corporate website.)
Dun & Bradstreet has been able to grow in its already mature market and practically dodge the "Great Recession" bullet because of one fact: It owns a unique asset that other companies want so much that they feel compelled to pay for access to it. This asset is D&B's vast (with more than 205 million business records) and high-quality database of credit and commercial data about the corporate world.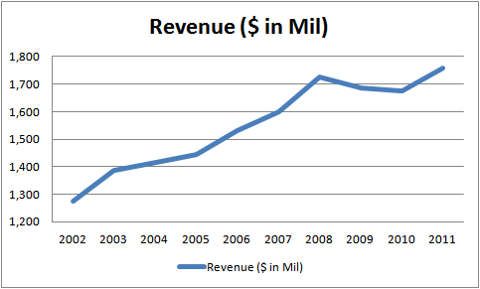 (Data from Morningstar)
Growth Potential
There are 3 main sources of growth for D&B as we move forward:
The Data-as-a-Service solution, which enables customers to use D&B's data seamlessly through their CRM platform. D&B is currently partnered with Salesforce.com (NYSE:CRM), Microsoft (NASDAQ:MSFT) and Oracle (NASDAQ:ORCL). This is a high growth solution, and I expect it to be the most important driver of growth in the next few years
Innovative uses of its data for areas such as compliance, fraud detection, customer prospecting, etc. This was enabled by the new data platform D&B built, the MaxCV. This platform will lower the cost, time and effort needed for D&B to assimilate new data and provide new ways of utilizing its database to create new products in areas it has never serviced before.
D&B has created a B2B trade portal that will simplify the way U.S. and Chinese importers and exporters find and connect with each other. This has the potential of being a whole new market for D&B. But however favorably customers react to this, it is still making its baby steps and it will take some time before it starts contributing to D&B's top line.
From the Q3 earnings call transcript (emphasis mine):
Sara Mathew - Chairman and Chief Executive Officer:

"... During the quarter coming up, there will be 3 areas of investment: first, Data-as-a-Service or DaaS solution; second, foundational data and advanced analytics for large companies; and third, the B2B portal, which is currently in test.

I'll touch on each of these beginning with DaaS. As we've shared previously, DaaS represents a very large opportunity for D&B, and we are still early in developing the market. DaaS allows D&B to expand its footprint, as customers can easily embed D&B data directly into their workflow. Earlier this year, Salesforce.com began selling D&B data on their CRM platform. [...] Next stop is Microsoft value-added reseller network to sell D&B360 directly to Microsoft's CRM customers. Demand for D&B data embedded in customer workflow remains high, and we continue to expect DaaS to be a major growth driver in the years ahead.

A secondary area of focus includes foundational investments in new data sources and innovative approaches in the way we analyze commercial activity. We call this big insight, as we are leveraging the big data within D&B and our customer base to create a step change in the level of insight we bring to market. We are early in the development of these capabilities and see opportunities in the areas of customer prospecting, fraud, supply chain transparency and global compliance. Here's one example. We're now in market with a new compliance solution. [..] we signed our first multimillion dollar deal with a Fortune 50 company in the third quarter. This solution is foundational to the global compliance program to effectively manage risk across their enterprise. [..]

A final area of investment is in our new online trade portal, which is currently in test in China. The B2B portal is an excellent example of the kind of innovation you can expect from D&B in the years ahead. [...] it allows Chinese suppliers to find and connect to U.S. buyers who are interested in the products they sell. Now existing players in the space typically offer online directory where suppliers can list and advertise their products, but there is limited insight to help them find the most relevant buyer. Early reaction from customers have been very favorable, and we are trending ahead of expectations after the first few weeks in market. We will closely watch customer adoption patterns in the fourth quarter before investing to accelerate growth.

[...]So I'll close with a discussion on MaxCV, we are on track to be up and running with the new data supply chain in one market by year end. The build was completed in August, and all of the components have been finished during the third quarter. In the fourth quarter, we expect to complete the user acceptance testing, so we can migrate our products and customers over to the new infrastructure. ..."
All these initiatives for growth are made possible in a large part due to the company's decision in 2010 to make a one-time strategic technology investment and upgrade its data platform and data supply chain. You can find the 2011 and 2012 progress reports about that here and here.
Financial Strength
Dun & Bradstreet is in a strong financial position. It has $3 of cash per share on hand, and its total amount of debt is $23 per share. This is just below 4 times its projected free cash flow for 2012, and 2012 EBIT is expected to be more than 10 times its debt interest. This means that D&B could double its debt and still have a healthy balance sheet.
Moreover, D&B is a robust cash generator, and, as we can derive from the following chart, its $1.52 dividend is extremely well-funded. It's just 1/3 of D&B's free cash flow, leaving enough room for a potential increase of up to 300%. That is, of course, if management chooses to alter the way they give back to shareholders, and replace share buybacks with more cash distribution.
(click to enlarge)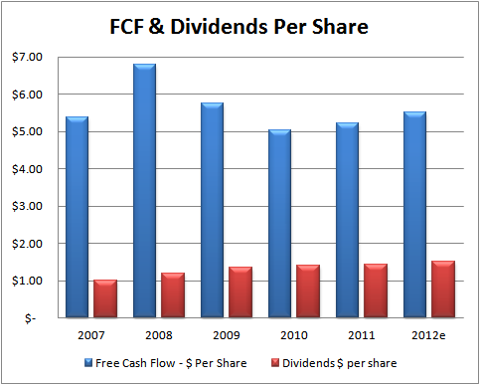 (Data from Morningstar)
Note for the above "FCF & Dividends Per Share" chart: The 2012 FCF estimate is my own and is below the company's guidance for $6.15 - $6.82 per share. I'm using shares outstanding as of Q3, 2012 - 44.7 million.
Share Buybacks, Past and Future
Dun & Bradstreet, after its final break up in 2000, has been highly focused on creating and returning value to shareholders. That is why every single year it invests a big part of its cash flow in buying back shares. And although this may seem meaningless to traders, or others that hold the stock for a few days or weeks, it is of great importance to those who held their shares all those years. If you have bought a 1% stake in this company at the end of 2000 and held it until now, it would have almost doubled to 1.84% of the company and in absolute terms it would have tripled from $21 million to $66 million. A wonderful reward for staying shareholders, don't you think?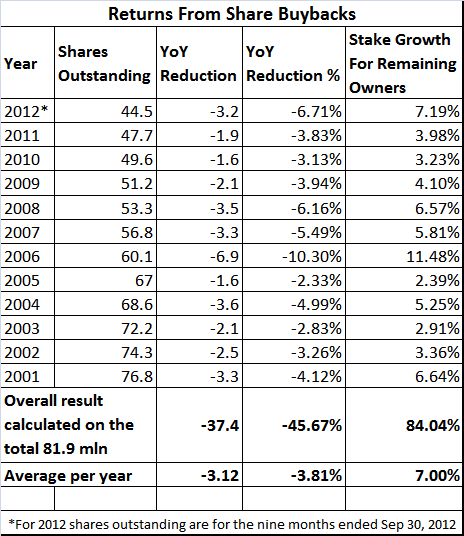 (Data From Dun & Bradstreet's 10-K SEC Filings.)
But you may probably think:
"I don't care what happened, that's history. I want to know what's going to happen in the future. What do I have to gain going forward?"
That's precisely the point I want to make. What happened is very much likely to continue to happen for a long time ahead, for three main reasons:
Management intends to continue buying back shares at an even greater pace than in the past. Continue reading to find out how committed the management is to this.
Dun & Bradstreet proved the resilience of its business during the "Great Recession" as we saw above. Its "moat" and the nature of the data it provides shelter it from adversity.
Its revenue is bound to increase over time due to its international expansion, its in-house innovation and its raising prices.
So unless it becomes an acquisition target, Dun & Bradstreet will most likely continue to offer exceptional returns for a long time to its shareholders.
Let's see what the future holds for D&B's investors. In August 2012, along with the Q2 earnings, it was announced that the Board of Directors doubled the company's discretionary share repurchase program intending to buy back 25% of the company until 2014.
From the Q2 earnings call transcript (emphasis mine):
Sara Mathew - Chairman and Chief Executive Officer

"... Yesterday, we announced that our Board of Directors doubled the size of our discretionary share repurchase program from $500 million to $1 billion, the largest in our history. Since we have already repurchased $230 million of the original authorization through the second quarter of 2012, that leaves $770 million available. At the current prices, this would represent roughly 25% of our market cap. And it is our intent to complete this program over the next 2 years. ..."
You can find the relevant press release here.
And they mean what they said, as you can see reading below.
From the Q3 earnings call transcript:
Richard H. Veldran - Chief Financial Officer and Senior Vice President

"... Thus far, during this year, we bought 236 million shares, which is well above the level we said we'd do going in. And you can be sure that we will finish our full authorization for the remaining 730 million over the next couple of years. ..."
What this means to you if you are a shareholder (or a potential one) is that depending on the average execution price, your stake in company will grow in the following two years 20% or more just from this action alone. Even if the company stays completely stagnant and even stops paying a dividend, you will still grow 20% to 30%. Amazing, isn't it?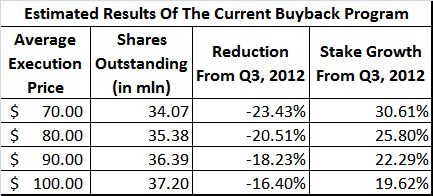 (Data From Dun & Bradstreet's 10-K SEC Filings.)
Price and Value
All these are great, but to reap those rewards, we have to figure out what's the limit so that we don't overpay to get in, and at what price would be better for us to just sell and move along.
Dun & Bradstreet is expected to have earnings of $6.60 per share for 2012 and $7.08 for 2013. Given the growth initiatives we mentioned and the fact that the 10-year average revenue growth is 3%, I believe that the current P/E multiple of 13 is a fair one to pay for the stock. This gives us a maximum price to pay of $86 ($6.60 X 13).
This gives us a value range of $103 to $111 for 2014 due to the share buyback program. Factor in a 3% annual revenue growth plus a 3% margin increase (due to fact that the one-time strategic technology investment is done and margin will return to 2009 levels) and our value range goes up a little to $113 - $122.
From current levels ($80) this is a potential 41% to 52% increase in value over the next two years.
You should keep in mind that the above valuation is made for the next two years. I believe that if you stay longer with the company, you'll be able to enjoy far greater returns, similar to those made in the last decade.
Disclosure: I have no positions in any stocks mentioned, but may initiate a long position in DNB over the next 72 hours. I wrote this article myself, and it expresses my own opinions. I am not receiving compensation for it (other than from Seeking Alpha). I have no business relationship with any company whose stock is mentioned in this article.