I was really surprised to see how many options were traded on Apple (NASDAQ:AAPL) on Wednesday when the stock fell more than 6%, and according to Bespoke, the largest drop since 2008.
A total of 1.3 million contracts traded hands - with each contract represents the right to buy or sell 100 shares of the stock.
But what was really surprising was that 46% of this volume was in options expiring December 7 - this Friday. Here's how the volume broke down by expiration: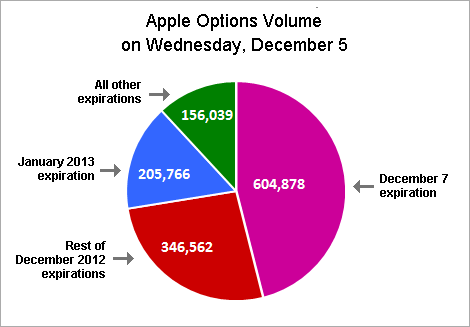 As you can see, about 72% of the volume was in options that expire this month. All other expirations - the 2013 options and the LEAPS that expire in 2014 and 2015 - accounted for only 28% of the total. You'll see crazy volume like this near earnings events, but that's a lot of options that were traded on contracts that expire in less than 30 days.
Plus, it's a lot of volume considering that open interest as of the beginning of Wednesday morning showed that less than 5% of it was held in those options that expire on December 7.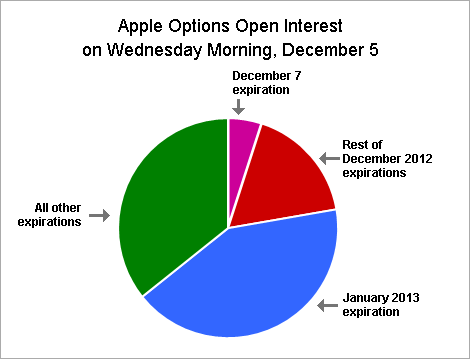 The total open interest in all Apple options was about 4 million contracts.
But get used to higher option volume in Apple. The volume in these contracts has been increasing over the past several months. Here's a chart that shows total option volume in AAPL since early 2011.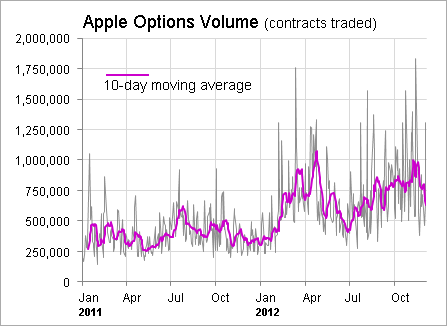 The volume itself spikes up and down a lot, but back in 2011, a day with half a million options traded, while not unusual, was relatively high. But now a half-million contract day would be considered rather low.
My take is that with the popularity of weekly options - and the addition of "shorties" - this trend is likely to continue. It's not necessarily good or bad, but something to keep in mind in understanding how volatile the stock may trade on a day-to-day basis.
Disclosure: I am long AAPL. I wrote this article myself, and it expresses my own opinions. I am not receiving compensation for it (other than from Seeking Alpha). I have no business relationship with any company whose stock is mentioned in this article.