| | | | |
| --- | --- | --- | --- |
| Name: | Pepsico | Nature of Commentary: | Thematic |
| Symbol: | PEP | Immediate Importance: | Very Low |
| Date: | 12/5/12 | Long-Term Importance: | High |
IN A NUTSHELL
As a consequence of the Affordable Care law ("Obamacare"), PEP is likely to become a target within the United States by advocacy groups, legislatures, and government agencies due to its high market share in production of sugary fatty and salty soft drinks and processed foods, which those groups will argue are central to the US obesity problem, particularly in children, and the attributable costs to taxpayers for the associated disease, healthcare costs and loss of productivity. The costs of fighting those attacks, the inevitable chipping away at their promotions and products, will likely take a toll on the revenue and profits growth potential for PEP, and other companies producing sugary, fatty or salty products, within the United States, with possible similar developments in Europe.
RELATED BUSINESS DESCRIPTION
PepsiCo, Inc. is a global food and beverage company. It manufactures, markets and sells a range of salty, convenient, sweet and grain-based snacks, carbonated and non-carbonated beverages, dairy products and other foods.
Figure 1: Product Lines as Percent of Product Revenue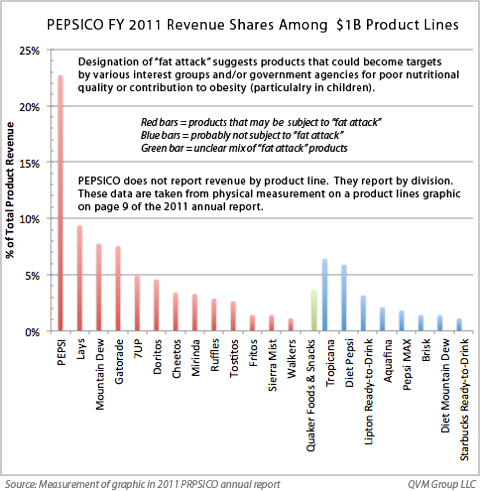 WHY FOCUS ON PEPSICO?
There are many companies that produce sugary drinks and salty, fatty foods; so why focus on Pepsico?
First, PEP is one of our dividend income holdings, so we care a lot more about what may happen to PEP than to some other stock that we don't own. It is also a holding for many of our dividend income oriented readers, so we think they would be more interested in a dividend stalwart like PEP, than a less widely held, and non-dividend stock.
Second, PEP has been a clear target in the past by advocacy groups, and some legislators, agencies and journalists (some examples provided below). While some other companies might have equally or more unhealthy product lines, they have not garnered the same level of attention as PEP over the obesity issue. PEP is in the #1 United States market share position in both sugary drinks and salty, fatty snack foods (discussed below). They have a big target on their backs, and bringing down the big guy first would be the goal of activists, legislators and journalists, who have their own reputations to build.
Third, among major companies in the drinks or processed foods business that are likely to be in the first line of attack, they have less ability to successfully adjust almost half of their revenue source than some others. PEP generates half of their revenue from salty, fatty snacks, which we believe wouldn't sell well if they were not in fact salty and fatty. Some other major dividend companies in the sugary drinks or salty, fatty food business (such as McDonald's (NYSE:MCD) discussed below), can make product adjustments with much less adverse revenue effect than PEP trying to develop and sell healthy Frito-Lay chips.
INVESTMENT PERFORMANCE
PEP has been a very good investment since 2008, has offered an attractive yield. Valuation multiples have declined, and price performance has exceeded that of the S&P 500.
Figure 2: Long-Term Revenue and Cash Flow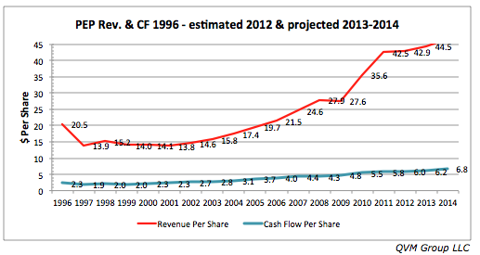 Figure 3: Long-Term Valuation Metrics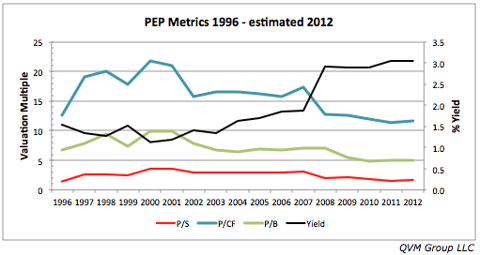 Figure 4: Long-Term Price Performance versus S&P 500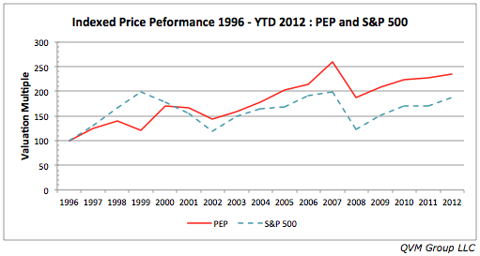 BUSINESS SEGMENTS
PEP revenue is about 1/2 foods and 1/2 drinks
Figure 5: Food and Beverage Revenue Segments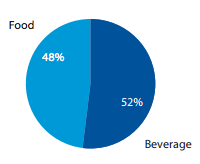 PEP revenue is about 1/2 US and 1/2 non-US
Figure 6: Geographic Revenue Segments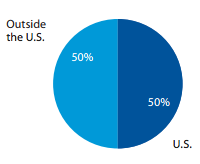 PEP revenue is about 1/2 sugary, fatty , salty and about 1/2 "healthy"
Figure 7: PEP Revenue Segments By Health Categories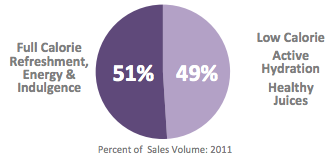 In the US, PEP has the largest drinks market share.
Figure 8: PEP Domestic Drinks Competitors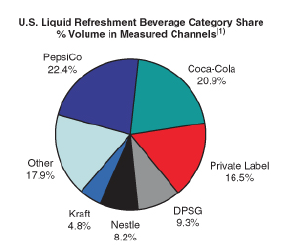 In the US, PEP has the largest fatty, salty processed foods ("savory snacks") market share.
Figure 9: PEP Domestic Savory Snacks Market Share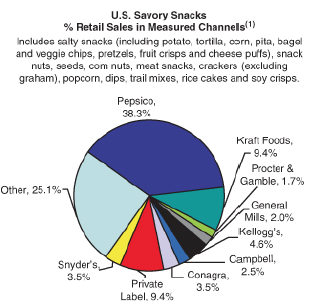 DISCUSSION
PEP has been an excellent investment performer, continues to be one today, and is one of our dividend income holdings. It is also the largest market share target in the US for those stalking sugary drinks and salty, fatty foods companies in the fight against obesity.
It is prudent to maintain an awareness of developments on the social, cultural, legal and regulatory front concerning outcomes that may be accelerated or accentuated as a result of the sweeping government powers granted by the Supreme Court with respect to healthcare. As the argument goes, if the government can make you buy health insurance, and if the government budget is impacted by healthcare, then the government may control other aspects of your choices and behavior that help control the cost of healthcare. Obesity is a health condition that has high negative impact on government budgets for healthcare.
The personal responsibility argument is not likely to hold up long-term in a nanny-state culture that is evolving in the United States.
Schools already bar soft drinks. New York City has made large soft drinks illegal in certain circumstances. Just imagine where US Health and Human Services might intend to go.
There has been no shortage of attempts by advocacy groups and some legislators and agencies to place restrictions on companies such as Pepsico with regard to the health impact of their products. Those attempts have failed until now, but the breadth and depth of powers granted to the federal government under Obamacare, opens new doors and provides new tools to launch attacks on fat at the product level.
PEP is hardly alone in terms of this risk, but their product mix may have less room for adjustment and adaptation than some others. Their snack foods product lines may be harder to modify to healthy status than their drinks product lines. Chips that are not fatty and salty, just may not sell. PEP can work to reduce sugar in its drinks, (and as they are in Japan, even adding substances that they claim reduce fat absorption from other foods).
Cocoa Cola (NYSE:KO), for example, does not have the high reliance on fatty salty foods. As does PEP, they invest in collateral drinks lines that don't carry the soft drinks stigma. McDonald's and YUM! Brands (NYSE:YUM) can add and have been adding healthy menu items to their meal choices. General Mills (NYSE:GIS) and Kellogg (NYSE:K) can create new or modified cereal lines with less sugar and more fiber to fight fat. Hershey (NYSE:HSY) and Nestle (OTCPK:NSRGY) has and can find ways to produce chocolate with reduced sugar or sugar substitutes.
BUT, how to make potato chips and corn chips healthy and appealing at the same time is a larger challenge.
SAMPLE ARTICLES ABOUT THE FAT ATTACK SO FAR
Good News Indra Nooyi Solves The Obesity Crisis

Nooyi declared: "If all consumers exercised, did what they had to do, the problem of obesity wouldn't exist."

Obesity, which costs the nation $150 billion a year in direct medical costs …studies have shown that food is a much more important component of weight gain than exercise. …What's changed is food. There's way more of it available everywhere and we eat a lot more than we used to, 23% more calories a day in 2008 than in 1970… Even if you just want to counter the effects of the 50 gallons of sweetened beverage the average American consumers in a year - many of them sold by Pepsi - you'd have to run 800 miles a year, or approximately 2 miles every day
Special Report: How Washington went soft on childhood obesity

In the political arena, one side is winning the war on child obesity. … The side with the fattest wallets.

… during the past two years, each of the 24 states and five cities that considered "soda taxes" to discourage consumption of sugary drinks has seen the efforts dropped or defeated. … despite mounting scientific evidence of the role of unhealthy food and children's marketing in obesity. …

… The political battles over what children eat and drink are crucial to the nation's health, experts say, because the tripling in childhood obesity in the last three decades foretells diabetes, heart disease and other illness in decades to come. America is one of the fattest nations on earth, and the Institute of Medicine, in a 2006 report requested by Congress, said junk food marketing contributes to an epidemic of childhood obesity that continues to rise. …

… In a stark example of lobbying muscle, PepsiCo Inc, Coca-Cola Co, bottlers and the American Beverage Association spent more than $40 million lobbying in 2009 when Congress was considering a soda tax. That was more than eight times the $4.8 million they had spent the previous year, the analysis showed. After the proposal died, the groups cut spending to $24 million in 2010 and $10 million in 2011….

… The effort by the advocacy groups had little effect….

…"Food processing is not an evil thing," said Derek Yach, PepsiCo's senior vice president of global health and agricultural policy…

… Beverage companies showed their political clout in 2009 when they faced a proposed penny-an-ounce tax on sugary drinks in a Congress eager to raise money to pay for obesity-related health care costs. The soda tax died in committee.

Other plans to tax soda have fizzled from coast to coast in the past two years. Twenty-four states and five cities considered them, according to the beverage association. None passed except in Washington state, where legislators approved a 2-cent-a-can soda tax on the last day of the 2010 session. …

.. James H. Davidson … the point man for the advertising industry … says there is no proof that food marketing causes obesity, and without it, there is no legal basis for restricting the ads."The First Amendment protects this type of speech," he said….
Obesity to Cost Taxpayers 'Billions of Dollars': Weight Watchers CEO

Obesity has become not only a national health threat, but also a major public health challenge in the U.S. More than one-third of American adults and 17% of the nation's youth are obese, according to the Centers for Disease Control and Prevention. … A report on the CDC web site concluded that medical costs associated with obesity were estimated at $147 billion in 2008. Medical costs for obese people paid for by third parties were $1,429 higher than those of normal weight individuals.
Snacks for a Far Planet

"… the PepsiCo empire is built on shifting sands. Over the course of the past half century, during which PepsiCo's revenues have increased more than a hundredfold, a public-health crisis has been steadily growing along with it. People are getting fatter. In the nineteen-eighties, rates of obesity started to rise sharply in the U.S. and around the world. By the nineteen-nineties, obesity reached epidemic proportions. One study cited by federal health officials estimates that, in 2008, obesity cost the U.S. a hundred and forty-seven billion dollars in health-care charges and resulted in about three hundred thousand deaths.

Many studies point to the ubiquity of high-calorie, low-cost processed foods and drinks as one of the major drivers of this condition. Snacks, in particular, play a role in childhood obesity, which is growing even faster than obesity in adults. Americans consume about fifty gallons of soda a year, more than four times the average per-capita consumption sixty years ago. Americans also ingest about thirty-four hundred milligrams of sodium per day, twice the recommended amount; sodium has long been linked to high blood pressure. And the oils and fats used in some fried potato and corn chips elevate cholesterol and can cause heart disease. In other words, that great taste promised by PepsiCo's brands, which relies heavily on sugar, salt, and fat, appears to be making some people sick …
ARGUMENTS AGAINST THE FAT ATTACK THESIS
Three of the strongest arguments against the thesis that the investment opportunity could become compromised by government takeover of health care comes in the form of guns, tobacco and alcohol. They each have their very strong opponents, but each has maintained the ability to deliver good investment returns. We'll just have to see if sugar, salt and fat are seen as greater evils that bullets, cigarettes and booze. It could happen.
Disclosure: QVM has positions in PEP and MCD as of the creation date of this article (December 5, 2012). We certify that except as cited herein, this is our work product. We received no compensation or other inducement from any party to produce this article, but are compensated retroactively by Seeking Alpha based on readership of this specific article.
General Disclaimer: This article provides opinions and information, but does not contain recommendations or personal investment advice to any specific person for any particular purpose. Do your own research or obtain suitable personal advice. You are responsible for your own investment decisions. This article is presented subject to our full disclaimer found on the QVM site available here.