Sirius XM (NASDAQ:SIRI) made a splash in the pre-market today by unveiling not only a share buyback program but a special dividend as well. Just yesterday the company announced a $1.25 billion credit facility and I indicated that it was the first step to share buybacks or a dividend. I also stated that such an announcement could come at any time. As it turns out, the company did not wait long. Sirius XM announced a $2 billion share buyback program AND a special dividend of $0.05 per share this morning.
Sirius XM Radio announced that its Board of Directors has approved a $2 billion common stock repurchase program. Shares of common stock may be purchased from time to time on the open market and in privately negotiated transactions. Liberty Media Corporation, the beneficial owner of approximately 49.8% of the Company's stock, has indicated that it will participate in the Company's share repurchases on a pro rata basis so that its relative ownership interest will not be affected by the program. The Company will fund the repurchases through cash on hand, future cash flow from operations and borrowings under its revolving credit facility.

The Board of Directors also declared a special cash dividend in the amount of $0.05 per share of common stock, payable on December 28, 2012 to stockholders of record as of the close of business on December 18, 2012. The Company's preferred stock will participate in the dividend on an as-converted basis in accordance with its terms. The total amount of the cash dividend is expected to be approximately $325 million.
In response to the announcement Sirius XM is trading up in pre-market to $2.86. In addition, the company revealed that Liberty Media (NASDAQ:LMCA), the company that is close to gaining a controlling interest in Sirius XM would participate in both the share buyback as well as the special dividend. Liberty Media will sell some of its stake on a 1-1 basis with other common shares bought. This will mean that the Liberty Media ownership percentage, about 49.8%, will not increase due to the program. Liberty had previously indicated that it would sell back on a pro rata basis. Essentially this means that other shareholders will participate in about $1 billion worth of buybacks, and that Liberty Media would participate in the same.
Regarding the special dividend, Liberty stands to benefit in a big way. This actually serves to make the preferred shares work for Liberty Media, as the dividend applies to the preferred shares on an as converted basis.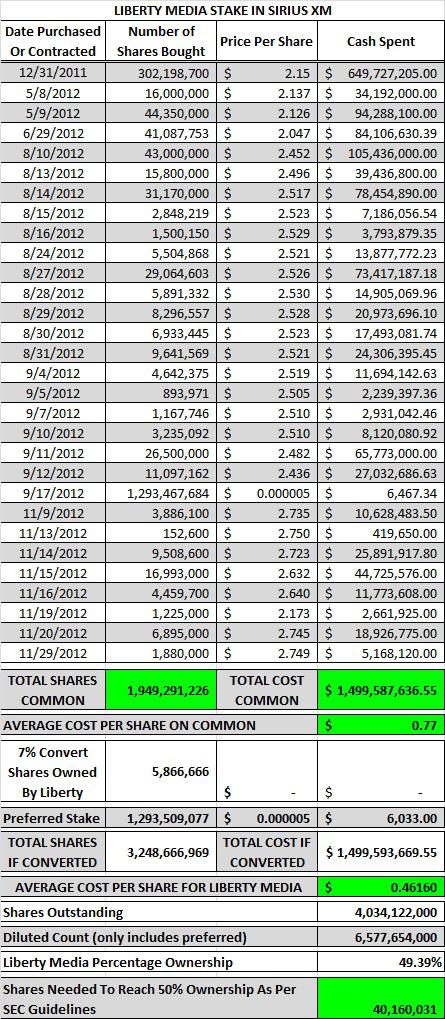 Liberty Media stands to get about $162.4 million in cash from the dividend. Combine this with the $1 billion in shares sold back at a future date, and Liberty will be well on its way to getting back the $1.5 billion invested into Sirius XM common stock. Getting back the $1.5 billion has been a stated goal of Liberty for quite some time.
For investors in Sirius XM this development is quite positive. With a share buyback program in place the company can "defend" the stock price by buying on dips. This allows the company to be a stop gap in a technical slide, and also serves as notice to the street that Sirius XM will be a player in the market regarding its own stock.
Even with this repurchase program the outstanding share count of Sirius XM will remain high, but this is the first step in what will be a process of share count reduction, and a positive one at that. Another factor that was brilliant was entering into a credit facility rather than a standard bond issuance. By having a facility in place, Sirius XM will only be paying interest on monies borrowed and not the entire $1.5 billion. This gives Sirius XM the maximum flexibility in being strategic with share buybacks.
The year 2013 is setting up to be an interesting and compelling year for Sirius XM. Stay Tuned!
Disclosure: I am long SIRI, LMCA. I wrote this article myself, and it expresses my own opinions. I am not receiving compensation for it (other than from Seeking Alpha). I have no business relationship with any company whose stock is mentioned in this article.