Shares of leading Internet radio service provider Pandora Media (NYSE:P) took a major slide on quarterly results, after the company provided a very negative outlook for its coming quarter as well as the full financial year. The management has revised its Q4 2013 and FY 2013 revenue and the EPS guidance to below expectation levels, blaming the fiscal cliff and the resultant cautious spending by advertisers.
However, I believe the company faces far more serious problems that are centered around its business model than the fiscal cliff alone. Despite the strong growth in listening hours and active users, the company's inability to make profits in the recent years due to its inability to monetize mobile, as well as manage its rapidly rising content acquisition costs, are causes for concern. Unless, it can resolve these problems, I continue to remain bearish on the company and suggest investors take a short position in Pandora.
Q3 overview
The company reported staggering third-quarter revenue growth of 60% over Q3 last year, with revenues reaching $120 million. Non- GAAP earnings per share was reported at 5 cents per share, which was also higher than what the company posted in the same quarter last year.
Below is a summary of how the actual results compare to the estimates:

The table above suggests that Pandora comfortably beat estimates for the third quarter. However, shares did not take a 17% hit after the earnings release due to the revenue and earnings growth it was able to produce in the third quarter -- rather, it was due to the weak guidance the company's management provided.
Pandora derives its revenues from two sources: advertising and subscription services, with the former generally accounting for 90% of its overall revenue base. Advertisement revenues have shown impressive growth over a number of years, largely due to the increase in the number of listening hours and users. In the third quarter, advertising revenues jumped 60% over the third quarter of the previous year. Similar growth was seen in subscription revenues that grew by 52% to reach $13.7 million.
Despite the strong growth in revenues in the quarter, it is very likely that the company will again post losses this year as it has not been able to manage its costs as well as it would have liked to. The company has identified RPM as a key business metric against which its monetization progress can be judged. RPM is basically the advertising revenue earned per ad-supported listening hours. The company releases both the PC ad RPM as well as mobile ad RPM. Management mentioned in the latest conference call that its trailing 12 months mobile RPM rose to $21.56. Even though this represents a 4% growth year over year, there is still a significant disparity between mobile and PC monetization, as trailing 12 months PC ad RPM were $55, down 15% year over year. This is particularly worrisome as mobile listening hours continue to grow and represented almost 80% of the total listening hours during the third quarter. These figures suggest the company's changing focus on mobile monetization. However, the troubling thing is that content acquisition costs remain the same across both mediums.
Rising Content Acquisition Costs
Probably the biggest issue the company is facing right now is the cost of the music it plays. As of now, Pandora pays 10 cents per song to record labels, which will gradually rise to 14 cents by 2015. The company is aggressively lobbying for a law that would slash these royalties; however, various recording artists have protested such efforts. Unless the proposed Internet Radio Fairness Act is implemented it is very unlikely that the company will turn its losses into profitability, even if it continues to grow its revenues at the current pace.
Another problem the company faces is that since 77% of its total listening hours come from people who are using mobile phones, smartphones, and other wireless products, any increase in listening hours would lead to a higher increase in its content costs without bringing similar growth in advertisement revenues, as advertisers pay less to reach smartphone users than they pay to reach users listening on desktops. Therefore, with the rising mobile listenership penetration at the company, the content costs would essentially increase without bringing in additional revenues. Pandora's content acquisition costs rose approximately 75% in Q3, while in the nine months ended October 2012 they grew by over 80% over the nine months of the previous year, outpacing the growth in revenues by a significant margin.
Click to enlarge images.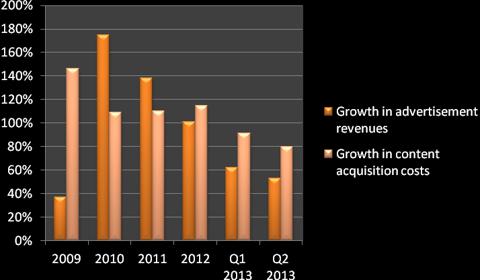 Click to enlarge
Negative Outlook
Company management provided a very weak outlook for the coming quarter as well as the full year.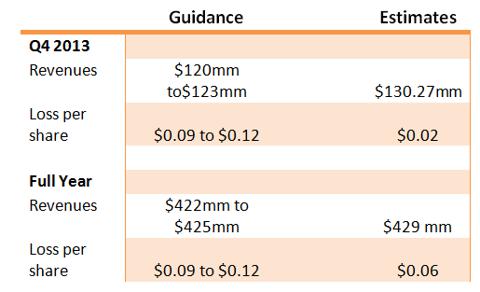 Click to enlarge
Conclusion
Pandora is trading at 780 times its forward earnings, significantly higher than Sirius XM Radio's (NASDAQ:SIRI) multiple of 28 times, which suggests the stock is still overvalued at these levels. In conclusion, even though the fiscal cliff may have had an adverse impact on the company due to cautious spending by advertisers, I believe Pandora needs to accelerate its mobile monetization growth as well as bring its content costs under control to become profitable. As such, I remain bearish on the stock based on its business model.
Disclosure: I have no positions in any stocks mentioned, and no plans to initiate any positions within the next 72 hours. I wrote this article myself, and it expresses my own opinions. I am not receiving compensation for it (other than from Seeking Alpha). I have no business relationship with any company whose stock is mentioned in this article.