BioLineRx (NASDAQ:BLRX) is an Israel-based biotech incubator which receives government funding support (i.e. Office of Chief Scientist, Israeli Trade Ministry) to identify and develop compounds at an early (preclinical) stage. The Company develops these compounds through early-stage, proof-of-concept Phase II clinical trials and then seeks to partner with larger pharmaceutical companies for late stage development and potential commercialization.
Below is a summary of the Company's clinical development pipeline and financials from the most recent corporate presentation in December 2012, which is relatively large and diversified for a Company trading at a market cap of only $50 million that includes no debt and approximately $26 million in cash.
The Company's lead product candidate is BL-1020 (GABA-enhanced dopamine antagonist anti-psychotic agent) which is being evaluated in a Phase IIb / III (CLARITY) Clinical Trial (ClinicalTrials.gov ID NCT01363349) in Romania and India with a planned interim analysis during Q1 2013 and final results expected H2 2013 (subject to outcome of interim analysis).
The CLARITY study is evaluating the safety and effectiveness (cognitive function) of BL-1020 at six weeks and six months compared to approved drug, RISPERDAL, and placebo with benefits of the drug in schizophrenia patients demonstrated in a previously completed Phase IIb (EAGLE) clinical trial.
In addition, the North American rights to BL-1020 were previously licensed to Cypress Bioscience in June 2010 in a deal that included $30 million upfront, milestone payments of $335 million and royalties of 12-18%. In May 2011, $BLRX regained all rights to BL-1020 as Cypress Bioscience was taken private by Royalty Pharma, which resulted in a strategic shift for the Company.
The Cypress Bioscience deal provides validation for the commercial potential of BL-1020 and $BLRX is due to pay a low royalty rate of 1% on net global sales of the drug if commercialized for up to $80 million in addition to paying 10% of future one-time payments (up to $10 million) to reimburse Cypress Biosciences for development costs incurred for BL-1020 prior to termination of the North American licensing deal.
Another late-stage clinical pipeline compound in development is BL-1040 (Bio-absorbable Cardiac Matrix or BCM) (IK-5001) (liquid polymer injected into coronary arteries), which is currently being evaluated in a Pivotal (PRESERVATION I) Clinical Trial to Support CE Mark Approval (ClinicalTrials.gov ID NCT01226563). The drug is licensed to privately-held Ikaria with results expected during H1 2014 with $265 million in remaining milestone payments along with a 11-15% royalty rate on global sales.
BL-7040 (orally available anti-inflammatory compound) is a mid-stage clinical pipeline compound being evaluated in a Phase IIA Clinical Trial (ClinicalTrials.gov ID NCT01506362) being conducted in Israel for patients with moderately active ulcerative colitis (a type of inflammatory bowel disease or IBD) with results expected during H1 2013.
Finally, the Company has a pair of compounds with pending Phase I / II clinical trials that are expected to begin during H1 2013 with data expected by year-end 2013.
BL-1020 is being developed as an oral treatment for patients with chronic hepatitis C virus (HCV) infection which will be evaluated as part of an oral, interferon-free regiment for HCV infection in a European trial. The Company has provided guidance for regulatory clearance to begin the trial by year-end and shares of BLRX spiked through 52-week highs earlier this year on news of licensing a pair of HCV drug candidates as illustrated on the one-year chart at the end of this article.
BL-8040 is a CXCR4 antagonist anti-cancer agent that will be evaluated as a treatment for acute myeloid leukemia (AML) and other blood-based (hematologic) cancers.
Below is a summary of the financial highlights for BLRX as of 9/30/12 and as reported in the most recent presentation:
- BLRX has approximately $26 million in cash with an annual cash burn rate of $15-18 million and adequate cash to fund operations into at least Q1 2014 (i.e. not accounting for additional cash inflows from potential partnerships, grant funding, etc.).
- BLRX reported 18 million shares of common stock outstanding with 21.2 million shares on a fully diluted basis that includes the exercise of outstanding stock options and warrants.
- BLRX reported a public ownership profile of 72% of shares (resulting in a low float of approximately 13 million shares) with major shareholders that include Teva Pharma (NYSE:TEVA) (7% stake), Pan Atlantic Investment Fund (13%) and Ayer Capital Partners (6%).
- In late September, BLRX announced a share purchase agreement with Lincoln Park Capital Fund for the sale of up to $15 million in stock over a 36-month period at the sole discretion of BLRX-providing financial flexibility to strategically raise capital in small amounts based on market conditions and clinical development requirements.
With a relatively large clinical development pipeline for a micro-cap biotech, strong balance sheet, low share count/float and multiple pending clinical trial catalysts; I own shares of BLRX for an expected run-up into at least the mid-upper $3s ahead of a key interim analysis during Q1 2013 for the ongoing Phase IIB/III trial for lead psychiatric drug BL-1020, which represents a potential source of revenue for the Company through a partnership agreement (e.g. the previous deal with Cypress Bioscience for North American rights to the drug included $30 million upfront which is equal to nearly $2/share).
Risks to BLRX include overall market sentiment (i.e. if fiscal cliff issues result in a risk-off trade small biotech stocks such as BLRX are likely to experience significant downside), a larger/unexpected dilution beyond the share purchase agreement outlined above, adverse/unexpected developments in ongoing clinical trials (i.e. safety issues or failing to demonstrate benefit) and the high degree of volatility in shares of BLRX (as illustrated on the one-year chart below) due to a low share price currently hovering around $3/share combined with a low number of shares outstanding.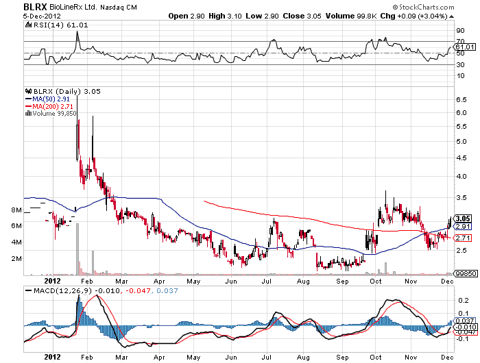 Disclosure: I am long BLRX. I wrote this article myself, and it expresses my own opinions. I am not receiving compensation for it (other than from Seeking Alpha). I have no business relationship with any company whose stock is mentioned in this article.