Existing U.S. index linked equity ETFs are nearing saturation given the many repetitive issues available. Some of these issues have even closed (i.e. Russell Investments, Focus Shares, IndexIQ and so forth) due to a lack of investor interest rendering these issues as a poor business model for issuers.
This has led sponsors to consider active ETFs as the next space for growth opportunities. An actively managed ETF is an ETF that is managed by a single or team of fund managers who select securities to be included in a fund based on the fund's investment strategy. Historically these have been offered through mutual funds but today, investors can utilize the same type of investment strategies and professional money management with all of the features that ETFs provide, like liquidity, transparency and tax efficiency.
Currently there is a growing list of roughly 43 active ETFs available in the marketplace. There is a backlog of issues pending at the SEC which may or may not be issued in the future. Mutual funds along with ETF index related sponsors have all filed for new products in the active sphere.
AdvisorShares has been the most prominent early entrant to the space launching 17 active ETFs and gathering close to $1 billion in AUM. Pimco has issued many others in both equity and fixed income sectors.
Some of these active ETFs will be compelling for investors. One active ETF I've had in my incubator lab is TTFS. TTFS is led by industry veteran Charles Biderman, founder of TrimTabs. It concentrates on a proven strategy for long term growth for investors with a 5 year time horizon.
Biderman formed Trim Tabs in 1990 specializing initially in providing short-selling ideas to clients. His methodology then was focused on money flow, where insiders and/or companies were buying or selling shares. This evolved into a more sophisticated methodology Trim Tabs refers to as a liquidity-focused "float shrink using free cash flow" approach. Based upon supply and demand, float shrink isolates companies with outstanding supply of shares that is decreasing while free cash flow increases. For investors and Trim Tabs, the focus is on decreasing share supply within a systematic method.
The key to this methodology is to ascertain which companies are reducing the supply of their outstanding shares through internally generated cash flow. The database consists of 3,000 publicly traded stocks that are screened to match the "float shrink" method. Then stocks are screened to look for companies where shares are being bought back by insiders and the company itself. Importantly, this must not include financing of these activities through debt. This would exclude many companies that are and have been taking advantage of low interest rates to sell debt then using the proceeds to buy back stock. For example Intel (NASDAQ:INTC) just announced a sale of $6 billion in notes with which they will buy back shares.
Biderman simplistically and bluntly states: "You want to invest with the house." In this case you should be on the same side of the activities of companies who believe their stock is undervalued and are buying more shares back net of any new share sales. Remember the primary source of executive compensation, more than from any other source, is determined by stock options, meaning there is an incentive for insiders and executives to drive share prices higher.
Therefore TTFS focuses only on those companies who are shrinking the float, that are generating free cash flow and are not issuing debt when viewed over the past 120 days. The list of available stocks is then narrowed to the top 100 which are equally weighted and included in the fund. Weightings could change when a company's share performance exceeds roughly 25%. All else being equal, if the same amount of money is chasing fewer shares, the share prices should increase over time.
Since the screening of shares includes a database of nearly 3,000 stocks, the company officially attempts to outperform the Russell 3000 Index. However, Biderman likes to compare and contrast this methodology to a dividend approach believing this is the most applicable comparison. As we know, due to many factors investors are chasing dividends and yield as never before. However, Biderman believes that over a longer term period capital gains from the float shrink approach will out-perform dividend models even for tax-exempt accounts. While tax policies may change it's quite likely over extended periods, long-term capital gains will generally remain more attractive than current dividends yielding less than 3% as is currently the case.
Biderman believes the best approach for investors is to dollar-cost average into the fund using perhaps a five-year investment horizon. This would then allow for share accumulation during inevitable market declines which should also be the best time to be buying shares insiders and companies are still buying.
This methodology should make sense for investors with the suggested time horizon. TTFS then should make a good core holding for any growth or value oriented portfolio over the long term.
TTFS was launched fortuitously in October 2011 and has outperformed the S&P with a gain of 33.57% vs 32% for the index and 2012 YTD performance 17.58% as of September 30th.
One source of confusion is that Charles Biderman is an outspoken blogger and has other private clients. Some advice and comments he makes may be different from how Trim Tabs pursues to implement TTFS's strategy. These can be different and geared to different time frames and opinion. But, the primary point is Trim Tabs remains systematic and disciplined regarding TTFS not letting emotion or other views to interrupt the basic "float-shrink" methodology.
Aside from general market risks another risk is the relative newness of the fund and low ($10 million) assets under management (AUM) which make it a still unprofitable business model for AdvisorShares and Trim Tabs. Most ETFs, including active ETFs have breakeven operating levels in excess of $20 million. Further, trading volume is ultra light and on some days may not even trade. Some investors may balk at both the low level of AUM and/or trading volume. Therefore, potential investors might choose not to be first but for those that are interested should be careful with placing orders.
First, investors should ascertain what the current NAV is by checking with the AdvisorShares website. Then, and allowing for some tracking errors, a "limit order" somewhat close to the NAV is strongly recommended. In other words, just placing market orders into a thin market can lead to a poor initial result.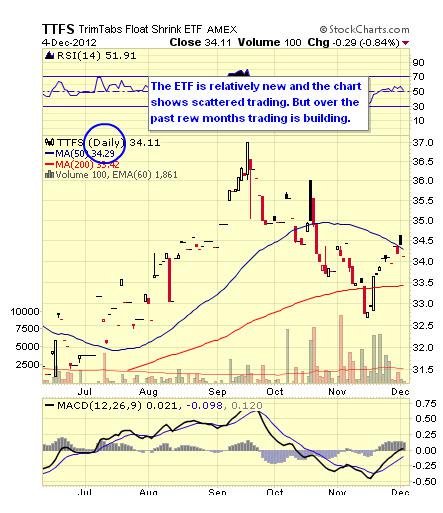 Disclosure: I have no positions in any stocks mentioned, and no plans to initiate any positions within the next 72 hours. I wrote this article myself, and it expresses my own opinions. I am not receiving compensation for it. I have no business relationship with any company whose stock is mentioned in this article.