Textainer Group Holdings (NYSE:TGH) is the world's largest lessor of intermodal containers based on fleet size. The company has an impressive streak of 11 straight quarters of higher dividends.
Competitors to Textainer include TAL International Group (TAL) and Seacube Container Leasing (NYSE:BOX-OLD). I prefer Textainer, due to its lower TTM PE and a higher return of equity than its competitors.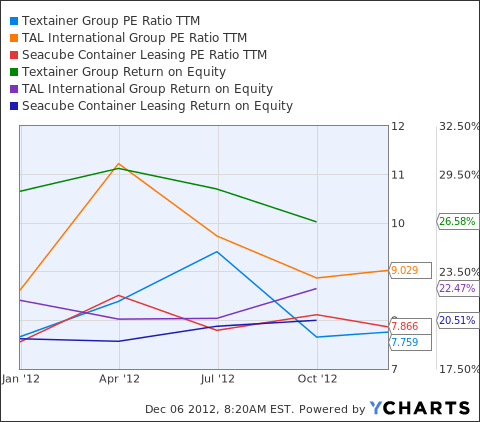 TGH PE Ratio TTM data by YCharts
Textainer's shares have been in a rut since mid September. On September 19 the company sold 8.625 million shares via a secondary, increasing its float by more than 15%. 2.5 million of these shares were sold by Halco Holdings, which owns about 53.5% (29.8 million) of the shares outstanding. Since then, Textainer has traded in a narrow range between from about $28.00 to about $32.00. I believe the stock is about to break out of this range and head much higher. We can see from the chart below that the secondary in September was, volume wise, well above anything Textainer has seen. That day's volume was 30X the average daily volume for Textainer. The share price promptly dropped from about $34.50 to about $30.00.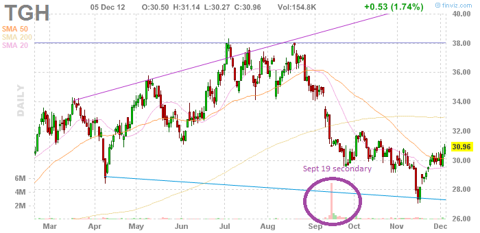 Click to enlarge
Textainer's PE currently sits at 7.5. The company has been able to grow EPS at an average pace of 13.5% over the last 4 quarters. Its PEG using these numbers comes out to 0.42. Normally, a stock which trades below a 1.00 PEG ratio is considered undervalued. The share price for Textainer has only recently become disconnected with the TTM EPS.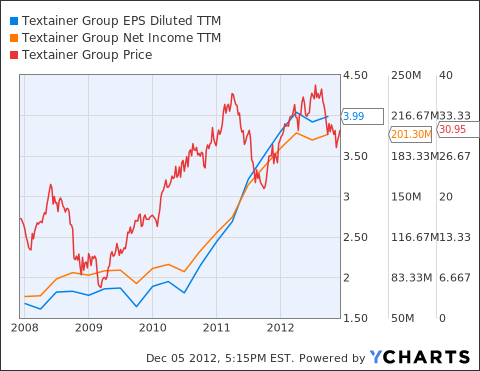 TGH EPS Diluted TTM data by YCharts
Revenue for Textainer has also grown at a 21% pace over the last 4 quarters. Revenue growth has kept pace, even when accounting for the increased share count. The current disconnect between Textainer's revenue and current share price is a clear signal that the current share price is far too low.
TGH Revenue Per Share TTM data by YCharts
Another compelling reason to buy and hold Textainer is for its generous dividend. The company has raised its dividend for 11 straight quarters. The current TTM payout ratio is below 40%. The company is well able to maintain and/or raise the dividend.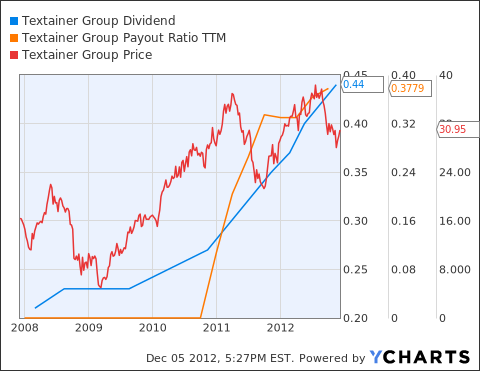 TGH Dividend data by YCharts
A key metric for Textainer is fleet utilization. The company has managed to maintain this metric above 95% since 2010.

Click to enlarge
Textainer also has 77% of its fleet under long term leases, with and average remaining term of 37 months.
A common misconception about leasing companies is that their profitability is tied to shipping lines. This is untrue. Operating margin for the leasing companies has not been correlated at all with the shipping lines margins.
Shipping companies have needed to depend on lessors more since the financial crisis. The primary source of capital for shipping lines, such as European Banks, have been restricting lending. Shipping lines have also taken advantage of purchase leaseback agreements to lower capital expenditures flows while Textainer profits from these long term cash flows. YTD 2012, lessors have purchased 65% of container production.
I believe Textainer is currently undervalued by the market. A bounce back to $35.00 is likely since this is the level indicated by revenue and EPS growth. Over the last 2 trading days, Textainer has gained over 4%. I believe this is just the start and that Textainer will continue rising.
Disclosure: I am long TGH. I wrote this article myself, and it expresses my own opinions. I am not receiving compensation for it (other than from Seeking Alpha). I have no business relationship with any company whose stock is mentioned in this article.