URS Corporation (NYSE:URS) provides engineering, construction, and technical services to a wide range of markets. The U.S. was responsible for 91% of first half 2008 revenues with the remainder derived from various global markets. URS operates three divisions. The Washington division was responsible for 41.2% of first half sales. Acquired last November, its primary markets are energy and power. The URS division, which generated 35.4% of first half sales, serves the commercial, industrial, environmental, facilities, homeland security, project/construction management, transportation, water/waste water, and specialty markets. The EG&G division (23.4% of first half sales) serves the Department of Defense, the Department of Homeland Security, and other federal agencies.
These divisions provide five key services: project management; planning, design and engineering; construction and construction management; operations and maintenance; and decommissioning and closure. The EG&G division also provides systems engineering and technical assistance. Customers include federal, state and local governments, and private enterprises, such as nuclear energy and mining companies, chemical and drug makers, and oil and gas firms. These clients rely on URS to help build, modernize and maintain everything from schools, hospitals and highways to manufacturing facilities, treatment plants and defense systems. Demand for its services remained strong through the second quarter of the current year. Q2 net revenues more than doubled year-over-year to $2.53 billion.
On a pro forma basis, which includes Washington division results from the prior year, net revenues climbed 21.9%. URS and EG&G revenues grew 10.7% and 55.5%, respectively, while pro forma Washington division sales rose 29.8%. The adjusted operating margin, expanded 33 basis points to 5.84%. Adjusted net income jumped 82.1% to $67.1 million. While a higher share count limited adjusted earnings per share growth to 15.7% to 81 cents, this was well ahead of expectations.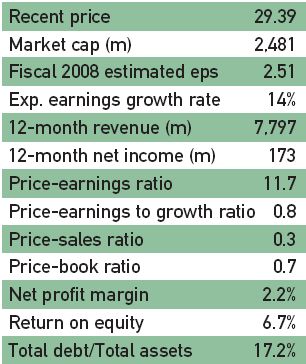 Backlog at the end of Q2 stood at $17.9 billion, up $300 million from the end of 2007. Total book of business (includes designations, option years and indefinite delivery contracts) was up $1.9 billion to $30.7 billion. The company even raised adjusted earnings guidance for the full year by 12 cents to $2.73-2.85 per share.
Yet market conditions have significantly deteriorated since then. Tax revenues at municipalities are shrinking. Additionally, there has been growing concerns that construction projects may have to be canceled or postponed due to the inaccessibility of the credit markets. These concerns call into question URS's ability to deliver on its guidance. But things may not be as bad as they appear. The addition of Washington has allowed the company to offer fully integrated services on larger, more complex infrastructure projects and win major contracts that will utilize the company's services throughout the lifecycle of the project. There has also been increased speculation that the federal government will enact another economic stimulus package that will contain substantial spending on new infrastructure to help support the waning economy and create new jobs.
As a leader in federally funded projects, URS could benefit significantly from any such initiative. The moves towards alternative energy sources—particularly nuclear power—also bodes well for the company given its extensive expertise in this field.