Republic Bancorp (NASDAQ:RBCAA) is one of the privileged banks to have sidestepped subprime. Thanks to careful lending, Republic's allowance for loan losses is just 0.6% of all loans - a third of the national average. Wall Street likes the stock, as shares more than doubled through August before retreating - but are still up 43% YTD.
So what's there not to like? Plenty, Barron's Bill Alpert says. Republic has built its growth strategy around tax-refund anticipation loans, or RALs. To wit, half of all Republic's profits YTD are from its tax refund business. RAL loans are typically made to the working poor, extending them cash against their anticipated tax refund - at rates that seem outrageous even for pawnshops.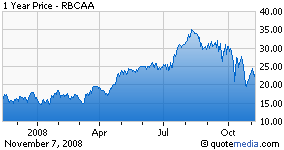 Republic discloses an annual percentage rate of 110% on its average $3,300 RAL. But CEO Steve Trager says the figure is a red herring. What it actually charges, he says, is a $110 fee - just 3.3% of the loan amount - regardless of how long it takes for the IRS to forward the refund. Still, on average, RAL loans are paid up in full in 11 days, hence the 110% disclosure.
Trager dismisses critics as "a self-appointed handful whose paternalistic views would keep poor people" from their money. "I can't let a handful of people that think we charge too much dictate whether I offer it," he says. But RAL critics are everywhere, Alpert notes, and new rules proposed by the IRS in January would prevent Republic partners like Jackson Hewitt Tax Services (JTX) and H&R Block (NYSE:HRB) from showing lender banks taxpayer returns in order to drum up business. "The time has come," an attorneys general memo says, "to put an end to a decades-long saga of misleading and deceiving taxpayers and undermining the public fisc."
Alpert notes that the military already stopped allowing RAL offers to enlisted personnel. Other negatives include a streamlined IRS computer system that promises to deliver refunds in under a week, and a president-elect that make the future of predatory lenders even more doubtful.
Without the RAL business, he says EPS would drop to $1.15 from $1.92 - which could send shares ($24) below the mid-teens.