Much of Apple's (NASDAQ:AAPL) recent sell-off can be attributed to concerns about the company's margins (along with some longer-term worries about innovation). Ever since Apple projected 36% gross margins for the current quarter (Q1FY13), analysts, pundits, and investors have been worried that this is the beginning of sustained margin compression. However, I do not believe there is much reason for concern regarding Apple's margins. As Deutsche Bank pointed out last month, Apple has consistently beaten its gross margin guidance by 2-4 percentage points in recent years. Moreover, it is critical to understand that Apple's management has deliberately avoided gross margin dilutive decisions that analysts have recommended. I would therefore trace much of the pessimism regarding Apple's margin profile to Apple analysts' misguided expectations regarding the company's strategy.
Since the iPhone and iPad together have been generating a large and growing proportion of Apple's revenue and profit in recent quarters (more than 70% of revenue and an even higher percentage of profit), I will limit the following discussion to those two business units, for simplicity's sake.
1. iPhone: A report by AllThingsD on Monday suggested that Apple's gross margins would be negatively impacted by a shift towards lower-end iPhones. The article republished the following table, which shows that more people are opting for the cheaper older-model iPhones this year (i.e. iPhone 4 and 4S) than last year (iPhone 3GS and 4 at the time).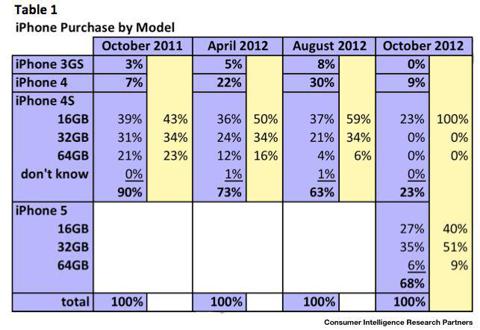 With 32% of purchasers buying an iPhone 4 or 4S, ASPs (average selling prices) will decline year-over-year. However, the data provided are from October, at which point there were severe shortages of the iPhone 5. It is thus not surprising that some customers decided to buy the cheaper iPhone 4S rather than wait for the iPhone 5. The mix of iPhone 5 sales is almost certainly higher today. Furthermore, Apple's October sales mix (32% older-model phones) is similar to the April 2012 sales mix (27% older model phones), yet the company still managed to post 42.8% gross margin in that quarter (Q3FY12).
A second concern, that fewer people are buying the high-end 64GB iPhone 5, is also misleading. With 51% of buyers opting for the 32GB version (in addition to 9% getting the 64GB phone), it turns out that more iPhone 5 buyers are upgrading the memory than was the case for the iPhone 4S upon introduction. Moreover, a decline in flash memory prices over the past year makes these upgrades even more lucrative for Apple. As a result, while mix may be a slight negative year over year, its impact will be much less than some market-watchers appear to expect.
Lastly, when Apple provided its Q1FY13 guidance in October, iPhone 5 supply was still being hurt by low yields, particularly for the display. Low yields also have an unfavorable impact on cost. Yet an increasing number of outlets agree that yields have improved dramatically over the past month or so. Most of the focus has gone to the resulting possibility for increased sales, while the potential for margin improvement has been covered less often. Even the more bullish Apple analysts have overly modest margin expectations, in my opinion.
2. iPad: The story is similar for the iPad. Analysts seem particularly worried that the iPad mini is cannibalizing the iPad (4th generation) and thus hurting gross margins. However, the teardown analysis performed by IHS iSuppli estimated that the bill of materials plus manufacturing cost for the iPad mini is only $198/unit. This implies a gross margin of 40% based on the retail price of $329 USD. (This is higher than the gross margin of the base model 3rd generation iPad at its launch in March, 2012!) While upgraded iPad retina models have higher gross margins, and the bill of materials for the iPad has almost certainly come down over time, the difference in profitability is not as great as some make it out to be. Apple's disclosure that the iPad mini has significantly lower gross margins than the corporate average reflects the wholesale discounts provided to retail resellers, as well as initial yield problems (probably resolved by now).
It is ironic that Apple critics are now worried about the iPad mini's impact on gross margins, when many were clamoring for an even more margin dilutive product. Most Wall Street analysts expected the iPad mini to be priced at $249 (or at most $299) and were moderately upset when Apple revealed the $329 price point. A number of spectators have also lamented Apple's decision not to use a retina display in the iPad mini. Yet both of these "recommended" moves would have been severely margin-dilutive for Apple: either a $249 iPad mini or a $329 iPad mini with a retina display would have had gross margins in the 10%-20% range. Moreover, any cannibalization effect currently being felt would have been much worse with either a cheaper or a higher-spec iPad mini. Despite the supposed disappointments of the iPad mini, the customer response has been very strong, and demand continues to outstrip supply by a long shot. It is clear that Apple's strategy for the iPad mini with regard to specifications and pricing was far superior to what others suggested.
Conclusion: While supply and demand patterns for the iPhone and iPad product lines will put some pressure on Apple's gross margins this quarter, it is important to bear in mind that the company's gross margin in the same quarter last year was 44.7%. That provides a lot of room for year-over-year margin dilution (due to new product launches) while still beating company and analyst targets by a wide margin. Apple's management was probably especially conservative with this quarter's guidance given the number of products launching. The rapidly improving iPhone 5 supply situation suggests that margins for that product in particular will be much higher than implied by the guidance.
As a result, I am expecting a company gross margin of 39%-41% for the current quarter, and that figure will probably improve over the following two quarters as component and manufacturing costs decline. Taking analyst estimates for $54.56 billion in revenue as a given, I project EPS of $14-$15. If revenues surprise on the upside, earnings could be as high as $16/share this quarter. For the full year, I continue to expect EPS of $55 (plus or minus 5%).
With earnings outperformance on this scale likely, there is no reason to fear Apple's 6% drop on Wednesday, or the expected "death cross." Any further declines in Apple shares provide a buying opportunity. If Apple posts Q1 EPS above $14, as I expect, the stock's recent losses will quickly be erased. With Apple trading at a forward multiple of only 7.5X excluding cash (based on my estimates), the long-term downside is infinitesimal from current levels.
Disclosure: I am long AAPL. I wrote this article myself, and it expresses my own opinions. I am not receiving compensation for it (other than from Seeking Alpha). I have no business relationship with any company whose stock is mentioned in this article.