Commodity Chart Of The Day
Daily U.S. Dollar
(click image to enlarge)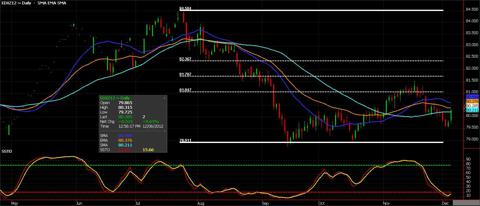 The greenback is bouncing as anticipated, trading above the 50 day MA as I write this post, higher by 0.65%. My first objective is the 20 day MA -- identified by the dark blue line -- but talk of interest rates moving higher and risk off could potentially turn this into more.
As I've hinted at in recent posts, I prefer to trade markets that are a bit more liquid and move more in a way that will exhibit an inverse relationship. Metals fit the bill, and check out the latest pullback in crude oil. The U.S. dollar action is not the only component, but crude is down 3% this week and appears to be headed lower. A number of commodities that have had a nice appreciation may be poised for some give-back very soon, in my opinion… one that is near the top of my list is copper.
Let me be very clear, I am not predicting a bull market in the dollar, but just a bounce in what has been a bear market for over a decade and should continue. For now, the dollar should just be viewed as the best house in the worst neighborhood, as the action of Central Banks globally should be detrimental for fiat currencies for the foreseeable future. I am a commodity bull, but recognize that no market moves in a straight line. Use the rally in the buck and deprecation in commodities as entry points for longer-term bullish trades.
Risk Disclaimer: The opinions contained herein are for general information only and not tailored to any specific investor's needs or investment goals. Any opinions expressed in this article are as of the date indicated. Trading futures, options, and Forex involves substantial risk of loss and is not suitable for all investors. Past performance is not necessarily indicative of future results.
Disclosure: I have no positions in any stocks mentioned, and no plans to initiate any positions within the next 72 hours. I wrote this article myself, and it expresses my own opinions. I am not receiving compensation for it. I have no business relationship with any company whose stock is mentioned in this article.