The last word out of Europe is that Greece is now "saved," while the fact remains that bailout money is nothing more than an opaque process to keep the European banking system afloat, not to assist Greece. According to a 15-page document prepared for the late November meeting of the eurozone's finance ministers, "without a package of debt-reducing measures, Greek debt will fall to 144 percent of GDP in 2020, 133 percent in 2022 and 111 percent of GDP in 2030, from a current level of around 170 percent." To add insult to injury, we're now talking about 2030, and the eye-opening 2022 that replaced 2020 is no longer relevant. Considering the ever-evolving economic optimism orchestrated by politicians and designed for public consumption, 2030 will be revised at some point.
Everyone agrees, or is starting to concur, that the current European social system is flawed to say the least, and potentially the best indication that reality is catching up with denial was spelled out by the Portuguese finance minister:
The Finance Minister, Vitor Gaspar, said today in Berlin that in order to ensure the viability of the social state, it must be reformed and transformed, and that to delay this adjustment will only lead to accumulation of more public debt.
However, the required "adjustment" is extremely difficult to implement because generations of Europeans have grown accustomed to a system that was portrayed as being sustainable, especially during political campaigns. But government finances always hinge on private economic growth, not the government itself. Otherwise there would be no debt, and government could just print money and create jobs at will.
Thus, we must look to the Maastricht Treaty, that magic document signed in 1992 and the precursor to where we are today. Article 104c states that "Member States shall avoid excessive government deficits." The bottom line is that "excessive" meant over 3% of GDP, and the intention was to address the long-standing deficit bias, or the chronic structure of government budgets where expenditures always exceed receipts, also known as "promising more than government can deliver."
The premise was, and is, that 3% deficits should not constitute a problem, and some have even stated that government debt is never meant to be repaid. Maybe so, but as every individual and corporation knows, the point in time arrives when no more debt can be accumulated, and even if debt is not paid, it will become a burden for generations to come while forcing the borrower to look for other sources of cash. Simple economics. Let's consider the fact that the eurozone's GDP annual growth averaged 1.77% between 1995 and 2011, and that the average government deficit was 2.91% during that period.
(click image to enlarge)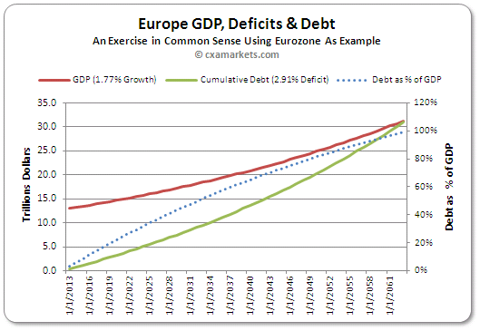 If the eurozone was to default on all debt today and start fresh in 2013, while still embracing the current government deficit model as outlined and accepted by the treaty, we will be at the same exact economic spot in 50 years using the averages of the last 16 years. Without a doubt, nobody will ever blow the whistle and promises will continue be made, while the danger that unusual economic disruptions will accelerate the process is omnipresent. It boggles the mind as the conversation continues with relentless finger pointing and the advancement of growth ideas that have proven to be flawed, be it in Europe or America. Cut this, tax that, while avoiding the root problem. After all, deficits can only be categorized as a permanent state of Keynesian stimulus, and the truth is far simpler than what the "experts" want to acknowledge.
Ultimately, we're looking at gross mismanagement by politicians and contributory negligence, if not outright liability, on the part of all economic advisors that have assisted politicians over the years, never pointing out the fallacy of their model. To add insult to injury, and as small examples of ongoing mismanagement while austerity is being pushed on every individual, "the European Council, which represents member states, is building a new 'Europa' headquarters right next door to its existing marble-and-glass building, at a cost of 310 million euros," and "EU institutions have cellars stocked with nearly 47,000 bottles of red, white and sparkling wine with a total value of 515,000 euros." Which political ideology is behind the perks? All of them!
The unspoken truth is that deficits ultimately feed into economic structures, and in addition to being largely inefficient and unsustainable, the eventual dismantling of the ill-devised allocation of resources has side effects that nobody wants. Although Europeans were the first to face the debt problem, they are not alone, and the U.S. is well on its way to a debt crisis despite the lack of a hard wired deficit limit. Let's not forget that interest rates are a function of supply and demand, and, more importantly, risk. While we have enjoyed low rates in the U.S. thus far, future government demand and higher risk will further choke the economic engine. Meanwhile, games will be played, Greek style.
The American debt problem has been exacerbated as of late, mostly because nobody wants the transformation loosely prescribed by the Portuguese finance minister. Who's fault is it? Government of all colors and stripes. I dug up an article published by The Washington Post on February 5, 1998, and the following excerpt addresses a long-standing myth:
I wish this were true: no deficit, no increase in the debt, no increase in forced spending for interest costs on the debt. But, sadly, the Congressional Budget Office last week reported a deficit for fiscal year '99 of $200 billion, and a close examination of the president's budget for 1999 reveals a projected deficit of $194.5 billion. What's going on here?

At the beginning of the fiscal year we owed the Social Security trust fund $631 billion, and are scheduled to owe $732 billion by the end of September this year, and under President Clinton's "unified" budget, we will owe Social Security $845 billion. As he loots another $113 billion from the Social Security trust funds, the president cries, "Save Social Security first." Obviously, the first way to save Social Security is to stop looting it.
Considering that during the 1990s we benefited tremendously from the Internet revolution while government debt was still manageable, where's the catalyst for future growth? And why do governments have deficits during good economic times? That is the point.
Let's keep in mind that the current fiscal negotiations are only designed to reduce deficits, not pay debt, and we will be dealing with the cumulative debt issue for a long time to come. It doesn't take a PhD in economics to figure that out.
Disclosure: I have no positions in any stocks mentioned, and no plans to initiate any positions within the next 72 hours. I wrote this article myself, and it expresses my own opinions. I am not receiving compensation for it (other than from Seeking Alpha). I have no business relationship with any company whose stock is mentioned in this article.