Although we have been engaging in constructive criticism of Hewlett-Packard's (NYSE:HPQ) performance, we thought we had seen a number of trends that would have enabled us to conclude our evaluation of the company and take a position in it. Based on Hewlett-Packard's announcement that its acquisition of Autonomy PLC was an awful abomination due to accounting fraud, we are feeling regret and relief. We are feeling regret that we did not go short HPQ's shares and we felt regret as to our willingness to give Meg Whitman a wide berth in restoring HPQ's performance after its former CEO Léo Apotheker left a huge mess for whoever would succeed him as CEO. We felt relief that at least we didn't join Ralph Whitworth of Relational Investors and Seth Klarman of Baupost in buying the stock. We were pleased that we at least held true to our discipline of waiting for a "perfect pitch" on Hewlett-Packard.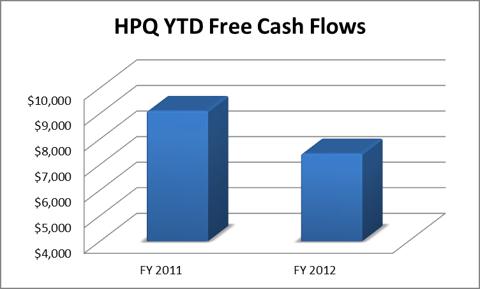 Source: Morningstar Direct
We like that HPQ's forward PE is less than 3.7X adjusted TTM EPS and it still generated $7.4B in free cash flows YTD in 2012. Unfortunately, we don't like its declining revenues, EPS and free cash flows (which declined from $9.1B in FY 2011 to $7.4B in FY 2012). In our professional opinion, we see HPQ as a once-great formerly mighty blue chip which has lost its edge and is now a raw, special situation turnaround project. At least it is down by over 50% on a total return basis this year and 76% versus its all-time high of $54.75/share in April 2010. HPQ has significantly underperformed Oracle (NASDAQ:ORCL) since 2010 when its former CEO Mark Hurd was pushed out when B-List actress and HP contractor Jodie Fisher filed a frivolous sexual harassment lawsuit against him and Oracle picked him up on the rebound. Considering that former Oracle President and COO Raymond Lane is now HPQ's Chairman and former HPQ CEO Mark Hurd is now President of Oracle, we think that Hewlett-Packard got the short end of this "talent exchange."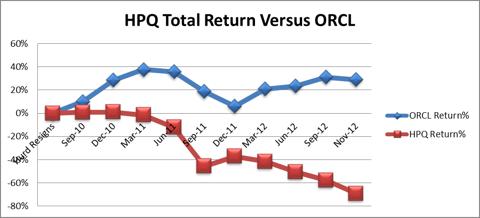 Source: Morningstar Direct
Corporate Highlights or Lowlights (Depends on your view)
We were surprised that HPQ had to write-off $8.85B from its Autonomy PLC acquisition due to various alleged accounting irregularities and fraud. We thought that Autonomy was merely a broken-growth company that HPQ overpaid for because Léo was SAP's (NYSE:SAP) former CEO and SAP was a software business like Autonomy. We find it amusing that accounting professionals with the right background at KPMG and Deloitte were unable to discover Autonomy's alleged accounting fraud as the deal was being negotiated. We also find it amusing that HPQ's management, financial analysts and bankers with similar esteemed backgrounds were unable to find it until recently. This resulted in HPQ racking up a reported loss of $6.8B and overshadowed a quarter that otherwise was starting to show some signs of stability. On an adjusted basis, HPQ's net earnings in Q4 2012 were $2.28B and only declined by 2.9% relative to Q4 2011 levels. HPQ's EPS Q4 2012 declined by about 85.5bp versus Q4 2011 thanks to HPQ's buyback program reducing its outstanding share count. We hope that people who were carping about HPQ reducing its research and development spending would be pleased that HPQ increased research and development by 9.65% year-over-year in Q4 2012 and by 4.5% year-over-year YTD 2012 versus YTD 2011. Although HPQ's adjusted EPS beat expectations by $.02, its revenue missed consensus estimates by $500M, just like in Q3 2012.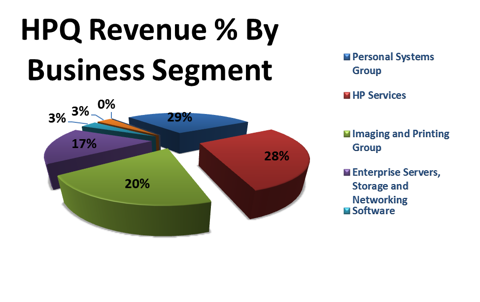 Source: Hewlett-Packard's Q4 2012 Earnings Release
Business Line Summary
With the exception of HP Software and HP Financial services, all of HP's business lines saw revenue declines on a year-over-year basis and on a linked quarter basis during the Q4 2012 period. HP Financial Services saw its year-over-year revenue grow by a staggering 1.5%. We can only hope that HP Financial Services is not overwhelmed by that glacial growth. At least it's better than the .30% growth achieved in Q3 2012. And we can't forget that HP Software's revenue grew thanks to the Autonomy Corporation PLC acquisition. Considering that former HPQ CEO Léo (Apotheker) spent $11B to acquire that serially acquisitive broken growth company, we won't ever forget the name of Autonomy Corporation PLC, especially since HPQ racked up over $8B in new debt to acquire that white elephant. We should be thankful though that Léo did not spend £11B to acquire Autonomy. The good news for HPQ is that although it had to write-off 76.5% ($8.85B) of the goodwill and intangible assets it accrued in its Autonomy PLC acquisition, it still has $2.7B in remaining goodwill/intangible assets relating to this deal. We don't know if the allegations of Autonomy's accounting fraud are true, but we can see that H-P shouldn't have been buying what Frank Quattrone was selling.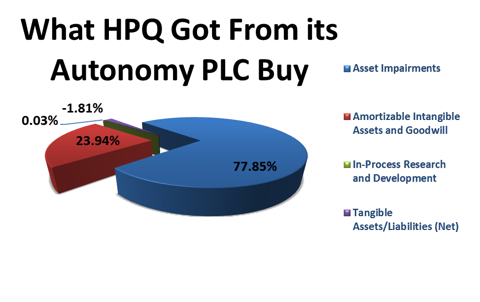 Sources: Our October 18th Report on H-P and H-P's Q4 2012 Earnings Release
We don't think Hewlett-Packard's stakeholders are taking comfort in Dell Inc's (NASDAQ:DELL) hardware struggles. Both companies are seeing year-over-year revenue decline rates with regards to each firm's hardware products. Although Dell saw an 11% increase in its Servers and Networking revenue, this was due to the inclusion of three acquisitions (Quest Software, SonicWALL, and AppAssure). Dell's Product related revenues decreased by 13% year-over-year in its most recent quarter and HPQ's Product Revenues declined by 9.1%. Dell's weakest performance came in its Mobile computing devices (26% revenue decline) and H-P's weakest performance was in its Personal Systems division (14% revenue decline). The good news for HPQ is that its HP Services division generated more revenue ($8.7B) than Dell Services ($2.1B) and Xerox Services (NYSE:XRX) (2.85B) combined in the most recent quarter. The bad news is that HP Services suffered a revenue decline of 5.6% in its most recent quarter versus a 75bp decline for Dell Services and a 4.8% increase for Xerox Services.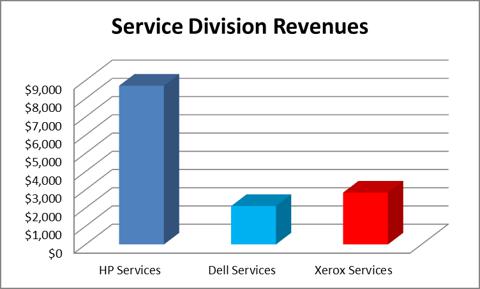 Sources: MRQ Reports for Hewlett-Packard, Dell and Xerox
Corporate Asset Management
We think HPQ stakeholders should be breaking out the bubbly that HPQ did not make any acquisitions this quarter. We think Dodge & Cox's (a nearby asset manager and HPQ's largest stockholder at 7.2% of HPQ's stock) CEO Ken Olivier should be sending Meg Whitman a hand-written card that says "Dear Margaret, Thank you for going two straight quarters without an acquisition, Sincerely, Ken." We thought that H-P would be done with write-offs when it wrote off $10.9B in acquisition related impairments and restructuring charges in Q3 2012 for the EDS and Compaq acquisitions. Alas, we were too optimistic about the company's acquisition related asset management. HPQ ended up having to write off $8.85B relating to its Autonomy PLC acquisition and racked up another $381M in restructuring charges.

Source: Morningstar Direct
HPQ generated nearly $3.5B in free cash flows in Q4 2012, which was sharply higher than the $1.2B in free cash flows for Q4 2011. HPQ used its cash flows primarily to bolster its corporate liquidity. HPQ used $118M of its Q4 2012 FCFs to repurchase shares, $260M to pay dividends and nearly $1.3B to pay down debt. During the year, HPQ has paid down $1.95B in outstanding indebtedness and we guess that every little bit helps. HPQ also used the remainder of its Q4 2012 FCFs to increase its cash balance by $1.79B ($3.26B for FY 2012) and we only hope that it uses this cash as well as any FY 2013 free cash flows to pay down its $6.65B in maturing debt that is coming due in FY 2013. Although HPQ's weighted average pre-tax cost of debt financing is a little bit over 2.5%, we believe that it might be prudent for HPQ's management to pay this debt down rather than risk it on an acquisition or buying back stock while its share price is declining.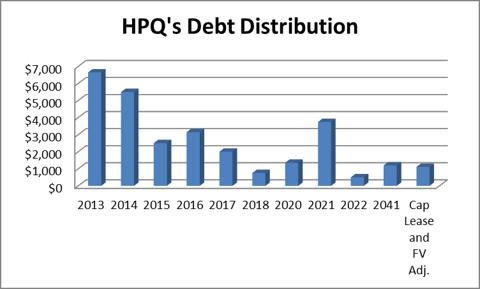 Source: Morningstar Direct
CONCLUSION
In conclusion, we're taking away Meg Whitman's grace-period pass. We'll let her have it for FY 2012 since it was her first year and we saw some encouraging signs and tough decisions. At the same time she was part of the board that approved the Autonomy deal. Even if there was no accounting fraud with Autonomy PLC, we can't overlook the fact that HPQ has shared a sour outlook for its Q1 2013 period. She can no longer use Léo Apotheker's mismanagement as a crutch for poor performance. If she cannot right the ship, she'll need to be replaced just like her predecessor. Part of our hesitance with H-P is that there always seems like "another shoe is about to drop." In Q3, the company racked up nearly $11B in charges and added another $8.85B in Q4 2012. We see HPQ as well as its PC peer Dell continuing to struggle to reinvest itself away from the sagging hardware sector. Although HP Services is bigger than Dell Services and Xerox Services combined, Xerox Services has had stronger revenue growth momentum than HP Services and Dell Services. We're going to continue covering HPQ because Whitworth and Seth Klarman had collectively invested over $1B in HPQ. However, because the company is still struggling and seeing declines in revenues, EPS and free cash flows, we will be patiently analyzing and evaluating the company over the next six months to identify if a perfect pitch will be available for us to hit.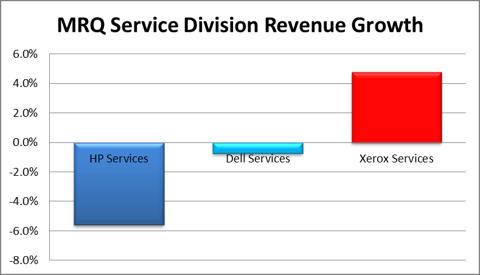 Sources: MRQ Reports for Hewlett-Packard, Dell and Xerox
Disclosure: I have no positions in any stocks mentioned, and no plans to initiate any positions within the next 72 hours. I wrote this article myself, and it expresses my own opinions. I am not receiving compensation for it (other than from Seeking Alpha). I have no business relationship with any company whose stock is mentioned in this article.
Additional disclosure: This article was written by an analyst at Saibus Research. Saibus Research has not received compensation directly or indirectly for expressing the recommendation in this article. We have no business relationship with any company whose stock is mentioned in this article. Under no circumstances must this report be considered an offer to buy, sell, subscribe for or trade securities or other instruments.