We are going to take a look at Zynga (NASDAQ:ZNGA), the social gaming company. The share price of Zynga has been in a steep decline for several months. The firm's revenue growth slowed and that has acted as a catalyst to reduce valuation premiums.
The reason Zynga isn't posting a profit is because of its spending on research and development; that is typical for a young company. R&D spending grew from $150M in 2010 to $727M in 2011. R&D spending in 2012 is on pace to be roughly flat compared to 2011.
High relative levels of research and development spending can be a good long-term strategy for a company to help it grow through product innovation. R&D spending grew faster than revenue between 2010 and 2011.
Besides that, revenue growth slowed in the current year compared to the prior year. Revenue in 2011 was $1.14B and is on pace to be roughly $1.2B in 2012. That compares with revenue of about $600M in 2010. Clearly, revenue growth slowed. Thus, investors probably don't believe Zynga deserves a premium valuation. The price-sales ratio is roughly 1.36 and the price book ratio is 0.94. The firm is valued at 1.32 times cash.
Zynga doesn't have much debt, $100M, and reported $1.3 billion of cash at the end of 2012's third quarter. The market capitalization is about $1.75 billion. Subtracting the cash balance from the market capitalization, you could buy Zynga for $450 million or about 45 percent of sales.
In other words, shares of Zynga appear to be very cheap. Current assets is roughly three times current liabilities and total assets is roughly three times total liabilities. Current asset is about $1.5B and total assets is about $2.6B.
Earnings are high quality; in other words, cash flow from operations is greater than net income. Cash flow from operations in the first nine month of 2012 was $176M. The firm is raising additional cash from equity investors.
They failed to meet there own growth expectations because of inability to keep gamers. They didn't innovate on content and features and didn't bring new games quickly enough. They are also seeing competition on mobile.
One of the key drivers of growth in the future could be third-party developers being able to distribute content through the Zynga platform.
They launched $60-80 million in annual savings program. They are laying 5 percent of the workforce off and cutting games.
The board of directors authorized a 200 million share repurchase program.
The capex spending may be lower in years to come as the reduction in data center spending last into next year. Capex spending during the first nine months of the year was about $328M. That compares with $242M during 2011.
Between December 31, 2011 and September 30, 2012, shareholders equity increased from $1.75 billion to $1.85 billion. That compares with a market capitalization of roughly $1.9 billion. The market doesn't like the company's growth prospects.
Most of Zynga's revenue comes from online gaming. That said, advertising revenue is increasing at a faster pace. In other words, advertising revenue doubled in the first nine months of 2012 compared to 2011. I expect revenue growth from advertising to be a main driver of the company's revenue increases.
Research and development cost almost doubled in the first nine months of the year compared to last year. The increase is R&D spending is mainly driven by an increase in personnel. The increased R&D expenditure should translate into revenue growth in the coming years.
We have seen the deferred revenue account decline between the end of 2011's fourth quarter and 2012's third quarter. That suggests revenue growth may continue to be sluggish.
The acquisition of OMGPOP highlights the firm's strategy of expanding its mobile products offerings.
Customer deposits declined almost 50 percent between the end of the fourth quarter of 2011 and the end of the third quarter of 2012; that is a sign of weakening consumer demand.
While revenue from the US is slowing, revenue from all other countries continues to grow at an unsustainable pace.
The percentage of their revenue generated from Facebook declined; that is a favorable trend because the firm will need to be able to diversify revenue streams as the Facebook platform becomes more competitive.
We have continued to see substantial user growth. Obviously, that is something you want to see if you are considering purchasing shares of Zynga.
Advertising revenue growth may come from in-game display ads, licensing, or in-game sponsorship.
Also, the firm has a $1B unused revolving loan credit facility.
Business Risks
There is the Facebook risk. Zynga is currently reliant on Facebook for a significant portion of its revenue. That needs to change. The ways that I think that will change is through the promotion of Zynga's website and mobile platform app stores.
There is a significant risk that Zynga fails to continue to entertain people with its games. However, the new games have enticed users and the large increase in R&D spending increases the strength of the product pipeline.
The firm will have a problem getting people to pay for its games and should rely more on increasing revenue through advertising.
The company faces competition in mobile gaming and entertainment. Disney and Electronic Arts could prove to be significant competition.
Technical Analysis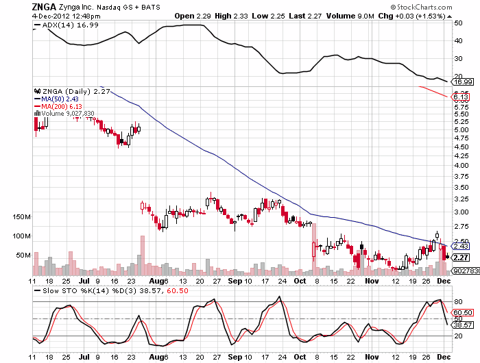 Shares of Zynga are trading below the declining 50-day simple moving average: the intermediate trend is towards lower prices. Further, shares are trading below the declining 200-day simple moving average: the primary trend is towards lower prices.
Also, the 14-day ADX is declining that suggests the market is consolidating. Besides that, the 14-day slow stochastic is bouncing off of the overbought zone.
Conclusion
Zynga is trading at roughly 1.75B. Net of cash the firm is trading below 600M. The corporate headquarters building cost 300M. Zynga is extremely undervalued. R&D spending and advertising should boost financial performance in future years. Expect an intermediate-term trend change in the coming quarters.
Disclaimer: This article is not meant to establish or continue an investment advisory relationship. Before investing, readers should consult their financial advisor. Christopher Grosvenor does not know your financial situation and ability to bear risk and thus his opinions may not be suitable for all investors.
Disclosure: I am short SPY. I wrote this article myself, and it expresses my own opinions. I am not receiving compensation for it (other than from Seeking Alpha). I have no business relationship with any company whose stock is mentioned in this article.