As we read just about everyday, the housing recovery is just getting started. I believe that there are issues that will stop the recovery dead in its tracks in 2013. On January 18th of this year I wrote a very bullish article on the sector and on 3 stocks in particular; Lennar (NYSE:LEN), Toll Brothers (NYSE:TOL), and KB Homes (NYSE:KBH).
Not only was I accurate, I have made significant gains in my risk portfolio since then.
| | | | |
| --- | --- | --- | --- |
| Stock | 1/18/2012 | 12/6/2012 | % Gain |
| LEN | 22.03 | 36.31 | 65% |
| TOL | 22.42 | 30.71 | 35% |
| KBH | 9.01 | 14.22 | 55% |
These prices are as of right now, as this article is being written.
I will be selling these stocks today, and I will consider shorting these same stocks as well.
What Is Going On?
All of the residential real estate seems to point to a recovery. I agree that the entire sector has done just that this year, however there are issues that some folks might not be aware of, that can drive the entire housing market right back into the doldrums in 2013.
Existing Inventory Levels Are Not Quite What They Appear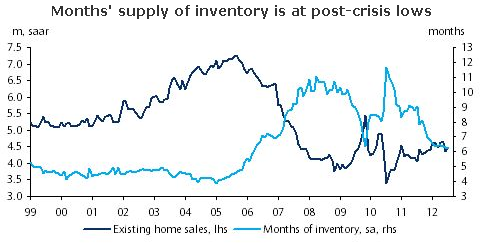 This chart does show a decline in inventory as well as an increase in sales, but where are these sales, AND declines coming from?
As we all know, the housing bubble burst and created an enormous back-log of foreclosed or bank owned homes (REO). Throughout the last 3 years, banks have taken measured steps NOT to flood the market completely, because not only would it mess up their balance sheets, but they had to face ongoing foreclosure issues with government agencies.
That created sort of a full bucket of inventory but with just a small hole in that bucket to actually release the inventory. The inventory levels have been "measured" so to speak.
The foreclosure process moves like this:
Stage 1: Delinquent
Stage 2: Foreclosure
Stage 3: Bank Owned
What we see in the chart above, are only the homes that have actually been foreclosed and bank owned inventory. The back-log from stage 1 and stage 2 do not show up in the inventory.
Some of those homes are either in the refinance mode to save the home, or are in the foreclosed stage, but not yet in actual inventory. This is called "shadow inventory".
If it is shadow inventory, how can we count it? This article does just about as good a job as I have read;
"Of the 52 million homes that have a mortgage, over 10 million are currently underwater. The FHA has issued 3.5% down payment loans all across the country the past four years at a time when home prices have experienced a steady month over month decline. With only 3.5% equity in these homes at the closing table, only a small downdraft in prices will create an ocean of new properties underwater.
There are currently 4 million homes that are delinquent (not paying their mortgage) and another 2 million that have entered the foreclosure process. These 6 million homes will be entering the third stage, bank owned (REO), and hitting the market like a never ending tidal wave over the coming years."
As the shadow inventory hits, the pressure on new home builder stocks will increase dramatically. I believe they will either reduce prices to compete, or just have a serious slowdown in sales, which in turn will affect their inventory levels.
An Under The Radar Tax Hike Could Swamp The Sector
Not often mentioned is that beginning in 2013, if Congress does not act, homeowners who are delinquent and perhaps even in foreclosure, will have to pay taxes on a short sale that banks have pursued since 2009 to avoid having to actually own the homes (remember REO). The tax will be calculated on the difference between what the house is sold short for, and the actual mortgage.
Up until now, short sales have allowed foreclosed homeowners to virtually walk away with little financial harm, aside from a credit stand point. The banks agreed not to pursue for the balance of the mortgage, and in return the bank did not have to own the property.
In 2013 if a short sale is made for let's say $100k and the mortgage balance is $150k, the homeowners will be required to pay tax on the $50k difference, as income. Not a wonderful picture. So stay with me here:
If the homeowners will have to pay a huge tax on gains that they do not have, will they opt for short sales? Nope. If the banks do not have the short sales that they have had in the past, then they will have no alternative but to take ownership of the homes, REO, and that too will dramatically increase existing inventory.
I think the banks are tripping over themselves to close as many short sales as possible before the end of the year. That is also inflating the existing home sales numbers in my opinion.
Take a look at this news report from early in the year. It states:
"Jan. 1, 2013, the rules change: The amount a lender forgives, ether in a short sale or foreclosure, on a primary residence will be taxable on federal income taxes.

"So if a house sold $50,000 short of what is owed on the mortgage, then the selling homeowners will owe federal income taxes on that $50,000. Homeowners would owe $12,500 in they're in the 25 percent bracket; $7,500 if in the 15 percent tax section.

Homeowners would be on the hook even if the house sold but the bank had not formally forgiven the loan in a letter: The banks must officially sign off in writing before Dec. 31.

"It's a huge issue -- it will be a shock to many taxpayers after 2012,'' said Mark Steber, the Florida-based chief tax officer for Jackson Hewitt Tax Service."
Of course the homeowner can go bankrupt if they choose to, but that would be another can of worms that would hurt this "recovery" wouldn't it?
Unemployment and Income Levels Do Not Look Good Either
Finally, folks who become unemployed, remain unemployed, or are in fear of becoming unemployed, will not be buying a home anytime soon. The unemployment numbers remain much too high to sustain a housing recover.
There are currently over 22 million unemployed Americans right now as per NPR reports.
With this in mind, where do the home buyers come from? Existing homeowners? I am not so sure, since so many of them cannot sell the homes they already own. 1st home buyers? Possibly, but that might drive the prices down on homes, and plenty of inventory will still hang around.
Not only that, but the income and spending levels are simply not great either.
Suffice it to say that personal income is declining and consumer spending has dropped. Imagine someone walking into a bank trying to obtain a new mortgage. While the banks are in great shape by NOT lending, and tightening up their standards, how many mortgages do you think a bank will write when income is dropping, unemployment remains high, and consumer spending is dwindling.
I think the banks like it the way it is for now. They do not have to take on risky mortgage loans and can make money simply by the Fed keeping interest rates for them, at zero!
Why LEN, TOL, and KBH?
Well, these stocks have seen tremendous gains in the last 18 months. Actually they increased in price close to 50% even before I wrote about them. These builders are among the largest as well. The bigger they are, the harder they just might fall.
If you own shares of these stocks and have made profits, I would consider selling them now. I would further suggest considering shorting them.
PLEASE do your own research and do not base any of your financial decisions on MY opinions. I could be very wrong, or very right. That being said; I am dumping these stocks right now.
Disclosure: I am long LEN, TOL, KBH. I wrote this article myself, and it expresses my own opinions. I am not receiving compensation for it (other than from Seeking Alpha). I have no business relationship with any company whose stock is mentioned in this article. I will be selling my positions immediately.