Leading Canadian food retailer Loblaw Companies (OTCPK:LBLCF) announced they are rolling about three quarters of their owned 47 million square feet of real estate into a REIT, which they expect to be valued at $7 billion total value.
The market loves the announcement and Loblaw was indicated to open up $5 at $38.58 CAD offered or +14.8%. It hit $42.05 on 10.35 million shares traded but faded during the day to close at $38.20 up $4.60.
(There was a 10.8 million short position on the TSX as of Nov 30, and 17.2 million on the OTC BB for a combined 10% of the outstanding and 27% of the float so a lot of the rally was short covering, and I correctly deduced it would fade by the close).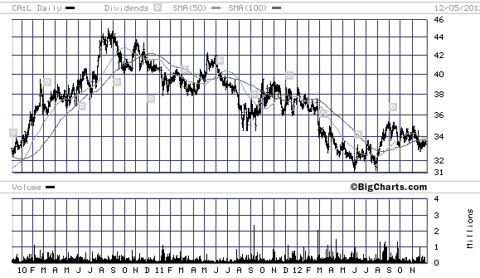 Click to enlarge
Personally, I think a Loblaw REIT controlled by the tenant would not be a great investment proposition.
I expect the shares to come off, as the deal won't be done until mid 2013.
Just as we saw yesterday a potential $2 billion removal of REIT market cap in the form of the KingSett bid for Primaris, we may have a replacement for that cash in the form of the proposed Loblaw REIT.
On a conference call for analysts, Loblaw executives were unclear as to how the REIT would be funded, but it would appear they will sell 20% of the REIT to the public in a secondary issue, indicating a possible $700 million issue, assuming 50% leverage and an equity value of $3.5 billion.
Loblaw will slowly refinance the properties and pull out cash to pay back an intracompany loan they will take back for the units they sell, ostensibly to buy back shares, reduce corporate debt or pay dividends, hence the rise in the stock price.
That would seem to be a tentative step and I see that as a sign of weakness they wouldn't offer more units to the public. Usually, a weak deal is supported by limiting the public market placement.
If you don't want to risk buying Loblaw up almost 15% on the news, you might keep your eye on George Weston (OTCPK:WNGRF).
Weston owns 63% of Loblaw.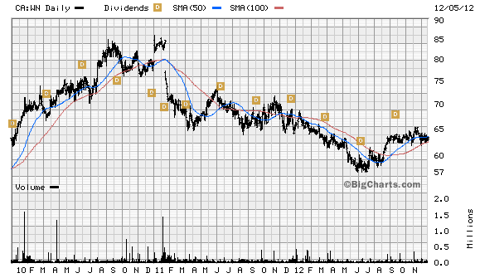 Click to enlarge
There are 1.38 Loblaw shares per Weston share, the latter is indicated up at $66.22 up $2.80 or only 4.4%.
Weston recently raised their dividend to 38 cents so the yield is indicated 2.3% versus Loblaw yield indicated 2.28%. Both shares go "ex" dividend on December 12.
Weston is indicated at a market cap of $8.5 billion versus the Loblaw position indicated $6.84 billion. Weston has $1.67 billion in corporate debt and $1.8 billion in cash and short-term investments so you get the Weston bakery business ex their Loblaw exposure for $1.5 billion. The bakery business seems to be turning around, with $94 million operating income on $541 million in sales during Q3 2012. We expect grain prices to come off, improving results.
We don't own Loblaw but have been mulling buying Weston, which could make an acquisition, or pay a special dividend, with their excess cash.
Disclosure: I have no positions in any stocks mentioned, and no plans to initiate any positions within the next 72 hours. I wrote this article myself, and it expresses my own opinions. I am not receiving compensation for it (other than from Seeking Alpha). I have no business relationship with any company whose stock is mentioned in this article.