American Express Company (NYSE:AXP), the most profitable closed-loop credit card network in the U.S., provides credit and travel services to affluent customers. While investors are concerned about the impact of U.S. fiscal cliff on this cyclical financial service company, the Chairman and CEO of American Express, Ken Chenault, is confident in the company's ability to weather an economic downturn that could result if U.S. leaders are unable to work out a plan to avoid going over the fiscal cliff.
Confidence from the CEO
On Nov. 4, 2012, at a Goldman Sachs conference in New York, Mr. Chenault stated, "(the Company has) set up a series of contingency plans with triggers based on what we see in the environment and based on what we see in our own performance." Mr. Chenault said a comprehensive program, including tax revenues, entitlement reform and spending cuts, needs to be developed. There are fears that spending changes could send the U.S. economy back into recession and drive up unemployment, potentially resulting in a new wave of loan losses for lenders. While AXP is one of the few credit card lenders posting consistent growth in its loan portfolio, which analysts attribute to its focus on premium customers and share gains, most analysts are predicting little to no loan growth for the industry. Mr. Chenault is skeptical that consumers would significantly change their borrowing habits anytime soon where consumers are less willing to carry larger credit-card balances as before the financial crisis.
The Unique Business Model
Unlike Visa (NYSE:V) and MasterCard (NYSE:MA), AXP issues its own cards through its bank subsidiaries, American Express Centurion Bank and American Express Bank, FSB (AEBFSB). AXP essentially owns the entire value chain and retains the full economic value created by the card scheme, which allows AXP to collect discount fees from merchants. By servicing cardholders and merchants, instead of large financial institutions, AXP has the pricing power advantage.
American Express accounted for 25 percent of $2.05 trillion in U.S. credit-card spending last year and almost a third of the industry's $179.9 billion increase from 2010, according to the Nilson Report, an industry newsletter. AXP is able to bring high spending customers to its merchants, where an average AXP card member in the U.S. spends more than $10,000, as compared to close to $1,000 for a Visa card holder. AXP is thus able to charge around 2.5% of the transaction amount involved from the merchants, instead of less than 2% charged by Visa and MasterCard. While transaction fees account for two-thirds of AXP's net revenue, interest income from loan balance is the second most important revenue, which accounts for 15% of the Company's revenue. While AXP's customers are generally more affluent and well-to-do, AXP has been able to maintain low delinquency (around 1%) and charge-off rates. According to the Q3, 2012, report, write-offs for loans which AXP deems uncollectible declined in September to 1.9 percent from 2 percent in August, the Company stated in a regulatory filing recently. Loans at least 30 days overdue, a signal of future defaults, climbed to 1.3 percent from 1.2 percent. "Looking ahead, we recognize that our business is not immune to the economic environment, but we continue to believe our business model is well-positioned for the challenges ahead," as stated by the CFO, Daniel Henry.
Buy Recommendations
On Nov. 5, 2012, TheStreet Ratings has reiterated the buy rating with a score of A- for AXP. As quoted from TheStreet,
"The company's strengths can be seen in multiple areas, such as its growth in earnings per share, revenue growth, increase in net income, solid stock price performance and good cash flow from operations. We feel these strengths outweigh the fact that the company has had generally high debt management risk by most measures that we evaluated."
Credit Agricole also reissued the buy rating on AXP with a $70.00 price target on the same date. As of Sep. 30, 2012, American Express ranks no. 19 on the list of U.S. Top 50 banks. As of Q3, 2012, AXP has a tier 1 capital ratio of 18.33, which is stronger than its peers with an average of 14.27.
Fundamental Overview and Technical Analysis
With the data obtained from MorningStar, AXP's key stats will be compared to its peers in the credit services industry, including Visa Inc., MasterCard Inc., Discovery Financial Services (NYSE:DFS), and Capital One Financial Corp (NYSE:COF). AXP has both trailing revenue and EPS growth (3 year average) of 1.8 and 18.3, as compared to the averages of 5.3 and 36.1. AXP also has lower operating margin of 23.3%, ttm, and lower net margin of 16.2%, ttm, comparing to the industry averages of 35.8% and 16.9%, ttm, respectively. Nonetheless, AXP generates stronger ROE of 26.8, as compared to the average of 13.5, and has a lower debt-to-equity of 2.9, comparing to the average of 5.4. AXP is currently under-valued with P/E of 12.9, as compared to the average of 17.1. This lower P/E could be partially explained by its trailing growth and lower margins. However, with AXP's solid balance sheet, consistent cash flow, and strong competitive edge, the long-term outlook for AXP is positive.
AXP closed at $56.40 with 1% gain on Dec. 5, 2012. The volume of 5.67M is 3.5% more than the 30 day average volume of 5.48M. AXP had been trading in the range of $45.89-$61.42 in the past 52 weeks with a beta of 1.82. AXP touched its 50-day MV of $56.47 and 200-day MV of $56.57 yesterday, but failed to close above both. The MACD (12, 26, 9) had been showing a bullish sign since Nov. 20 and the MACD difference continued to diverge. The momentum indicator, RSI (14), is showing an increasing buying momentum at 53.78. As seen from the chart below, if AXP can close above its 50-day and 200-day MV, the next resistance will be $57.91, the R1 pivot point, followed by $59.93, the R2 pivot point. AXP is short-term bullish, technically.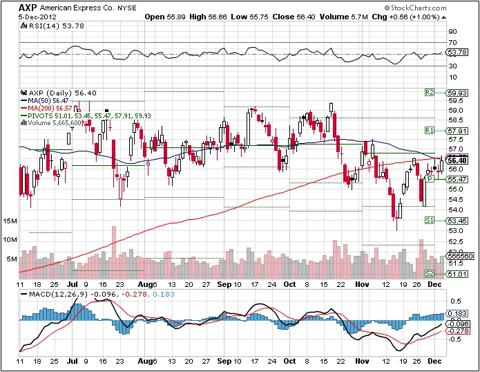 Source: StockCharts.com
Options Play
The long-term outlook for AXP is optimistic and short-term trend is bullish. While there are concerns about U.S. fiscal cliff, patient investors may want to wait until the impact on consumers and spending becomes clearer to establish the long-term positions. A credit put spread options play will be reviewed for investors who would like to acquire the stock with a margin of safety while gaining some upside potential now.
Short 1x April 20, 2013 Put at the strike price of $50.00 for the credit of $1.05
Buy 1x April 20, 2013 Put at the strike price of $45.00 for the cost of $0.50
The maximum profit is $0.55, and the maximum risk/margin requirement is $4.45 ($5 loss - $0.55 credit received). If AXP closes above $50 on April 20, 2013, 11.24% return on margin will be gained. If AXP falls below $50 upon options expiration, AXP stock will be acquired at the cost of $49.45, which is 12.32% lower than the current price of $56.40. The projected annual dividend yield will be 1.62% based on the acquisition cost of $49.45 and projected dividend of $0.20 per quarter.
Note: All the prices are quoted from the closing of December 5, 2012, and all calculations are before fees and expenses. Investors and traders are recommended to do their own due diligence and research before making any trading/investing decisions.
Disclosure: I have no positions in any stocks mentioned, but may initiate a long position in AXP over the next 72 hours. I wrote this article myself, and it expresses my own opinions. I am not receiving compensation for it (other than from Seeking Alpha). I have no business relationship with any company whose stock is mentioned in this article.