SUMMARY
While the proposed top federal tax rate on dividends for 2013 is about 3X the current rate, the reduction in after-tax dividends is about 33% -- not attractive, but less disturbing sounding than a 3X rate. Under two Simpson-Bowles scenarios, which may be in the realm of possible compromises, the after-tax dividend income reduction would range from about 11% to 20%. We expect a muted negative response to dividend tax increases for reasons discussed.
SCENARIOS TABLE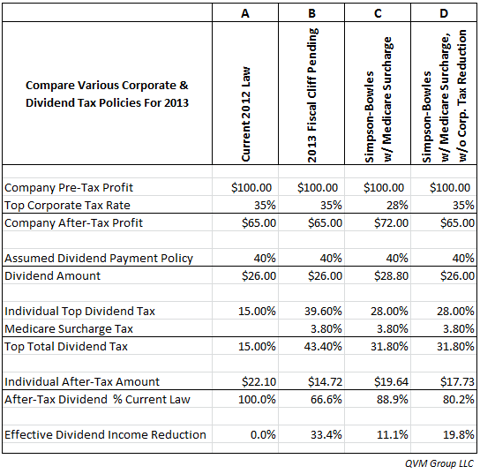 SCENARIO DESCRIPTIONS
IMPACT DISCUSSION
There will be no resolution that is not painful, and probably broadly painful well beyond the demonized 1% to 2% higher earners, but how much dividend income pain?
Demand:
First, for IRAs and 401-K accounts, there will be no 2013 tax impact (unless they decided to tax 401-k and IRA balances, which is improbable in the short term). The same for corporate and union pension plans and foundations and other non-profits. The pension plans have a stronger incentive to stick with dividends as they strive to make their 7% to 8% portfolio returns to meet their scheduled obligations, without liquidating assets in a down market.
Those large asset pools will not likely shy away from dividend stocks, because their cash flow from dividends will not be reduced.
Second, those top rates only apply to individuals with taxable income in excess of $250,000/$200,00 for couples/individuals, and only on that portion of their income that is above those thresholds. Those making less will see less impact, and will be less inclined to shun dividends as a result. There is some possibility that the thresholds could end up higher through negotiations ($500,000?)
Third, a significant portion of those in the upper income categories who rely on dividends for their lifestyle may have little choice but to continue with dividend stocks, because where else can they get the yield; and do they want to bet the farm on municipals with both credit risk, call risk on bonds selling at a premium, and tax risk of reduced or eliminated tax exemption? Simpson Bowles proposed grandfathering existing muni bonds and eliminating tax exemptions on new muni bonds. Muni bonds have none of the inflation protection that a growing stock dividend stream provides.
Fourth, there may be a reasonable chance that the full Fiscal Cliff dividend tax rate may not be the tax picture for 2013. It looks like the tax rates will be in place as of January 1, but they may be negotiated to a lower rate subsequently, with less pain.
Price Implications:
Dividend stock prices will likely be partially insulated from the full impact of the top dividend tax rates in the Fiscal Cliff scenario, for the demand reasons just mentioned.
Important Non-Tax Factor:
A more important price implication may be the fact that dividend stocks have become expensive relative to non-dividend stocks on an earnings valuation basis. That does not mean they will go down in price, but it may mean they have less upside potential than they did before the search for yield that has intensified during this multi-year period of "financial repression" with super low Treasury yields and low credit bond yields.
When we went through our monthly dividend stock screening for our Rational Risk Equity Income Investor letter covering the period of November 2012, we found very few companies with substantial 1-year price increase potential as measured by the average "street" opinion.
Our filter identifies, among other things, high quality companies with above average yields, a history of dividend growth, and good dividend sustainability in terms of short-term and long-term historical coverage of dividends with cash flow from operations - solid companies, but fully priced or somewhat expensive in many cases. Selectivity and patience is necessary.
According to a ThomsonReuters AlphaNow report today, their StarMine relative "intrinsic value" (1 overvalued to 100 undervalued) by sector is as follows (sector name /proxy ETF / StarMine Intrinsic Valuation score):
CLOSING
We still think dividends are important. We want to collect "rent" on our money. We want a significant portion of total return to come in the form of cash dividends - not willing to bet that price appreciation alone will always be sufficient, and wanting the relative stability in part of our return that cash dividends provide.
We are unhappy about having to give up some of our income, but on a relative basis, dividend stocks still look better than bonds - and in a time of possible recession, they look good relative to non-dividend stocks too.
FOUR LEADING DIVIDEND ETFs
FOUR LEADING DIVIDEND STOCKS
These are the four most heavily allocated stocks held by each of the four dividend ETFs listed above:
Disclosure: QVM has positions in CVX and MCD in some managed portfolios as of the creation date of this article (December 6, 2012). We certify that except as cited herein, this is our work product. We received no compensation or other inducement from any party to produce this article, but are compensated retroactively by Seeking Alpha based on readership of this specific article.
General Disclaimer: This article provides opinions and information, but does not contain recommendations or personal investment advice to any specific person for any particular purpose. Do your own research or obtain suitable personal advice. You are responsible for your own investment decisions. This article is presented subject to our full disclaimer found on the QVM site available here.