In my last article about a well-known pharmaceutical giant, I observed that :
Teva Pharmaceuticals (NYSE:TEVA) is one of the behemoths in the pharmaceutical industry with a strategic commitment to the growing acceptance of immunotherapy as one line of treatment to combat cancer.
In this article, I complete the story of Teva's commitment with a more narrow focus on the biotech company, Cel-Sci (NYSEMKT:CVM), that is the inventor and manufacturer of the drug it calls "Multikine." The company describes the patent-protected drug as:
CEL-SCI's lead investigational therapy, Multikine® (Leukocyte Interleukin, Injection), is an immunotherapeutic agent being developed as a potential first-line treatment for advanced primary head and neck cancer.
The story here is a fascinating one. Having spoken in detail with someone who works in the oncology section of a major hospital, immunotherapy (i.e., using the body's own immune system to fight disease) is more than a theorem, it is on the cutting-edge of oncology research. Of course, the most immediate example being Dendreon's (NASDAQ:DNDN) Provenge, described by that firm as:
PROVENGE® (sipuleucel-T) is the only FDA-approved treatment that uses the body's own immune system to fight the disease.
In the case of Provenge, Dendreon has targeted prostate cancer. Curiously, Cel-Sci's Multikine has also been studied in prostate cancer and from my reading, offered promising results. However, Cel-Sci has directed its Phase III focus to head and neck cancer. Head and neck cancer is a deadly disease, and in cases requiring surgery followed by radiation and chemotherapy, the life expectancy of patients maybe an extra year or so of life.
The attraction here to me is the countless hours I've invested in reading up on Multikine's decade-plus drug development history. Plus, to be candid, the investment opportunity as a long-term play. Its inventor, Dr. Eyal Talor, is a recognized leader in the immunotherapy field, and the close connection to Teva stems from Cel-Sci's clinical research that includes oncology centers in Israel. For one excellent example of Cel-Sci's patent protection and introduction to the drug for readers who prefer more detail, be sure to read: "Method of pre-sensitizing cancer prior to treatment with radiation and/or chemotherapy and a novel cytokine mixture."
Recently, Cel-Sci announced that it passed a major safety hurdle, as the phase III clinical trial is ongoing in head and neck cancer patients. Frankly, I wasn't the least bit surprised to read that because throughout Multikine's drug development history, the safety profile around the drug has been very positive. Keep in mind, my due diligence on Multikine has included countless hours of reading nearly every Cel-Sci SEC filing, academic literature, and general scientific reports, including corporate presentations.
The "black eye" on Cel-Sci has been its prolific battle as a small biotech to remain well-funded enough to forge ahead with Dr. Talor's unique cytokine invention. Just recently, the firm announced it was raising another $10M, which for me created a juicy opportunity to purchase a comfortable number of shares at a bargain-basement price, assuming you recognize that periodic stock dilution is likely. The company has been burning through about $4M per quarter (R&D plus Admin), and the 10Q from August 2012 makes it clear that the company will have to continue to raise capital in the future. This although Teva and two other firms have a clear stake in its development, verifying how Cel-Sci has been quite successful in expanding licensing agreements. In August, the company reported just north of $4M in cash, so I calculate the firm may have to re-capitalize by mid-2013. But here's something CEO Kersten recently wrote:
We are well into the final, and pivotal, study with Multikine designed to definitively prove that it will increase overall survival in a disease with a clear unmet medical need, where the last drug approval was about 50 years ago and where no other drug is in late stage development. Our goal is to replicate the promising results from our Phase II studies and so far that is what we are seeing.
My question is: How could lawyer-trained Kersten make that claim unless "that is what we are seeing" (Ibid)?
Having followed the clinical trial for some time, it seems reasonable to conclude that Phase III results may be at least two years away, though the drug carries Orphan Drug status and the possibility of observed tumor shrinkage could convince the FDA to move sooner versus later. Cel-Sci is authorized to issue 600M shares, so future 2013 dilution should surprise no one. Of course, I have no guarantee that Multikine will be successful in its Phase III clinical trial against head and neck cancer, but it won't be because I haven't studied the science. Irrespective of Cel-Sci's up and down history with Wall Street, no one can deny that Teva has put its reputation behind the drug's development. Moreover, let's be clear: there's nothing new about any micro cap biotech struggling to meet its bills, but should Multikine prove a success, in one day of trading, the picture could dramatically change for the better (the opposite is also true).
In my view, because I've read the clinical research that has gone on from a drug development standpoint, like my recent correct call on Acadia's (NASDAQ:ACAD) Pimavanserin's phase III clinical trial -- that it would be successful -- I remain a fan of Multikine because it has been well-documented that the drug has repeatedly made carcinoma tumors shrink and in a few widely publicized cases, even disappear! This is not "pie in the sky" wishing, either. I have looked at the before and after pictures, plus there is an abundance of data measuring the tumors that have shrunk after Multikine treatment. I also believe the data that surgeons have noted that pretreatment with Multikine has sharpened the edges around a tumor, thus improving the ability to cut out the cancerous cells. They say a picture is "worth a thousand words," and here is one example: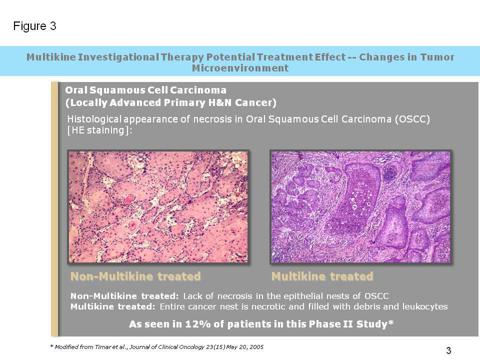 Here too is another telling example published in a free article, titled: "Report of a Clinical Trial in 12 Patients With Head and Neck Cancer Treated Intratumorally And Peritumorally With Multikine." What you see are before and after pictures of someone treated with Multikine.

Considering the fact that Cel-Sci has a well-protected technology, plus its own certified research manufacturing facility, and that Multikine does not require the patient to donate plasma in order to be manufactured (cf. Provenge), this is a rare opportunity to get into a stock that is probably 10 times below a multiple of where it should be for a Phase III oncology product. For me, if the science and data to date support the theory, then buyers who have a few years' patience could walk away handsomely rewarded.
Disclosure: I am long CVM. I wrote this article myself, and it expresses my own opinions. I am not receiving compensation for it (other than from Seeking Alpha). I have no business relationship with any company whose stock is mentioned in this article.
Additional disclosure: Investors buy and/or sell at their own risk. For me "long" is until I sell, and I do not "short" stocks. This article is for entertainment purposes only and should not be used for individual investor advice. You are duly warned to seek the advice of a licensed market professional.