It's been tough to be a bear as of late. Over the last fourteen trading days the major benchmarks have managed to surge significantly higher. DIA, SPY, IWM and QQQ have rallied 4.8%, 5.2%, 6.5% and 7.4%. But when you take a closer look, it only took the major benchmarks eight trading days to make those gains. The last six days have consisted of nothing buy sideways trading. And given the recent build up, I expect the jobs report tomorrow will produce a few fireworks. I am still positioned for a bearish move, as most of my trades recently have all been bear call spreads. But I am far enough away from the at-the-money strike (current price) that I have a margin for error just in case IWM or SPY moves against me.
With IWM and the DOW currently in an overbought state, as well as numerous other highly-liquid ETFs I follow for my options selling strategies, the pot odds no doubt lean towards the bearish camp. Does that mean that the market is going to move lower? Certainly not. It just means that the market as a whole is currently extended and typically, we see a reversion to the mean when this occurs. If we move higher, the odds increase that much more and most likely, I will just add a few more bear call spreads to the mix.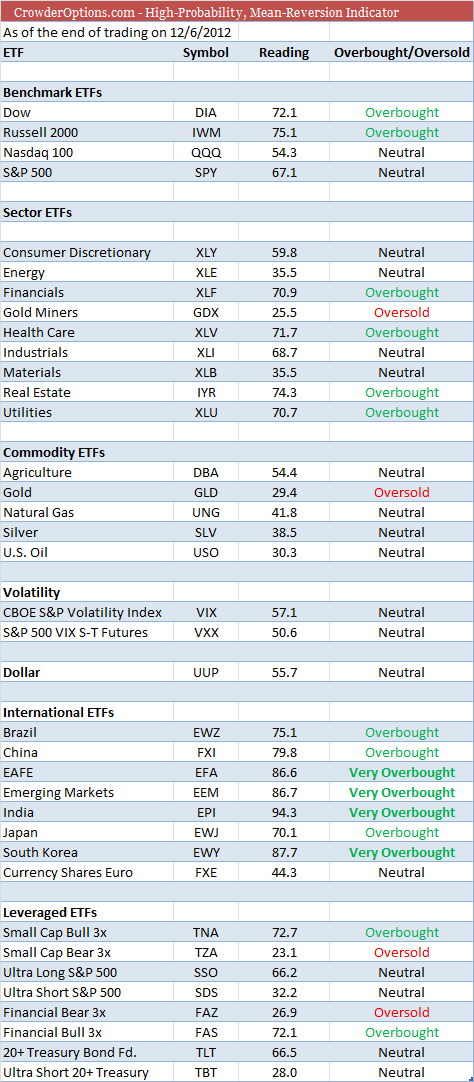 Disclosure: I am short IWM, SPY. I wrote this article myself, and it expresses my own opinions. I am not receiving compensation for it. I have no business relationship with any company whose stock is mentioned in this article.