Liz Claiborne (LIZ) is expected to report Q3 earnings Tuesday before the open with a conference call scheduled for 10:00 am ET.
Guidance
Analysts are looking for a profit of 37c on revenue of $1.1B. The consensus range is 35c to 39c for EPS, and revenue of $1.01B to $1.16B, according to First Call. The company recently forecast Q3 EPS 37c to 42c and Q3 net sales of about $1.015B. The company is planning a 50% decrease in FY09 capital expenditures and lowered its FY08 EPS guidance to $1.00 to $1.10 from $1.140 to $1.50 vs. First Call consensus of $1.05. Additionally, Liz Claiborne forecast Q4 EPS 19c to 24c, down from the prior range of 66c to 71c, vs. First Call consensus of 25c.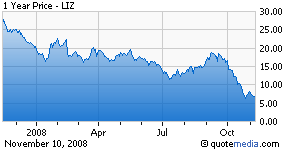 Following the downward earnings revision, Standard & Poor's placed the apparel company's corporate credit rating on negative watch. S&P said the resolution of that listing will focus on the company's ability to maintain its credit metrics consistent with their expectations, and its operating business trends and financial metrics.
Analyst Views
Omar Saad at Credit Suisse believes the company's disclosure of balance sheet metrics and cash flow should help calm investor fears that it will violate debt covenants. He says he's not concerned the company will go bankrupt, but more that management will be forced to "under invest in critical opportunities". Saad thinks Liz Claiborne's Q4 could end up worse than guidance and he expects that retailers will remain challenged for several quarters.