In a recent article I highlighted my bearish outlook on Madison Square Garden (NASDAQ:MSG) based on the recent NHL lockout. While MSG does have other venues, professional sports teams -- namely the New York Knicks -- and other means of revenue, a cancelled NHL season will undoubtedly hurt the company's income. With the most recent news of an NHL decertification, there very well could be no 2012-13 hockey season on tap.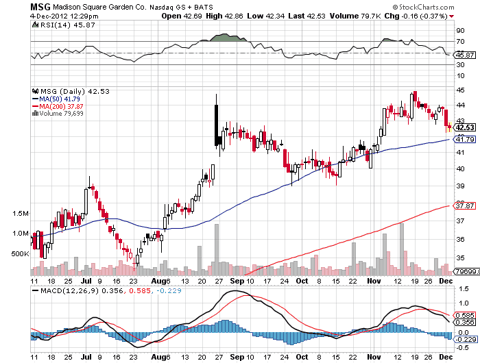 Click to enlarge
Source: Stockcharts.com
What could possibly make all of this even worse? Insider selling, of course. James Dolan, the company's Executive Director, was once the top shareholder in MSG before recent selling. Dolan owned 512,249 shares, before selling over 60% of his stake. By selling 316,041 shares in mid-November, he now only has 189,205 shares and is the third largest shareholder behind Hank Ratner and Charles Dolan (James Dolan's father).
At one point, it was rumored that Dolan was going to take MSG private, something that doesn't appear to be happening any time soon. But the Dolan family controls 60% of MSG stock, shouldn't they be able to take it private if they want too? In short, no; but to answer that, lets take a look at how MSG got to where it is now.
Madison Square Garden was owned by Viacom before being sold to a partnership between ITT and Cablevision (NYSE:CVC). Cablevision is a company that Charles Dolan started in 1973. In 1997, Cablevision bought out ITT, thus gaining full ownership of Madison Square Garden. In January 2010, MSG made its IPO debut, completing the tax-free spinoff by Cablevision.
So even with the Dolan family still controlling a majority stake, they'll need other major shareholders to approve a deal -- which they haven't -- for Dolan to take the company private. He tried to once, before Cablevision completed the spinoff, in which Dolan bid $10 billion, which was ultimately rejected. Below is a chart of the recent selling within MSG: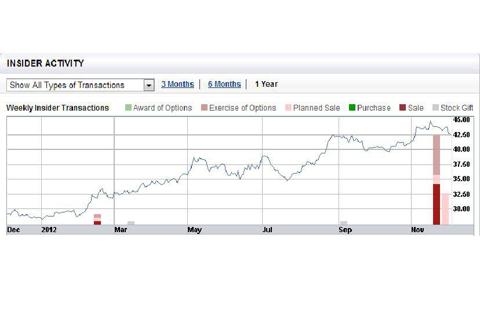 Click to enlarge
Source: E-Trade
So where's the stock headed next? That's impossible to say, but I remain bearish overall, as I've recently stated my case for. With the Rangers generating $200 million in revenues last year -- not including what MSG made from television and advertising revenue -- I think a full NHL lockout will hinder earnings in 2013. While it has not been announced, no deal appears to be in sight for an NHL resolution, and in its most recent conference call, MSG has stated further lockout delays will indeed affect earnings. Hank Ratner, the CEO, had this to say on the impact from the lockout:
"If the canceled games are not rescheduled in the second quarter, it would have a material negative effect on the company's revenues, operating income and AOCF in the quarter. If additional games are cancelled and not rescheduled, it could have a material negative effect on our fiscal 2013 results."
So perhaps Dolan has realized a potential MSG takeover is unlikely, at least right now. But by recently selling over 60% of his stake, does that mean he thinks MSG is headed lower, as the NHL lockout threatens sports and media revenue? Only time will tell, but the sale happened to come pretty close to the 52-week high of $44.95, when Dolan sold for an average price of $43.85.
Insider selling isn't indicative of future price action, but can be something to look out for. If the NHL lockout is resolved, MSG can and will likely go higher. But with recent insider selling and a rich valuation -- MSG has a P/E ratio of 32 -- I think the stock is headed lower until the NHL can reach resolution. If the stock does indeed fall, I am a long-term buyer.
Disclosure: I have no positions in any stocks mentioned, and no plans to initiate any positions within the next 72 hours. I wrote this article myself, and it expresses my own opinions. I am not receiving compensation for it (other than from Seeking Alpha). I have no business relationship with any company whose stock is mentioned in this article.