Stocks To Trade:
Today, we are looking at an earnings trade in Costco (NASDAQ:COST), longs in JP Morgan (NYSE:JPM) and Starbucks (NASDAQ:SBUX), and shorts in Avon Products (NYSE:AVP) and F5 Networks (NASDAQ:FFIV).
For an earnings trade, we are looking at Costco. The company dropped significantly on Thursday, which was mostly due to the company's special dividend to be paid out on December 10. The company reports earnings on December 12, and we believe that the company has put in a bottom at this point. COST pre-announced their revenue for the quarter at just under expectations of $23.5B at $23.2B. They announced a $7-per-share special dividend along with the revenue.
The company is expected to announce 16% growth in earnings on December 12 as well, which is a very strong growth level for the discount store business. What the company has done with their pre-announcement/special dividend is take out most of the potential for any surprises on December 12. We like using Thursday's pullback to the 50-day and 20-day MAs as a change to write some bull put spreads on COST. The company's upward channel has moved above $95, and they have good support right now at current levels. The strong growth, special dividend, and pre-announcement gives us a chance to sell a safe spread in COST. $95 has held since August, and we see no reason it will not with the recent developments.
Trade: COST, Jan19, 95/92.50 Bull Put Spread
Max Gain: 8%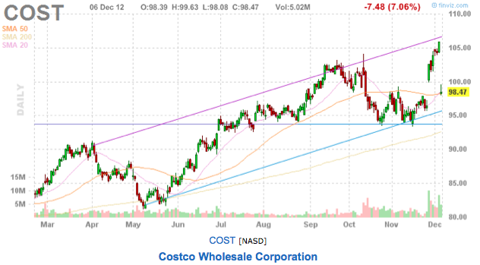 For longs, we like the looks of JPMorgan Chase and Starbucks. JPM looks primed for a breakout right now if it can get over $42, which has been resistance for the stock for some time now. JPM is looking very solid headed into 2013 with some very positive Q4 earnings. JPM is expected to report 35% growth in earnings along with 10% growth in revenue, which is very positive for the company. The revenue growth is especially exciting as financials have had trouble increasing revenue this year due to lower amounts of loans.
Further, a fiscal cliff deal would be very bullish for financials, and as we have seen over the last several days in the markets, financials are ready to move higher. With Greece looking better and the cliff off the table, financials should rally strongly. $42 is the level to watch right now as they have been coiling beneath that line, looking ready to move if it breaks. With good growth on the horizon and a potential fiscal cliff fix, we like JPM.
SBUX is also looking very solid. Analysts lined up Thursday to praise the company with four different firms making upgrades or posting positive commentaries about the company. RW Baird upgraded the company to Outperform from Neutral; Deutsche Bank commented that earnings growth was accelerating; and Bernstein said the company has growth prospects in the USA. The stock took off, breaking through $52 resistance on a strong move. We like them for a bull put spread now.
The stock has not failed $48 since their last earnings report, and we believe that level should hold with a lot of positive momentum working for the company. The company is looking strong for growth in the US and international markets with their single-serving coffeemaker and pods that they can sell for the coffeemaker. The stock is looking very strong on its breakout, and we should see it hold strong into its next earnings report.
Equity Trade: JPM, Long
Breakout Point: Break of 42.00
Options Trade: SBUX, Jan19, 48/47 Bull Put Spread
Max Gain: 10%
For shorts, we like the looks of Avon Products and F5 Networks. AVP is looking like it could break down as it has been weak since its November earnings. The company broke down from $15, and it has not recovered since. The company saw its profits get squeezed in its last batch of earnings, and they cut their dividend. This was back-to-back weak earnings reports for AVP, and it's under pressure right now. The stock has been holding 13.75 for the past month, and it has seen a triple test of that level. If it fails, we could see AVP have a serious dip. The market should start to weaken as we near the fiscal cliff deadline, and AVP looks like a perfect candidate to short. FFIV is also looking very weak.
The company looks very solid for a bear call spread. The company has been looking weak since its May top at 140, and it has continued to break down throughout the year. It's in a strong downward channel, and its latest earnings report was not a catalyst overall. Their earnings report on October 24 saw a solid gap down, and while the stock has recovered it has not exited its downward channel. The earnings report showed flat growth in earnings and issued weaker than expected outlook. This rebound in shares is a good chance to place a bear call spread as the stock has had trouble retaking $95, which is the level where it broke down from after earnings. With the fiscal cliff still looming, we like a bear call spread through December 22 expiration.
Stock Trade: AVP, Short
Breakout point: Break of 13.75
Options Trade: FFIV, Jan19, 100/105 Bear Call Spread
Max Gain: 7%
Friday's Outlook:
The market has a lot on its plate for Friday with the Nonfarm Payrolls report, which is one of the most important economic data points for the month. The NFP is expected to come in at 90K, which is mostly due to Superstorm Sandy. A miss would not hurt as much due to the expectation of weakness from the storm, but it would still be weak for the market. A beat would be very positive for the market as we need a catalyst to move higher.
Additionally, the market will continue to react to the fiscal cliff news. There have not been any major developments this week, and the market will not start to panic until we approach the December 31 deadline. It will be an exciting day with the NFP report coming out, and it could make a strong impact on the market...so be prepared.
Chart courtesy of finviz.com.
Disclosure: I have no positions in any stocks mentioned, and no plans to initiate any positions within the next 72 hours.
Business relationship disclosure: The Oxen Group is a team of analysts. This article was written by David Ristau, one of our writers. We did not receive compensation for this article (other than from Seeking Alpha), and we have no business relationship with any company whose stock is mentioned in this article.