Although it has risen 443% since 2002, gold has had a modest rise this year, up only 8.23% year-to-date, to $1699.50, while the Gold Miners ETF, (NYSEARCA:GDX), has dropped -11.43%. This week Goldman Sachs predicted gold to rise to about $1805.00 over the next 6 months, and end 2013 at around $1800.00. However, Goldman also predicted that gold would average $1750.00 in 2014.
With gold miners lagging, and prices still historically high, we tried to unearth an oversold gold dividend stock with undervalued growth, and came up with Canadian firm Goldcorp, (NYSE:GG). Goldcorp has a $30 billion market cap, second only to Barrick Gold, (NYSE:ABX), and is among the industry leaders for earnings growth over the past 5 years: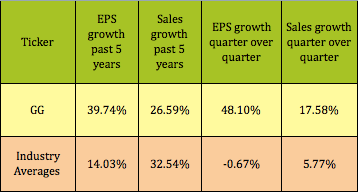 After peaking just above $50.00 in late February, and rallying back to $46.88 in September, GG is back down to $36.82, and looks very oversold on its stochastic chart: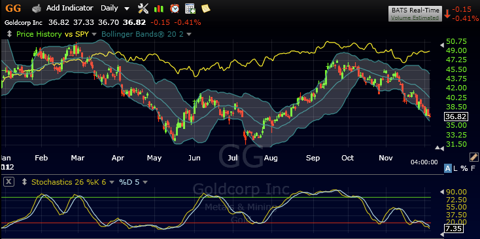 Undervalued 2013 Earnings: Part of the problem is slower earnings for 2012, but 2013 presents a much shinier outlook. Analysts are forecasting 47.50% earnings growth, which indicates that GG is very undervalued, on a 2013 PEG basis, with a low .37 PEG:

Goldcorp is also undervalued on a Price/Tangible Book basis, at 1.46 vs. 2.26 for its industry.
Dividends: The gold sector isn't known for high dividend stocks, but GG at least is above average, and pays a monthly dividend: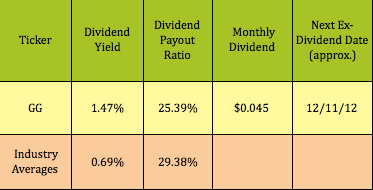 Options: If you want to ratchet up GG's dividend yield, you may want to consider selling covered calls above its current stock price. This July 2013 trade, from our Covered Calls Table, offers you a 17.07% annualized option yield. The $38 strike price currently pays nearly 10 times the amount of GG's dividends during this term, and also leaves room for an additional $1.18 in potential share price gains:

Cash Secured Puts: The flip side of this strategy would be to sell puts below GG's current share price, in order to achieve a lower break-even cost. This put trade pays over 10 times GG's dividends for this term and gives you a $32.25 break-even cost, only $.71 above GG's 52-week low.
You can find more info on this and over 30 other high yield options trades in our Cash Secured Puts Table:

Financials: Goldcorp has a strong balance sheet, with very little debt, a strong operating margin, and management efficiency ratios in line with its competitors with a market cap above $1 billion: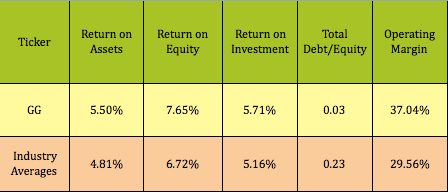 Technical & Ownership Data: There's more room for institutional ownership of GG, which currently ranks 8th for this metric, among $1 billion-plus market cap gold firms.

Disclaimer: This article was written for informational purposes only and isn't intended as investment advice.
Disclosure: I have no positions in any stocks mentioned, but may initiate a long position in GG over the next 72 hours. I wrote this article myself, and it expresses my own opinions. I am not receiving compensation for it (other than from Seeking Alpha). I have no business relationship with any company whose stock is mentioned in this article.