Successful investing requires the same skill set that smart shoppers use every day at shopping malls across America. To be confident you are getting a bargain, you need to know the merchandise.
Are you shopping in a 'Jos. A Banks' (NASDAQ:JOSB) environment where list prices are wildly inflated so that 'buy one, get three free' only takes you back to the real value somewhere else? Is that designer dress at Ross Stores (NASDAQ:ROST) or TJ Maxx (NYSE:TJX) the same one that used to be on the racks at Neiman Marcus, or is it a lower quality knock-off from the same manufacturer made especially for the off-price outlets?
Bargain hunters want to get more value for their money on exactly the same item. Price comparison is a minefield when you can't be sure you are comparing apples to apples.
Equity investors have it easier than that. A share of stock is the same everywhere. The place of purchase is irrelevant. Knowing what a particular share should be worth is thus easier with stocks than clothes.
Public Storage (NYSE:PSA) is organized as a Real Estate Investment Trust (REIT). For REITs the most relevant valuation parameters are Funds from Operation (FFO), similar to P/E for a standard corporation, and current yield.
To know if PSA shares are expensive or cheap, you first need to 'know your merchandise'. Here are the FFOs and yield high/low extremes along with PSA's average levels from the 10-year period 2002 - 2011.
Lower FFOs offer better value. Yield is always more attractive at higher levels.
As of Dec. 6, 2012 PSA was trading at $141.88. That puts its trailing 12-months FFO at a far-from-cheap 22.6x. The $1.10 quarterly payout provides a slightly below-average (for PSA) 3.1% current yield.
The public's unquenchable thirst for income has pushed PSA to overpriced territory. Traders who jumped in at $152.70, more than 24X FFO, shouldn't be shocked to see they are already sitting on greater than $10 per share point declines. That was not only an absolutely high price, it was an all-time high valuation.
A regression to something closer to its historical average valuation could see PSA back at $105 - $110 even if it goes on to hit its 2013 FFO estimate of $6.85. Pending any future dividend increase, PSA's current distribution rate would only support about $130 if Public Storage reverted back to its long-term average 3.4% yield.
Those well-below-present-quote projections are not crazy targets. PSA's 52-week low was $124.66 during perhaps the most favorable macro-environment ever for REITs.
These shares have a history of sharp pullbacks. During 2007 PSA cratered from $117.20 to $68.10 before that year wrapped up. Public Storage recovered to $102.50 in 2008 before crashing to $45.30 in March of 2009.
Research firm Morningstar is decidedly negative on PSA. It carries a two-star SELL rating and sees present day fair value as just $110.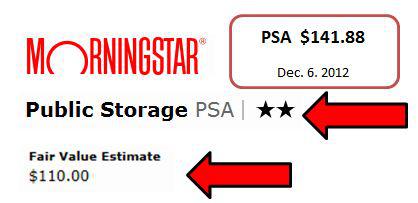 Everything I just noted is publicly available, easily accessible information. When Fortune magazine interviewed two industry analysts, a PSA bull and a PSA bear, neither one ever mentioned anything to do with valuation.
The bullish view laid out a $164 goal price without any specific justification for why that was valid. The bearish case did not come to any conclusion as to what the proper price should be.
Read for yourself by clicking on the link to see the full discussion.
Source: Fortune Magazine December 3, 2012 issue
I am always amazed when I see write-ups where valuation never enters the discussion.
In this case, following either man's much-too-general advice would be like making a buying decision without seeing the price tag before going to the register.
Disclosure: I have no positions in any stocks mentioned, and no plans to initiate any positions within the next 72 hours. I wrote this article myself, and it expresses my own opinions. I am not receiving compensation for it (other than from Seeking Alpha). I have no business relationship with any company whose stock is mentioned in this article.