We have recently completed three reports analyzing and evaluating Pitney Bowes Inc (NYSE:PBI). We considered investing in it in August but refrained from doing so. Because the company is a well-known cash cow and because it has a high dividend yield, it would be foolhardy to keep it on our pay no mind list. That's why we have ramped up our analysis and evaluation coverage of the company. Although it is struggling to hold on to its sales, it represents a potential good value based on its 13.8% dividend yield and its free cash flow yield of 23%. PBI's stock was dead money from 2000-2007 and has deteriorated since then. Because the company's price/earnings ratio has collapsed by nearly 80% since 2007 even though its EPS from continuing operations has remained stable during this time, we are carefully evaluating it in order to ensure that it is a value and not a value-trap.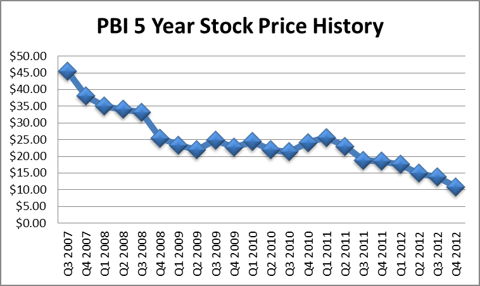 Click to enlarge
Corporate Highlights or Lowlights (Depends on your view)
PBI announced recently that its sales have sagged by 6.5% in Q3 2012 versus Q3 2011 levels and by 5.6% year-over-year in the YTD 2012 period versus the YTD 2011 period. All of its revenue streams saw year-over-year sales declines in Q3 2012 ranging from 2.07% for its support services to 17.4% for its software revenues. The good news is that the company's operating income increased by 7.8% year-over-year in the quarter and 7.5% year-to-date. The bad news was that in both periods, this was due primarily to a $50M reduction in goodwill impairment and restructuring charges during the quarter and $76M year-to-date. Although the company was able to reduce its operating expenses during the quarter and the year-to-date period, these operating cost reductions only offset about 75% of PBI's year-over-year sales reductions. PBI's stock sold off by 13% the day after its results were released. We think investors were displeased that the company missed its adjusted EPS expectations by $.02 and its revenue expectations by $60M (4.6%). Also we think that investors were displeased that the company is undertaking another restructuring charge and taking impairment charges in Q4 due to discontinuing part of its International Mail operations.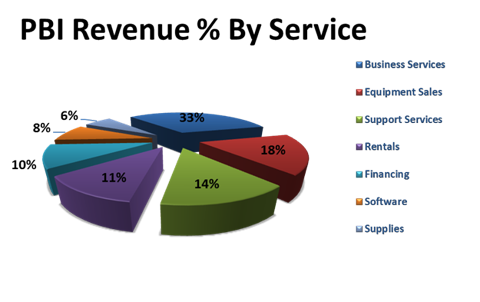 Click to enlarge
Source: Pitney Bowes's Q3 2012 10-Q
Business Line Summary
PBI has two business divisions, one focused on large business customers (Enterprise Business Solutions) and the other focused on smaller customers (Small & Medium Business Solutions). Both of these divisions saw sagging revenue results throughout the business units in each division. The only business unit that saw a revenue increase during the quarter was the Production Mail business, which generated 4.3% growth in the quarter but a 5.8% decrease during the first nine months of the year. The only business unit that saw revenue growth during the first nine months of the year was the Mail Services business, which saw 2.67% growth during the first nine months of 2012 and a 61bp decline during the quarter. PBI's Software business had the worst performance of PBI's business units, checking in with year-over-year % revenue declines of 18.8% in Q3 2012 and 5.3% YTD as well as EBIT declines of 94% for Q3 2012 and 36% for YTD 2012. We were taken aback by the fact that PBI's Small & Medium Business Solutions Division had a similar level of revenue as its Enterprise Business Solutions Division but significantly higher EBIT and EBIT margins.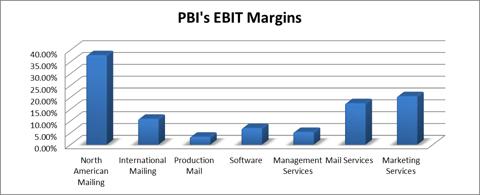 Click to enlarge
Source: Pitney Bowes's Q3 2012 10-Q
Corporate Asset Management
The company paid down $550M in maturing debt earlier this year by utilizing free cash flows as well as existing cash balances. The company has $375M in maturing debt due in the first half of 2013 and it received $220M through the sale of a term loan with two maturity tranches (2015 and 2016). The company increased its annualized dividend by $.02 earlier in the year and this was the third straight year (and eighth time in the last 12 years) the company increased it by $.02. The company generated nearly $440M in operating cash flows YTD 2012, which was a decline from the $750.5M in YTD 2011. This decline was due was due to higher tax payments in 2012, as a result of tax payments related to the sale of leveraged lease assets, the loss of bonus depreciation and higher income tax refunds received in 2011 as well as lower collections of finance and accounts receivables in 2012. Despite the decline in its operating and free cash flows in 2012 versus 2011 levels, the company still generated $311.8M in free cash flows during the first 9 months of 2012. The company has between $300M-$600M in maturing debt due each year from 2013-2019 and we belief that the company should continue its efforts to pay off its maturing debt in part from the sale of new debt (refinancing) as well as through its free cash flows. This way it keeps the credit rating agencies from reducing the credit rating further and makes it so investors don't perceive PBI as part of the extend and pretend game.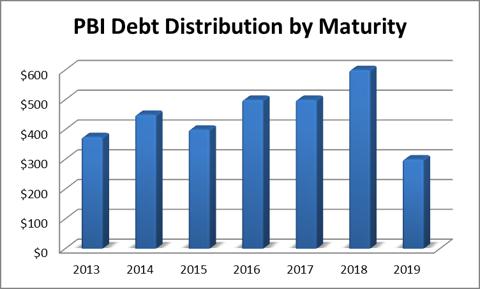 Click to enlarge
Source: Morningstar Direct
CONCLUSION
In conclusion, while we see things in Pitney Bowes that we like, we believe that investors should be obtusely deliberate with regards to entering a position in Pitney Bowes (whether they go short or long). Considering that PBI's stock was dead-money (except for dividends) from 2000-2007 and has been deteriorating thanks to the company's sagging revenue results since 2007, we believe that investors need to be careful before trying to get PBI's dividend. We weren't the only investors attracted to PBI though we will need a lot more than a 13.8% dividend yield or even a 23% free cash flow yield to jump on in. Because of its yield, we believe investors can do no wrong by following it and using the published research about the company to augment any research done on their part in order to buy into it when the time is right and to avoid trying to catch a falling knife or buying after a dead-cat bounce. We are intrigued by PBI's new CEO Marc Lautenbach from IBM and as such we will be continuing to analyze and evaluate PBI.
Disclosure: I have no positions in any stocks mentioned, and no plans to initiate any positions within the next 72 hours. I wrote this article myself, and it expresses my own opinions. I am not receiving compensation for it (other than from Seeking Alpha). I have no business relationship with any company whose stock is mentioned in this article.
Additional disclosure: This article was written by an analyst at Saibus Research. Saibus Research has not received compensation directly or indirectly for expressing the recommendation in this article. We have no business relationship with any company whose stock is mentioned in this article. Under no circumstances must this report be considered an offer to buy, sell, subscribe for or trade securities or other instruments.