AT&T Inc (NYSE:T) is the nation's largest telecommunications carrier and the second largest company in the wireless communications sector. AT&T's shares sport a 5.3% yield, the highest yield of all the stocks in the Dow Jones Industrial Average. AT&T increased its annualized dividend by $.04 (2.27%) recently and it now pays investors $1.80/share annually. AT&T and its predecessor companies, Southwestern Bell/SBC Communications, have been paying dividends since its 1984 mandatory divestiture from the American Telephone and Telegraph Company, and it has raised its regular split-adjusted dividend each year during this time period. AT&T also paid three special dividends totaling $0.20/share in 2003.
During the first nine months of 2012, AT&T generated $28.94 billion in operating cash flows and spent $13.56 billion on acquisitions and capital investment spending net of $807 million in proceeds from the sale of its Advertising Solutions business and other non-core assets. AT&T used its $15.4 billion in free cash flows to pay $7.7 billion in dividends and to repurchase $7.9 billion in shares net of employee stock issuance. AT&T also paid down $1 billion in net debt and covered this reduction in cash with $311 million from the sale of securities held, as well as its $3.2 billion in beginning period cash. We were also pleased to see that AT&T will spend $14 billion over the next three years to upgrade its wireless and wireline broadband networks under its new Project Velocity IP plan, and we believe that it will pay dividends for shareholders.
Click to enlarge images.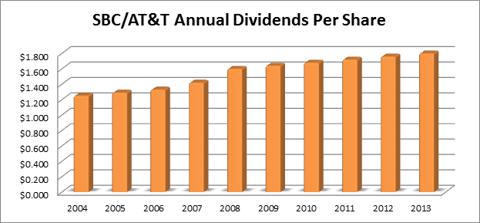 Click to enlarge
Source: AT&T/SBC dividend history.

AT&T announced a 300 million share repurchase program in December 2010 and added an additional 300 million shares to it in July 2012. AT&T had repurchased 143.5 million under the program as of Q2 2012 and 271 million shares as of Q3 2012. AT&T expects to conclude the December 2010 repurchase program in December 2012 and to start on the July 2012 share repurchase program. AT&T merged with BellSouth at the end of 2006 and, in that time, it has issued $3.1 billion in gross share issuance primarily for its employee stock compensation programs. AT&T's gross stock issuance shouldn't be gross for investors because AT&T has thoughtfully seen fit to repurchase nearly $24.9 billion in gross share repurchases.
The end result is that AT&T has repurchased ~$21.8 billion in its shares net of employee stock issuance. AT&T has reduced its share count from 6.24 billion in 2006 to 5.71 billion as of Q3 2012 and the new share repurchase program will reduce AT&T's share count by an additional 5% upon its completion. We estimate that AT&T will complete the new share repurchase program by around December 2014, even with the additional capex spending for the Project Velocity IP program.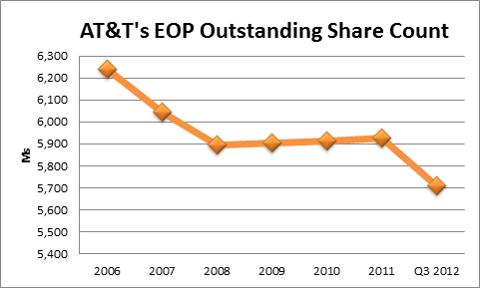 Click to enlarge
Source: AT&T's 2006-11 annual reports and Q3 2012 release.
Even though we own Sprint Nextel (NYSE:S) and we can see that AT&T's Project Velocity IP program will help AT&T more than it helps Sprint, we are pleased to see AT&T invest $14 billion in upgrading its networks. As Verizon Communications (NYSE:VZ) is putting the finishing touches on its 4G-LTE buildout, we expect Project Velocity IP to enable AT&T to minimize the disparity between its 4G-LTE footprint and Verizon's.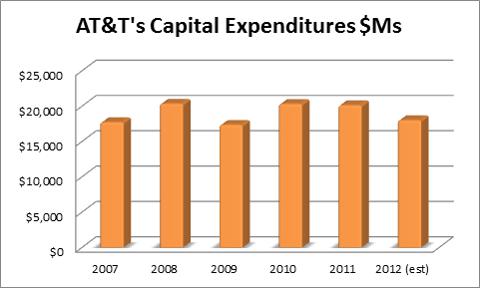 Click to enlarge
Source: Morningstar Direct and our estimates.
AT&T's Project Velocity IP will receive an investment of $14 billion over the next three years. As of right now, it remains to be seen whether this represents an addition to AT&T's capital investment budget over the next three years or if it is merely an appropriation allocation of AT&T's existing capital investment budget. Nevertheless, we can see that the company will spend $8 billion on its wireless networks and $6 billion on its wireline operations during the project's lifetime. Although AT&T has an impressive 4G-HSPA+ wireless network, its 4G-LTE network footprint pales in comparison to Verizon Wireless's network.
Furthermore, we have seen Sprint take the fight to AT&T by kicking off its 4G-LTE operations in AT&T's backyard. Four of the first five cities to get Sprint 4G-LTE service included Dallas (AT&T's Corporate Headquarters), Atlanta (AT&T Wireless's HQ), San Antonio (Former Headquarters of AT&T's predecessor SBC), and Houston (the third largest city in AT&T's ILEC footprint). Sprint's 4G LTE Network recently went live in the Chicagoland area (Ameritech's former HQ). Now Sprint is looking to bring 4G-LTE to Oakland (PacBell was headquartered one town over in San Francisco), Los Angeles (the largest city in AT&T's ILEC footprint), and Indianapolis (Indiana Bell's HQ).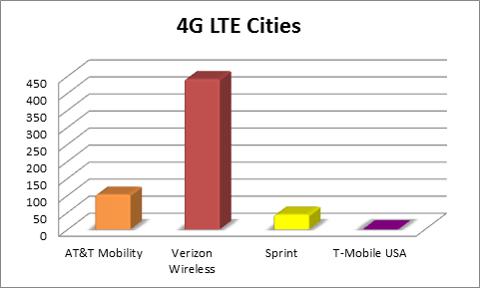 Click to enlarge
Source: Verizon Wireless's 4G-LTE coverage website.
AT&T Mobility is expecting to extend its 4G-LTE coverage to 300 million consumers by the end of 2014, which is 50 million more than previously planned and will be comparable to Verizon's 4G-LTE coverage area. AT&T Wireline will be getting $6 billion in order to expand its U-Verse telecommunications services triple play. U-Verse was launched in June 2006 and it includes high-speed internet, IP telephone, and IPTV services. Upon the conclusion of Project Velocity IP, AT&T Wireline will be able to offer 90% of its U-Verse region 75 megabits per second, while 75% will receive speeds of 100 megabits per second. When the investments are completed, AT&T said 90% of its overall revenue will derive from its high-growth area, with the carrier aiming to discontinue traditional phones and landline connections.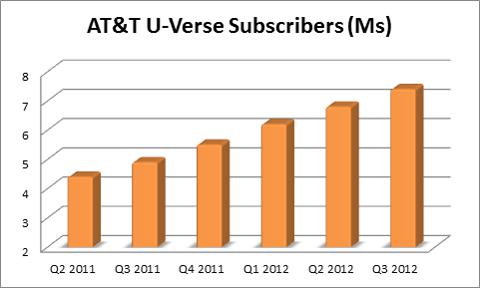 Click to enlarge
Source: Our October report on AT&T.
Conclusion
We are not counting AT&T out of the wireless communications arms race. Although AT&T Wireless will not ever catch up to Verizon Wireless, we believe that the $8 billion in wireless upgrade spending will ensure that Sprint will have to continue to work hard in order to be a competitive threat to AT&T. We also believe that AT&T's $6 billion in wireline upgrade spending will enable it to offset its wireline access declines with growth from its Internet, data, and U-Verse service offerings. This will ensure that it maintains its commanding lead on Verizon with regard to wireline services.
Although Verizon Wireless has a significant lead on AT&T Wireless with regard to post-paid subscriber customers, AT&T has a larger presence in prepaid, reseller, and connected devices customers. As a result, Verizon Wireless's YTD 2012 revenue was only 13.75% higher than AT&T Wireless's revenue in the same period. AT&T Wireline has 50% more wireline revenues than Verizon Wireline in YTD 2012 and 111% more EBITDA. We can see that although AT&T is not going to ever be a growth stock ever again, it is a dividend and buyback champion. We believe that AT&T's $14 billion Project Velocity IP network upgrade program will enable AT&T to continue to grow its dividend in the future.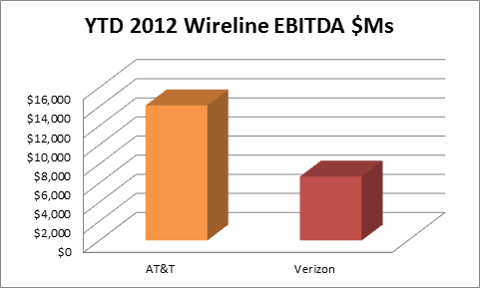 Click to enlarge
Source: Q3 2012 reports for AT&T and Verizon.
Disclosure: I am long S. I wrote this article myself, and it expresses my own opinions. I am not receiving compensation for it (other than from Seeking Alpha). I have no business relationship with any company whose stock is mentioned in this article.
Additional disclosure: This article was written by an analyst at Saibus Research. Saibus Research has not received compensation directly or indirectly for expressing the recommendation in this article. We have no business relationship with any company whose stock is mentioned in this article. Under no circumstances must this report be considered an offer to buy, sell, subscribe for or trade securities or other instruments.