For those investors who have been paying attention, there has been a dramatic difference between international and U.S. stock returns during the recovery rally. It has been tough going for international investors. The iShares Brazil Fund (NYSEARCA:EWZ) is down over 9% YTD. In addition to other international struggles, China's slowdown and ongoing Eurozone debt issues may continue to be challenges for global investors. However, the underperformance of international stocks could eventually turn into an opportunity. As we come to the end of the year, international stocks are showing some signs of strength and deserve a closer look.
U.S. stocks have outpaced international stocks for most of the recovery rally by a factor of nearly two. If you compare the actual price action between the two securities listed below, you will find broad U.S. stock indexes have delivered about twice the gains broad international stocks indexes did during the period. This is one of the reasons ratio and relative strength analysis can be helpful in making investment selections. This type of analysis would have kept an investor more heavily weighted, if not exclusively, in U.S. equities during most of the period.
A price ratio analysis compares the relative strength between two investments. In the chart below, the Vanguard Total Market Fund (NYSEARCA:VTI) is used to represent U.S. stocks and the Vanguard MSCI EAFE Fund (NYSEARCA:VEA) is used to represent international stocks. When the line is rising, VTI is out outperforming, and when it is falling, VEA is outperforming. Other than a few brief periods, U.S. stocks have outperformed international stocks since the recovery rally of 2009.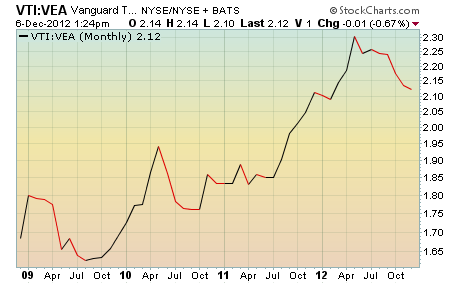 When we reverse the order of VTI & VEA, it makes it easier to identify the directional change. In the next chart, VEA is outperforming VTI when the line is rising. We have seen this before; it is too early to tell if this will be sustained but it is worth noting and potentially taking some action.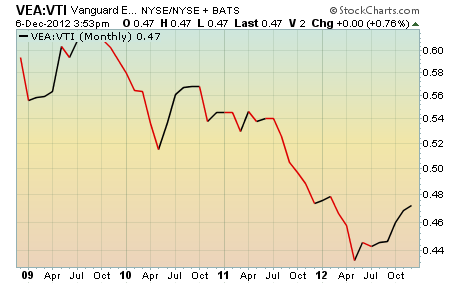 We can perform the same ratio analysis to determine which regions are leading the international category.
Starting south of the boarder, Latin America 40 Index iShares (NYSEARCA:ILF) is struggling relative to its international peers.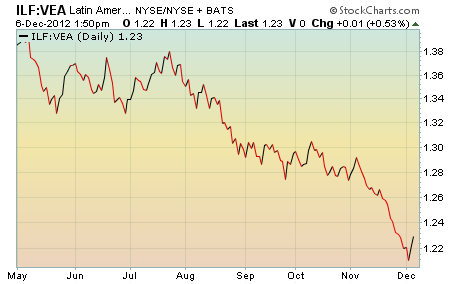 Moving to Asia, the iShares MSCI All Country Asia ex-Japan (NASDAQ:AAXJ) is showing some signs of leadership.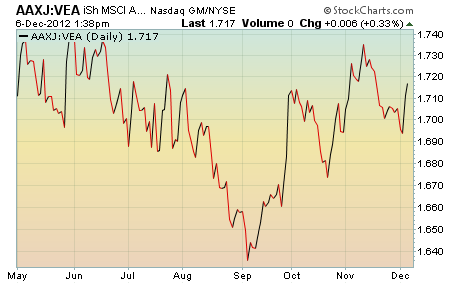 The iShares MSCI Pacific ex-Japan (NYSEARCA:EPP) is also showing some signs of leadership.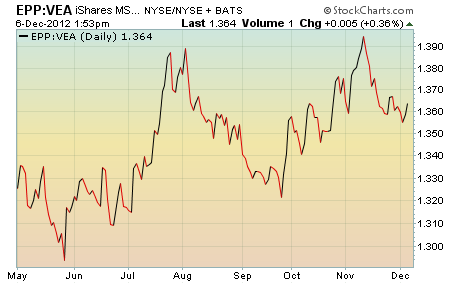 Across the Atlantic, we can see the Vanguard European Fund (NYSEARCA:VGK) was very strong late summer but has drifted sideways since.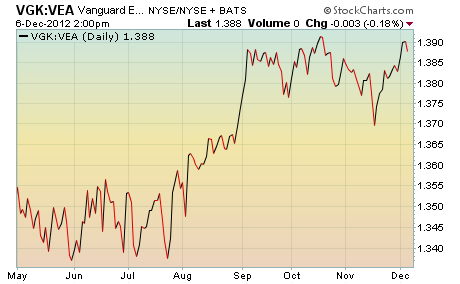 The SPDR DJ International Real Estate Fund (NYSEARCA:RWX) is another international investment worth consideration.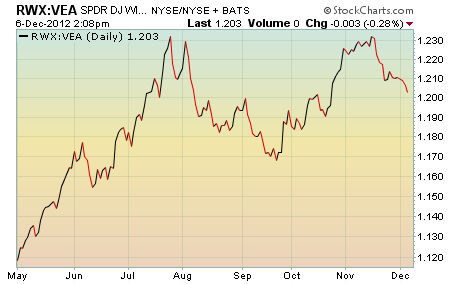 As you can see from the chart above, the ratio was very strong mid-year but has started to weaken a bit recently. Ideally, RWX will confirm its leadership by moving its ratio to new high ground in the coming weeks. RWX delivers the added feature of providing some exposure to Europe without owning the region individually. Approximately 30% of the fund's investments are located in Europe.
Investors would be wise to keep an eye on international investment categories. Improving economic data out of Asia and more stable debt markets in Europe appear to have helped investment performance in those regions. Should conditions continue to improve, international investments may be poised to outperform as we move into 2013.
Disclosure: I am long AAXJ, RWX. I wrote this article myself, and it expresses my own opinions. I am not receiving compensation for it. I have no business relationship with any company whose stock is mentioned in this article.
Additional disclosure: Past performance does not guarantee future results. Investments are subject to risks including loss of principal. This presentation is for informational purposes only and is neither an offer to sell or buy any securities. A variety of sources we consider reliable have provided information for this presentation but we do not represent that the information is accurate or complete.