In a recent SeekingAlpha article, I screened for dividend-growth candidates among regional banks. Here, I provide a more in-depth look at one of those candidates: First of Long Island (NASDAQ:FLIC).
First of Long Island has a market capitalization of $256 million, is currently trading near $28.60, and has a quarterly declared dividend of 25 cents, which gives an annual dividend yield of about 3.5%. The dividend has increased every year since 1989. From 2006 - 2011, the dividend increased at a compound average growth rate of 12.47%.
Background
First of Long Island is a holding company for First National Bank of Long Island. The bank has 22 full service offices, 12 commercial banking offices, and two select service banking centers. Of these, the majority are on Long Island (Nassau and Suffolk counties), and three are in Manhattan.
The primary way a bank such as this makes money is by taking in deposits and/or debt at low interest rates and lending it out at higher interest rates. The wider the spread between those interest rates, the better. It's important that the bank monitor the quality of the loans going out, as high defaults on loans will eat up the money generated on the spread. As we look at the bank, we will want to see growing deposits (more fuel for lending) as well as sound lending.
Historical Data
Below, I give some graphs showing historical data of the bank's performance. I highlight the earnings per share and dividends per share, the payout ratio, return on assets, return on equity, and the net margin, stockholder's equity, and total deposits, net loans, and total assets.
First, below is a chart of earnings per share and dividends per share from 2002 to 2011 and the trailing twelve months.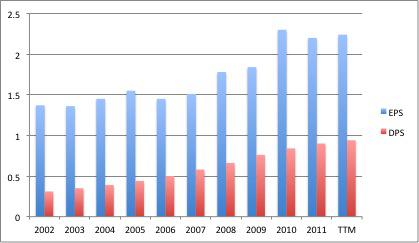 Next, the dividend payout ratio over the same time period: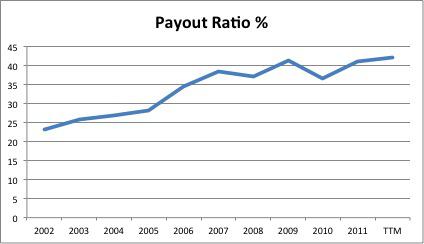 The Return on Assets, Return on Equity, and Net Margin percentages: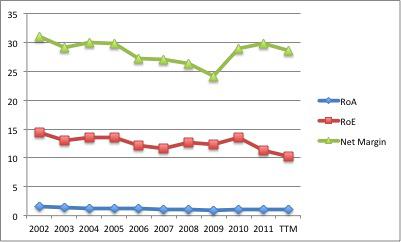 The dollar amounts of deposits, net loans (loans minus loan loss provision), and total assets: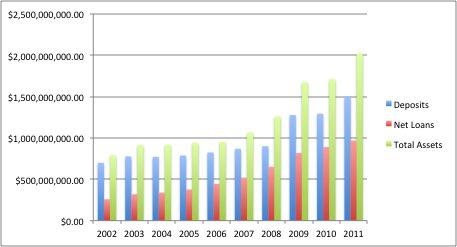 Finally, shareholder's equity over the last 10 years: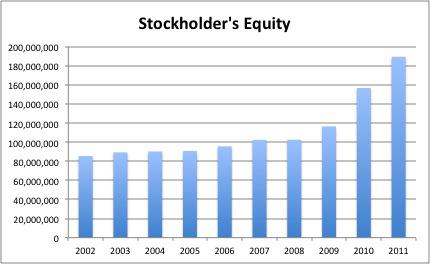 Management's Track Record
In this section, I highlight a few points that jumped out at me as I was reading annual reports from the last few years. First, the CEO, Michael Vittorio, has been the CEO since 2003. Although taken in 2005, this interview with Mr. Vittorio seems relevant today and gives a lot of information about his view of the bank's strengths.
As I was reading past annual reports, I picked up on two strong themes. First, FLIC appears to prioritize long-term decision making over short-term decisions (which might have better short-term consequences for the stock price at the cost of long-term return). For instance, in the 2006 annual report, Mr. Vittorio discusses FLIC's decision not to engage in promotional pricing of deposits solely for the sake of gaining market share:
In addition, we have been mindful not to price deposits uneconomically to simply gain market share. We believe that our distinctly personalized service approach provides us with a competitive edge that is sustainable beyond temporary promotional pricing scenarios. Consequently, we have consciously sacrificed some less profitable short term growth in favor of preserving our net interest margin.
In addition to paying attention to trying to grow in a way that produces real returns, FLIC has done a strong job of controlling costs. Nassau County and Suffolk County are the 12th and 23rd highest-income counties in the country, which results in high fixed costs to doing business in these counties. Despite this, FLIC's expense-to-revenue ratio (near 51%) identifies FLIC as one of the most efficiently run banks in the country (noted in the 2011 annual report and reported by American Banker).
FLIC also uses its small size and regional knowledge to advantage. It is very focused on customer service and has actively sought out relationships with small businesses and middle-market customers. By better knowing its customers and developing strong relationships, it hopes to establish long-term relationships and better understand its credit risks.
Overall, I am quite happy with management's track record. It appears focused on the long term, has avoided "expensive" growth, and controls costs well.
Bank Capitalization
FLIC has traditionally tried to exceed regulatory standards in capitalization. As of September 30, 2012, a bank is classified as well-capitalized under regulatory standards if it has a total risk-based capital ratio of at least 10%, a Tier 1 risk-based capital ratio of at least 6%, and a Tier 1 leverage capital ratio of at least 5%. FLIC's ratios are 9.23%, 19.06%, and 20.32% respectively.
Going forward, we look to Basel III and increased regulatory requirements. Under Basel III, which should begin to be phased in at the start of 2013, a bank will be considered to be well-capitalized if it achieves a Tier 1 risk-based capital ratio of 8%, which FLIC currently beats. There are additional requirements of Basel III, which should be carefully analyzed to determine if they will require action by the bank that might reduce returns. In general, the main concern of higher capital requirements is that they will reduce Returns on Equity, but since FLIC already achieves the requirement, impact will hopefully be minimal.
Loan Portfolio
One crucial aspect in determining the future profitability of a bank is assessing the quality of the loan portfolio. In its 2011 annual report, the CEO notes
We have been described by one firm that writes research on the Bank as having a "cult-like dedication to credit quality." Excellent credit quality is one of the hallmarks of our Bank, and it is where "the rubber meets the road" in terms of differentiating us among our peers and the banking industry at large. We continue to manage loan growth and maintain a prudent reserve for loan losses. Our reserve is five-times our nonperforming loans, and our reserve coverage ratio (reserve as a percentage of total loans) increased from 1.55% at the beginning of 2011 to 1.68% by year-end. The $4.1 million provision for loan losses in 2011 was primarily attributable to loan growth, net chargeoffs and the 13 basis point increase in the reserve coverage ratio. Net chargeoffs were $1.5 million for 2011, or only 16 basis points of average loans outstanding during the year, and small by comparison to our peer group. Delinquent and nonaccrual loans amounted to only $4.0 million at yearend 2011, or 40 basis points of total loans.
Notably, the bank has no construction loans on its portfolio as it perceives them to be higher risk. The loan focus is on sustainability of cash flow by the borrower.
The bank assigns each of its loans an internal risk rating and reports information about the amount of loans in each category. For commercial loans (commercial and industrial, and commercial mortgages), the internal risk ratings are given by (for the sake of brevity, I have abbreviated the bank's description of each risk rating category):
| Internal Risk Rating | Description |
| --- | --- |
| 1-2 | cash flow is of high quality and stable. |
| 3-4 | cash flow quality strong but shows variability. |
| 5-6 | cash flow quality acceptable but shows some variability. Liquidity varies with operating cycle. Assets provide margin of protection. |
| 7 | Watch. Cash flow highly variable and subject to economic downturns. |
| 8 | Special Mention. Borrower has potential weaknesses and deserves management's special attention. |
| 9 | Substandard |
| 10 | Doubtful |
Below is a breakdown showing the proportion (by dollar amount) of loans assigned to each risk rating in the bank's portfolio.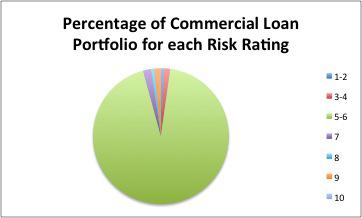 In evaluating consumer loans (mortgages, home equity, and other), the bank breaks loans down into four categories using FICO scores. The first three categories are based on FICO, and the 3rd category includes those loans that management has classified as being of highest risk in the portfolio. The loan categories are:
| Internal Risk Rating | Basis |
| --- | --- |
| 1 | FICO greater than or equal to 680. |
| 2 | FICO between 635 and 679. |
| 3 | FICO below 635 or loan otherwise set aside for watching. |
| 4 | Loan not rated |
The breakdown of the consumer loan portfolio according to management's internal risk rating is given below: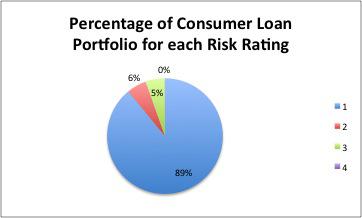 Valuation
In approaching a valuation of FLIC, I will follow Damodaran's thoughts in The Little Book of Valuation. First, I will look at the Price/Book ratio and compare it with the industry and to FLIC's past history, and then I will work through a Dividend Discount Model.
FLIC's current P/B is about 1.3. Morningstar reports the industry average for regional banks to be about .9, so we need to explore whether FLIC warrants an above-average P/B. I think the answer here is a clear yes. FLIC has strong capital reserves, a consistently sound loan portfolio, and relatively stable above-average Returns on Equity. The industry average Return on Equity is 7.6%, so FLIC is performing strongly and doesn't appear to have engaged in "financial wizardry" to do so. FLIC's 5-year average P/B is 1.5, so 1.3 seems reasonable. In addition, FLIC's 5-year average dividend yield is 3.1%, which makes the current yield of about 3.5% attractive. Overall, FLIC seems fairly or mildly undervalued from a relative valuation standpoint.
The key factors in constructing a Dividend Discount Model are assumptions about the Discount Rate, the Return on Equity in the near term, the Return on Equity in the Long Term, the long-term stable growth rate, and the dividend payout ratio. I have assumed that the Cost of Equity (Discount Rate) for FLIC is 7% for the next 5 years, and then 8% when computing a terminal value after that. I assume a Return on Equity of 10.26%, which is the most recent Return on Equity and low when compared with the past, for the next 5 years. I assume a Long-Term RoE of 9%, and long-term stable growth rate of 3%. For the next 5 years, I assume a dividend payout ratio of 41.9%, which is the ratio for the trailing twelve months (and high historically). In reality, I suspect the Return on Equity over the next 5 years will be higher than 10.26% based upon management's claim that "An increase in average unrealized gains on available-for-sale securities accounts for a significant portion of the decline in ROE" in the latest 10-Q filing, but I would rather be pessimistic than aggressive. Putting the model together under these assumptions yields:
DDM Computations for FLIC
Year
EPS

Predicted

EPS Growth

Payout

Ratio

RoE

Div /

Share

Discount

Rate

Present

Value

TTM
2.24
41.9%
10.26%
.93856
.93856
1
2.37
5.96%
41.9%
10.26%
.99
7%
.93
2
2.52
5.96%
41.9%
10.26%
1.05
7%
.92
3
2.66
5.96%
41.9%
10.26%
1.12
7%
.91
4
2.82
5.96%
41.9%
10.26%
1.18
7%
.90
5
2.99
5.96%
41.9%
10.26%
1.25
7%
.89
Terminal
3%
66.67%
9%
8%
25.89
The payout ratio after year 5 was derived from the equation:
Payout Ratio = 1 - EPS Growth / RoE.
Adding up the forecast cashflows from the dividend payment after discounting back gives a fair value estimate of $31.39 per share. Currently, FLIC is trading at $28.87, which is about 8% from this forecast fair value.
Rather than subscribe the value of $31.39 per share, I played with the assumptions in the model to get a feel for how sensitive the final result is to each assumption in the model. First, lowering the assumed payout ratio in years 1 - 5 mildly increases the final value since a lower payout ratio corresponds to more retained earnings and thus higher earnings growth. Second, taking a much more pessimistic view of near-term RoE and reducing it to 9% for the next 5 years while holding the rest constant results in a fair value estimate of $30.42. Keeping the near-term RoE at 10.26% and changing the long-term RoE to 8% results in an estimate of $29.77, and changing the long-term RoE to 7% results in $27.69. Finally, keeping the original assumptions and increasing the discount rates by 1% both near term and long term results in an estimate of $25.79 per share.
If FLIC's future falls somewhere within that range of assumptions, then it appears to be trading near fair value.
Tropical Storm Sandy
In thinking about FLIC, one of the big question marks for me is the effect of Tropical Storm Sandy on the bank's operations and loan portfolio. FLIC operates on Long Island, which suffered substantial damage from the storm. Rather than try to guess the consequences, I will quote from the latest 10-Q:
Hurricane Sandy, which occurred in late October, resulted in considerable damage throughout our market area and adversely affected the collateral properties securing some of our loans and may have affected the ability of some of our borrowers to repay their obligations to the Bank according to contractual terms. Additionally, power outages caused by the storm temporarily interrupted our ability to open some of our branches. As a result, delinquent loans, nonaccrual loans, troubled debt restructurings and loan losses may escalate and we may incur business interruption losses. The Bank is generally named as loss payee on hazard and flood insurance policies covering collateral properties and carries both mortgage impairment and business interruption insurance. These polices should help to mitigate any losses that the Bank may otherwise sustain. However, because the storm is a very recent occurrence, management does not yet have sufficient factual information to quantify the magnitude of any potential negative impact that the storm may have on the Bank's business, financial condition, or results of operations.
Given this uncertainty, I personally am willing to invest but plan to require a larger margin of safety than is currently offered. Should the market offer such in the near term, I will buy.
Disclosure: I have no positions in any stocks mentioned, but may initiate a long position in FLIC over the next 72 hours. I wrote this article myself, and it expresses my own opinions. I am not receiving compensation for it (other than from Seeking Alpha). I have no business relationship with any company whose stock is mentioned in this article.