In a previous article, a case was made for picking stocks based on macroeconomic trends. One such trend is the impact of the Patient Protection and Affordable Care Act on hospitals. It is worth noting that hospitals did rally upon the Supreme Court's decision to uphold the bill, however, it is expected that there is still substantial upside remaining that the market has yet to discount.
The primary burden of hospitals as a group is the requirement that they provide non-reimbursed care for patients without health insurance. As the health care law is phased in, it is expected that this burden will diminish. Written into the law and effective on the 1st of January 2014, there will be an added tax burden imposed on individuals who do not have an acceptable insurance policy. Beginning in 2014, the law should reduce the ranks of the uninsured, which will be a boon to hospitals. 2014 is still a ways off, thus it is not necessarily recommended that investors should purchase hospital stocks this very moment; rather, keeping these stocks on your watch list is recommended and buying on pullbacks.
One such stock that appears to be attractive is Universal Health Services (NYSE:UHS). The stock was chosen from other options within the sector due to the following factors:
Higher than average return on equity (16.3%)
Lower than average PEG ratio (0.8) - The Company focuses on the higher growth behavioral health subdivision; successful implementation of this strategy is evidenced by an 81% return over the past five years. Furthermore, the new health law requires insurance plans to treat mental health benefits in the same manner as medical/surgical benefits, which also favors Universal Health Service's focus.
Undervaluation - Valuentum Fair Value = $53/share; Standard and Poor's Fair Value = $63/share; Y-Charts Value Rank = 8; the stock is a buy below $44/share as this margin of safety is deemed to be sufficient.
Shareholder Friendliness - The dividend is rather paltry (0.5%), however, the share count has been reduced by 10% over 5 years as the result of buybacks. Thus shareholder remuneration is ~2.5% per year including the dividend yield. The company also announced a $0.40/share special dividend payable in December.
The company is well diversified across the entirety of the United States with 29 acute care facilities and 171 behavioral health facilities. The company grows through seeking attractive acquisitions and recently acquired Psychiatric Solutions Incorporated and its 105 facilities in return for cash and assumption of the acquired companies debt. In total this cost 45% of annual revenues, whereas Universal Health Services is currently valued at 57% of annual revenues, thus the acquisition has created value as implied by the current valuation of the company.
Figure 1: Universal Health's Diversified Footprint (click to enlarge)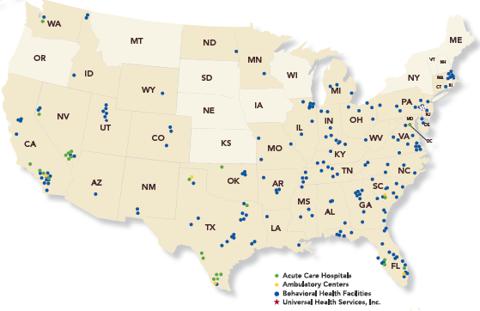 Click to enlarge
Hospitals are a business that requires prudent use of leverage. As such, it is expected that they should also benefit from recent trends in the corporate debt market, which has pushed the cost of debt and the premium of BBB to AAA corporate debt down to record lows. Universal Health Services is rated BB with 4.14 times EBITDA in outstanding debt, or $4.48B in long-term debt. As the yield on a BBB rated bond has declined by over one percent in the last calendar year, this should have a net impact of nearly $45M if the company refinanced its debt at the lower rate. Ironically, the recent rally in lower rated corporate bonds likely means that companies carrying more debt are likely to outperform those with lesser debt.
Figure 2: Decreasing Cost of Debt Favors Hospitals (click to enlarge)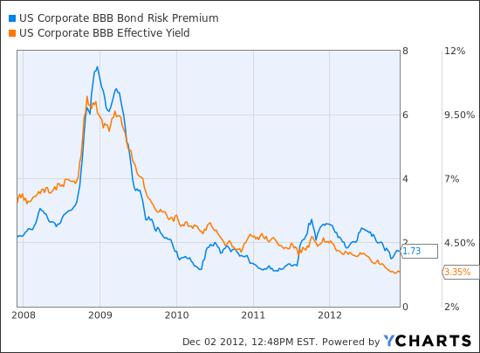 Click to enlarge
Because a picture is worth one thousand words, see below for metrics that look very favorable for the stock (Figure 3). The share count has been reduced, while operating margins and return on equity have been expanding. Revenue and EPS growth have been impressive, with earnings expanding 201% since 2002, while revenue has expanded 154%.
Figure 3: Universal Health Services' - Encouraging Metrics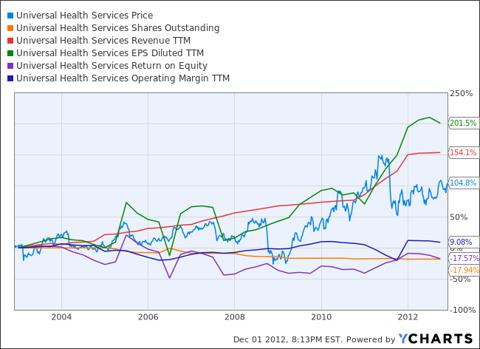 Click to enlarge
Running a hospital is also a highly capital-intensive business model. While the monopolistic aspect of this business is favorable, cost overruns can potentially destroy shareholder value. In a challenging environment over the past five years, the company has done a reasonable job of containing costs (Figure 4). Over this time revenue has expanded by 62%, while costs have expanded by 59%. Universal Health Services has outperformed many of its competitors in this respect, which is evidence of good financial discipline.
Figure 4: Revenue Growth and Cost-Consciousness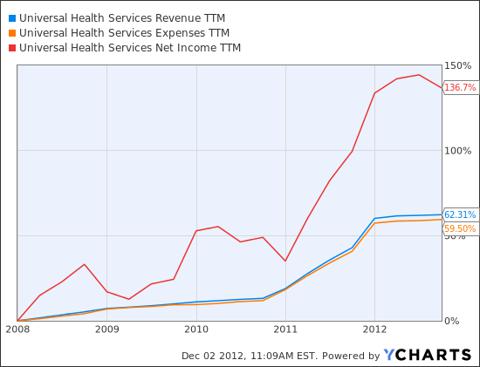 Click to enlarge
Now onto the question of whether the business-model is likely to see improvement based on implementation of the new heath care regulations. The following quotes are excerpts from the report of financial results for 3 and 9 months ended September 30th 2012.
"We provide care to patients who meet certain financial or economic criteria without charge or at amounts substantially less than our established rates. Because we do not pursue collection of amounts determined to qualify as charity care, they are not reported in net revenues or in accounts receivable, net. Our acute care hospitals provided charity care and uninsured discounts, based on charges at established rates, amounting to $259 million and $246 million during the three-month periods ended September 30, 2012 and 2011, respectively, and $840 million and $708 million during the nine-month periods ended September 30, 2012 and 2011, respectively."
Compare the significance of these costs to Universal Health Services' net income this year:
"[N]et income attributable to UHS was $71.8 million, or $.73 per diluted share, during the third quarter of 2012 as compared to $85.1 million, or $.86 per diluted share, during the comparable quarter of 2011. Net revenues increased 1% to $1.68 billion during the third quarter of 2012 as compared to $1.66 billion during the third quarter of 2011."
Thus reimbursement of uncollected health care costs is a highly significant factor in the business model. These costs are roughly four times net income or 15% of revenue. If beginning in 2014 increasing insurance coverage caused even 10% of these costs to be recovered, it could amount to significant earnings growth beyond what the market has priced in. A 10% reduction in non-reimbursed costs would send net income soaring by 33%. As the stock is already fairly cheap, it is hard to believe the market would not respond by pricing the company more dearly. The figure below shows the anticipated earnings growth that is expected by the market - a 10% recoup of expenses from the uninsured would amount to nearly the earnings growth that is expected for the next three years - this earnings growth would be expected to increase the fair value into the $75 range.
Figure 5: Possible Impact of Healthcare Reform on Net Income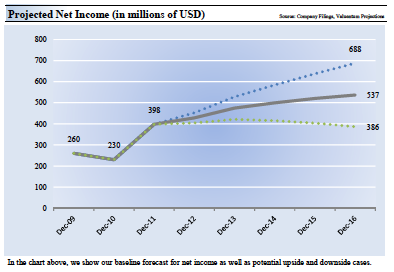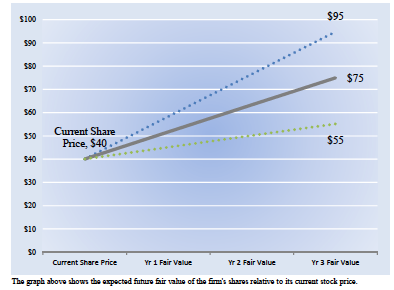 Thus, a number of factors have been outlined which seem to indicate that the market is not fully discounting the likely upside of new healthcare regulation on Universal Health Services' business model. However, it would be remiss not to consider possible reasons why this investment strategy could be flawed. The most compelling flaw in the investment thesis is the implementation of health care reform in Massachusetts, which failed to improve margins for the state's acute care hospitals. If you are not aware, Massachusetts has implemented healthcare reform, which served as a model for the national legislation. Implementation of this policy was carried out in 2007 and this could be viewed as a model for what is to come for the national hospital industry.
In Massachusetts, added pressure to reduce heath care costs offset margin improvement that might have been expected based on movement toward a fully insured population base. A story in the Boston Globe detailed the tough state of affairs for the state's hospitals.
Could this be a flaw in the investment thesis? It should be noted that it is not clear that Massachusetts' healthcare reform caused the decline in margins shown above. To wit, observe the margins of several hospital stocks, all of which declined toward the end of the 2011 calendar year. Thus, Massachusetts' health care reform may not to have caused the indicated decline in revenues; in fact, most health care providers had margin compression more serious than the figure above. It is likely that this margin compression was the result of an economic slowdown and would have been more serious without the implementation of health care reform. However, it is clear that tightening of controls on healthcare costs are the most significant risk to the investment thesis. Over the long term, it appears unlikely that margins will see too much pressure. The combined factors of added health insurance and an aging population is likely to be a more powerful driving force.
Figure 6: Declining Margins in 2011 Not Exclusive to Massachusetts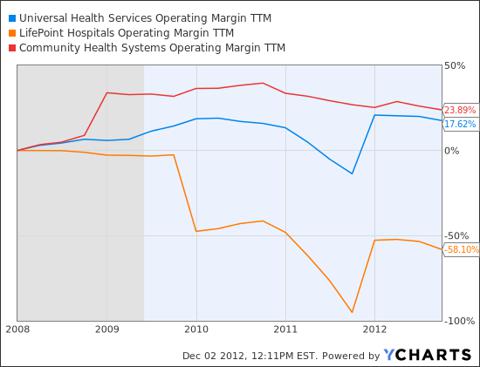 Click to enlarge
After weighing the pros and cons, the above argument supports an investment thesis in Universal Health Services, but caution is still warranted. The company seems very well situated to benefit from the new healthcare legislation due to prudent management and emphasis on behavioral health, which should be higher growth and receive the most significant expansion of benefits from the new healthcare legislation. Behavioral health services spending has been hampered by the lack of health care coverage among groups most likely to need it. As lower income groups make up much of the expansion in heath benefits, this sub-sector appears likely to experience better than average growth as coverage is expanded.
As was made clear above, the coming change in the law is not expected to cause an immediate surge in hospital stocks. Speculators in search of a quick profit are very likely to be disappointed. Instead it is expected that investors who patiently wait for an entry point will see improving clarity on healthcare regulation in the 2013 calendar year and improved performance due to legislative changes starting in the 2014 calendar year. Add to this the aging of the baby-boomer generation as another upside catalyst and it is expected that with the right entry point, Universal Heath offers good upside and limited downside. As seen in the figure below purchase of the stock at the low end of its ascending trend should be a favorable entry point. While the fiscal cliff is a danger, recent downgrades of hospital stocks rested on the coming uncertainty reguarding reduced spending. Thus, it can be argued that these uncertainties are widely known and most likely already priced in.
Figure 7: Trendline of the Stock - A Buy on the Lower Edge of the Trading Range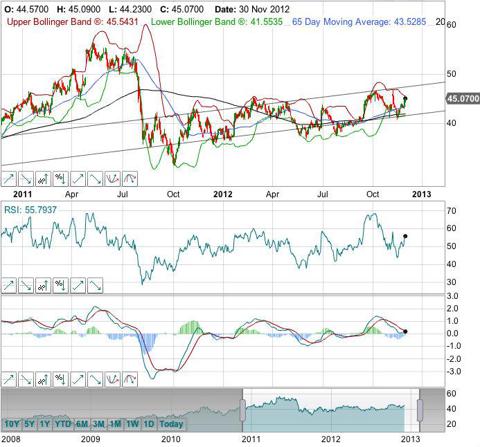 Click to enlarge
Disclosure: I am long UHS. I wrote this article myself, and it expresses my own opinions. I am not receiving compensation for it (other than from Seeking Alpha). I have no business relationship with any company whose stock is mentioned in this article.
Additional disclosure: The above report should not be construed as a solicitation to buy the mentioned security. Please conduct your own due diligence before taking a long position in any stock.The figures used in this article were constructed from Valuentum.com and YCharts.com, both sites are highly useful for analyzing data concerning an investment thesis.