The Merriam Report has long been skeptical of the quality-of-earnings being reported by Vermont-based Green Mountain Coffee Roasters (NASDAQ:GMCR). What we find so amazing at this point is that GMCR bulls continue to believe the growth story for GMCR (although expected to moderate from previous levels) remains intact.
We have never debated GMCR's market-share dominance, as they have essentially acquired much of the competition in their universe in recent years. However, MR analysis continues to challenge the bull argument that GMCR's previous giddy growth is legitimate or that it has been properly represented in the company's financial statements.
Merriam Report analysis also identified numerous relationships within the financial statements that either did not correlate to reported sales, net income and earnings, or simply lacked accounting clarity. Our observations garnered much criticism from GMCR bulls in recent years, including some very vitriolic emails sent by more hostile detractors.
Nonetheless, we are no worse for wear and alert investors heeding our warnings avoided significant capital destruction. Obviously, critics lambasted us each step of the stock's run-up to the $110 highs of last year, but it didn't change our tune one iota. That's our story and we're sticking to it.
Inventory issues and other accounting opacity have been widely discussed in the financial media. GMCR loyalists also believe there is a simple explanation for the lack of cash-flows during the explosive growth phase. That is, GMCR was plowing revenue growth back into the business (i.e. working capital & capital expenditures). Yet, a growth story is a cash-flow story and the thread binding the "fabric" is liquidity.
Green Mountain's liquidity issues have long been a primary concern expressed in our analysis. Many bulls view the Q4 and year 2012 earnings report as a sign GMCR may be turning the corner. However, our current research suggests that financial engineering and aggressive accounting may have played a significant role in Q4 and 2012 results.
For investors who are accounting-challenged, this article attempts to tell a similar story from a basic and simple graphical perspective. Thanks to the nice folks at YCharts, we found wonderful resources from which to do this. All data and charts are courtesy of YCharts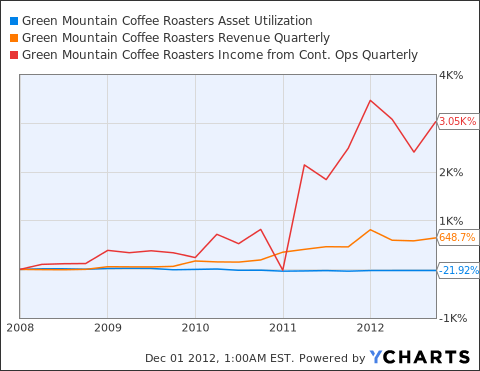 Between 2008 and 2012, GMCR reported revenue growth of 648%, while income from continuing operations grew more than 3000% during the similar time frame.
Simply put, GMCR's reported income from ops was over 4 times greater than the growth in revenues. Yet, asset utilization actually fell -22% during these same four years.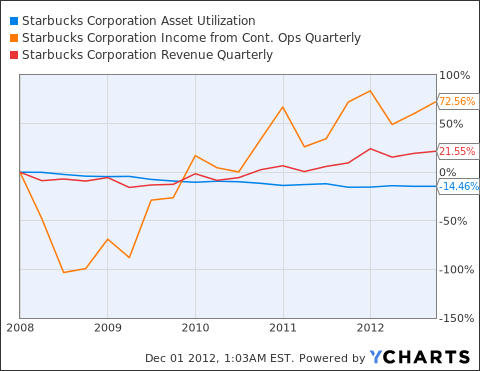 In contrast, Starbucks' (NASDAQ:SBUX) revenue grew 21.5% between 2008 and 2012. Income from continuing operations during the similar period grew 72.5%.
SBUX's income outpaced sales by a margin of 2.45. However, asset utilization only declined -14% during the 2008-2012 period.
Granted, SBUX's growth rates had moderated from levels seen in previous years, but income benefited from improved capital productivity for the assets utilized.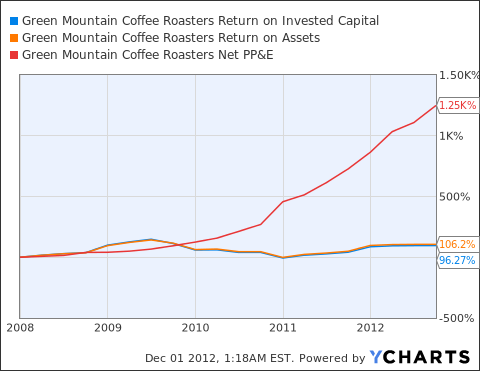 You can also see signs of earnings quality degradation for GMCR in the returns on invested capital and returns on assets.
In the chart, you will notice the 1250% increase in GMCR's Net PP&E during the 2008-2012 period.
Returns on assets and invested capital rose 106% and 96.37% respectively. In other words, the pace of capacity growth was more than ten times that of asset and invested capital returns.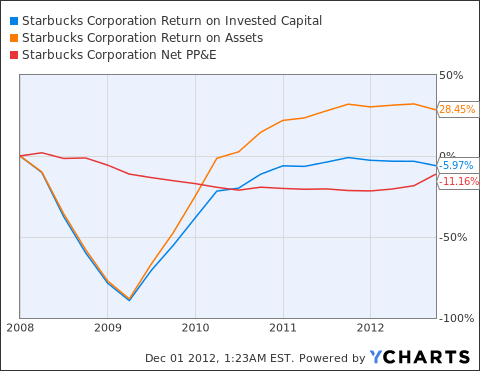 In contrast, SBUX saw asset returns grow 28.45% and a modest decline in returns on invested capital. of -5.97%.
Despite declines in ROIC, SBUX achieved the asset returns by utilizing capacity more productively than GMCR.
This is notable because GMCR offered the suggestion in Q3 2012 that perceived capacity constraints in the prior 2011 fiscal year might be a plausible explanation for excess inventory levels in that year.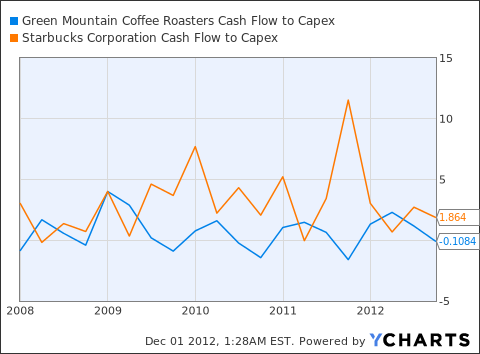 Regardless of whether or not capacity constraints were an issue for GMCR, PP&E expansion was less productive and generated less in "asset returns" than that of SBUX.
It also provides some contrast to the bull argument that GMCR's lack of free cash flow was the result of working capital being reinvested to fuel GMCR's explosive growth.
It would be reasonable to expect after several years of rapid growth, some progress in participation of cash-flow to Capex expansion would be realized.
The CF to Capex chart (above) would suggest GMCR (blue) has been unable to improve its cash-flow to Capex metric since 2009. Also, the negative ratio of GMCR's cash-flow to Capex reveals two other observations: not only was the company unable to organically fund its Capex, there is little evidence to indicate that operating cash-flow or net income was supporting the earnings being reported.
By comparison, SBUX (orange) generated significantly higher rates of cash-flow to Capex. While this does not qualify SBUX as better investment solely on the CF-Capex metric, it does suggest SBUX retains more of the cash-flow it generates from operations.
Obviously, SBUX's organic growth rates have moderated, but GMCR also anticipates moderating growth rates going forward. What GMCR bulls seem to ignore is that in addition to recent compression in gross margins, the cost of asset utilization is not helping to boost asset returns. More important, it does not consider any assumptions for potential asset impairment on goodwill and intangibles which are harmful to equity returns.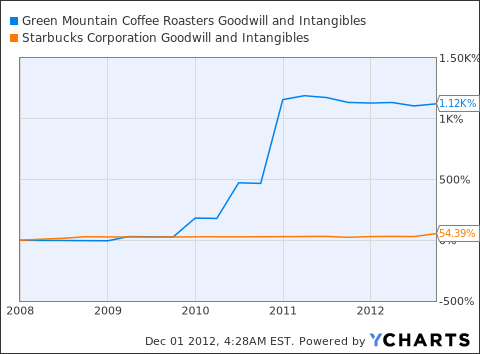 Speaking of goodwill and intangibles, notice the difference between GMCR (blue) and SBUX (orange) in graph at left.
Putting this into context, the spread between GMCR's rev-to-goodwill is 0.57.
The spread between SBUX's rev-to-goodwill is 0.38. While some GMCR bulls might argue such a comparison as pointless niggling, consider the following:
The estimated risk of asset impairment for GMCR is 33% +/- greater than that of SBUX.(assuming no change in either company's estimated forward revenue and earnings growth rates). Keep in mind, the 33% assumption estimate is purely subjective, but offers a best-case scenario for GMCR in an apples-to-apples comparison.
In the event actual forward results fall short of GMCR management's 15-20% growth outlook, the probability of impairment risk would be elevated. The difficult part is the process of determining, calculating and allocating impairment charges. These steps require considerable judgment by management.
Given that GMCR management recently revealed flaws in their forecast assumptions and offered softer forward growth guidance, it does raise the possibility that potential impairment risk gets pushed closer to the table. For GMCR, this risk is potentially exacerbated further because of the numerous acquisitions made by the company within a relatively short period of time.
The distinction of GMCR's goodwill and intangibles are of meaningful consequence to future equity returns and it also presents additional questions. These assets have grown significantly, but are they "recoverable" in the event of an adverse circumstance? What is the difference between the asset's carrying value and future (undiscounted) cash flows generated through its use and/or potential future disposition? How will pricing pressure(s) impact the value of long-lived assets going forward?
Our concern is that the rosy Q4 and fiscal year 2012 earnings report provides no obvious correlation to the relational data presented in these basic graphics. Yes, there was an extra week in the fiscal calendar gift-wrapped as $90 million of additional sales.
Shareholders enjoyed a 28% post-earnings pop and a short squeeze has pushed stock prices higher since. GMCR insiders took advantage of the earnings report too, dumping almost 92,000 shares in the week following the earnings announcement.
Most of the analysts who had been GMCR cheerleaders up until being afflicted with acute bouts of nose-bleed are back pounding the table again. How analysts managed to end up with their pants around their ankles following last year's share implosion will be cocktail fodder for years to come.
But the bottom line is GMCR desperately needed to report a good quarter and somehow they managed to pull it off. While very inconvenient for short-sellers, the bull party is back in town.
Yet, investors have been led to believe that heady growth in recent years and the acquisitions to support growth were accurately represented and profitable. Bulls argue that 15-20% forward growth estimates are impressive, considering the current economic environment.
The problem as we see it and as the charts reveal, is that GMCR has little to show for its mind-boggling 648% revenue growth during the past four years. Now that management has signaled slower forward growth guidance, investors would expect previous Capex and capital investments to be bearing fruit. GMCR was successful at taking market share, but it came via costly acquisitions which have yet to be fully rationalized.
Ironically, in the days prior to CEO Larry Blanford's departure and prior to new CEO Brian Kelley stepping in, the company surprises investors with the proclamation of achieving free cash-flow earlier than expected! Not only that, but some of this "free" cash was used for share buybacks.
Meanwhile, inventory build is still an issue and accounts payables are noticeably stretched. Thus, obstacles to the cash-flow story are still loitering and the recent earnings beat has a suspiciously "too good to be true" feeling to it.
GMCR, is a coffee and consumer products company. If you are a savvy manager, you hedge commodity exposure and try to rationalize unit costs on manufactured goods so that they pencil in. Growing, maintaining, and competing for market share requires tactical strategies. Giving up a dollar today in order to make two dollars down the road is how the game is played in consumer discretionary markets.
Acquisitions are fine building blocks too, if you can extract synergies and economies of scale within a reasonable time frame. It's even better if you can pay with cash that was generated organically.
For example, ConAgra (NYSE:CAG) can be excused for the debt component in their Ralcorp (RAH) all-cash bid, because CAG has a good track record integrating acquisitions and rationalizing restructuring programs successfully. Their previous foray into fresh meat was a steep part of their learning curve, but CAG realized focusing on core brands was the least path of resistance.
On paper, the Ralcorp deal doesn't look cheap and margins on private label goods are slim compared to branded portfolios. However, these kinds of businesses are capable of generating stable if not dependable cash-flows. Strategically, the CAG-RAL deal makes perfect sense.
However, Green Mountain has had ample time to integrate its acquisitions. If a management team believes they are smart enough make significant acquisitions, it would be reasonable to expect they are at least be capable enough to manage the businesses they acquire.
648% revenue growth in four years is nothing short of spectacular, but there has to be something tangible to show for it. If Q4 and FY 2012 is intended to send a message that GMCR is a legitimate growth story, it falls far short of being convincing in our view.
In our experience, when the story being told by management differs from that being portrayed in the financial statements, we examine the disconnect more closely. If accounting and financial statement analysis isn't your cup of tea, we think these simple graphs lend strong anecdotal support to the disconnect perspective of GMCR.
With shares up some 30% since the earnings release, our perception of this disconnect only further bolsters the GMCR bear case.
Disclosure: I have no positions in any stocks mentioned, and no plans to initiate any positions within the next 72 hours. I wrote this article myself, and it expresses my own opinions. I am not receiving compensation for it (other than from Seeking Alpha). I have no business relationship with any company whose stock is mentioned in this article.