Walgreen Co. (WAG) is the nation's largest retail pharmacy with 8,516 drugstores in the United States. Prescription drugs account for about two thirds of WAG's sales. WAG had been suffering from a sales decline until Sep. 15, due to exiting of Express Scripts (NASDAQ:ESRX)' pharmacy network, which cost Walgreen 85% of sales to Express Scripts members. With a new deal announced in mid-July, WAG and Express Scripts settled a long-running dispute to allow patients with Express Scripts plans to resume their prescriptions filled at WAG stores starting Sept. 15. With the new multi-year deal with ESRX, the slump may be over for WAG and its revenue and earnings are expected to grow in 2013.
November Sales
On Dec. 5, 2012, WAG reported November sales of $5.85 billion, a decrease of 3.9 percent from $6.09 billion for the same month in fiscal 2012. Despite the continued drop of prescriptions filled at comparable stores with a 2.9 percent decrease in November, the declining trend is narrowing since June, 2012, as seen from the chart below.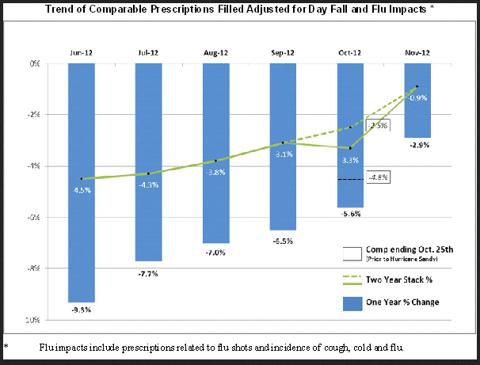 Source: Business Wire
As quoted from the report, "November pharmacy sales decreased 4.7 percent, while comparable store pharmacy sales decreased 8.8 percent. Calendar day shifts negatively impacted pharmacy sales in comparable stores by 0.3 percentage point. DFA comparable store pharmacy sales were negatively impacted by 9.0 percentage points due to generic drug introductions in the last 12 months. Pharmacy sales accounted for 63.2 percent of total sales for the month." The 8.8 percent comparable store pharmacy sales drop was higher than analysts' estimate. WAG cited generic drug introductions as the main factor behind the revenue drop, as quoted, "The introduction of generic equivalents to popular brand-name drugs like the cholesterol fighter Lipitor has hurt revenue this year for Walgreen and other drugstore chains because they cost less than their brand-name counterparts." However, generics also boost profitability as they come with a wider margin between the cost for the pharmacy to purchase the drugs and the reimbursement it receives.
Citi analyst Deborah Weinswig indicated that WAG is still struggling with the impact of its split with Express Scripts, which the new deal did not start until Sep. 15. The split sent WAG customers to its competitors and the analyst now expects WAG to recapture only about 20 percent of the lost business as compared with her previous forecast for 40 percent.
The Analysts' Call and Estimates
On Nov. 29, Barclays reiterated the current "neutral" rating on WAG with a target price of $39.00. The firm noted,
"there are no signs yet that WAG is winning back Express Scripts customers, though the company has been offering coupons to some patients to get them to transfer scripts back. We believe it is still early, though, and WAG no longer quantifies the impact of the dispute, so we will never know exactly how much business has returned. On its 3Q12 earnings call on November 6, CVS increased its likely retention of ESRX customers who had shopped at WAG to 60% from 50% prior, with some of the difference being the retention of members of the Department of Defense plan, Tricare; Tricare is not putting WAG back into its pharmacy network."
Analysts are expecting annual EPS of $3.32, ending on Aug, 2013, as compared to the year ago EPS of $2.71. Analysts also project the annual revenue of 73.91 billion, ending on Aug, 2013, with an estimated growth of 3.2% comparing to the previous year. Analysts are also estimating EPS of $3.63 with revenue of $77.17B for the year ending Aug, 2014, as seen from the table below.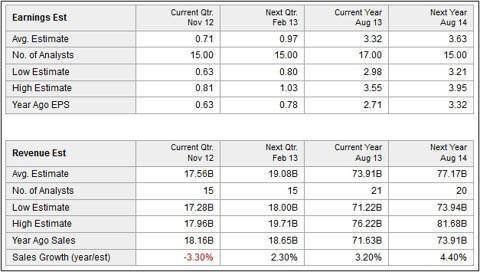 Source: Yahoo! Finance
WAG is expected to announce Q1, 2013 earnings before market open on Dec. 21, 2012 with an estimated EPS of 0.71.
Fundamental Overview and Technical Analysis
WAG's key stats will be compared to its competitors, including CVS Caremark Corp (NYSE:CVS) in the industry of pharmaceutical retailers with the data obtained from MorningStar. WAG had been suffering with lower revenue growth of 4.2 and EPS growth of 6.2 (3 year average) as compared to the industry averages of 5.5 and 14.4. Despite the trailing operating margin of 4.8%, ttm, WAG manages to achieve slightly higher net margin of 3.0%, ttm, as compared to the averages of 5.2% and 2.8%, respectively. WAG generates a stronger ROE of 12.9, comparing to the average of 12.0, with a lower debt-to-equity of 0.2, as compared to the industry average of 1.1. WAG is under-valued with P/E of 14.8, ttm, comparing to the average of 16.5, ttm. The slowed growth could have contributed to the lower valuation for WAG.
WAG closed at $35.85 with 0.79% gain on Dec 6, 2012. The volume of 6.95M was 13.75% higher than the 30 day average of 6.11M. WAG had been trading in the range of $28.53-$37.35 in the past 52 weeks with a beta of 0.99. The MACD (12, 26, 9) indicator started to turn bullish on Nov. 25 and the MACD difference continued to diverge. The momentum indicator, RSI (14), is showing an increasing buying momentum at 73.07. WAG is currently trading above its 50-day MV of $34.58 and 200-day MV of $33.28 with the next resistance at $37.25, the R2 pivot point, as shown in the chart below. WAG is very bullish, technically.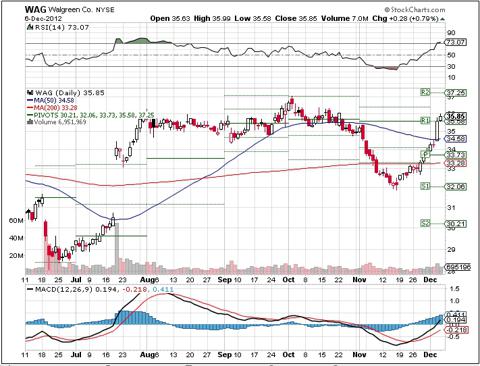 Source: StockCharts.com
Options Play
WAG's revenue and earnings are expected to grow in 2013. WAG is also short-term bullish from the technical perspective. A credit put spread will be reviewed below for investors who would like to acquire WAG with a margin of safety while gaining some upside potential.
Short 1x April 20, 2013 Put at the strike price of $32.00 for the credit of $0.67
Buy 1x April 20, 2013 Put at the strike price of $30.00 for the cost of $0.35
The maximum profit is $0.32, and the maximum risk/margin requirement is $1.68 ($2 loss - $0.32 credit received). If WAG closes above $32.00 on April 20, 2013, 19.05% return on margin will be gained. If WAG falls below $32.00 on April 20, 2013, WAG stock will be acquired at $31.68, which is 11.63% lower than the current price of $35.85. The projected annual dividend yield will be 3.54% based on the exercised cost of $31.68 with the projected dividend of $0.28 per quarter.
Note: All the prices are quoted from the closing of December 6, 2012 and all calculations are before fees and expenses. Investors and traders are recommended to do their own due diligence and research before making any trading/investing decisions.
Disclosure: I have no positions in any stocks mentioned, but may initiate a long position in WAG over the next 72 hours. I wrote this article myself, and it expresses my own opinions. I am not receiving compensation for it (other than from Seeking Alpha). I have no business relationship with any company whose stock is mentioned in this article.