Over the past three months, I have presented a strong case for owning Mindspeed Technologies (NASDAQ:MSPD). The release of Apple's iPhone 5 and Samsung's Galaxy 3S both 4G LTE enabled devices signaled the arrival of the LTE network. The company traded at $3.35 per share when I initiated coverage on the name and has basically traded in a range between $3.30 and $3.80 over the past 3 months. This past week, Mindspeed did it again and raised its revenue guidance for the 2nd straight quarter. It also announced that it would be profitable in its Q1 2013 (fiscal year - September). To me, this is the first sign that the company has completed its turnaround and sits in front of a strong secular growth trend in 4G LTE infrastructure. Here's why I'm adding to my Mindspeed position right here:
Mindspeed trades at just under 1 x my 2014 revenue estimate of $200 million. Historically, Mindspeed has traded between 2 and 4 times revenue when key growth cycles are confirmed. I believe Mindspeed has just confirmed that we're in the 1st inning of the LTE base station growth curve.
Mindspeed will be profitable one quarter ahead of its plan. The cash flow burn rate of the company should now be minimal to positive going forward. In addition, it recently sold $6 million in legacy patents to bolster its $50 million cash position or $1.10 cash per share.
This November, Mindspeed initiated its first LTE program with Korea Telecom and SK Telecom. As a result, the company raised guidance early in the quarter. More upside could come when the company announces earnings in mid-to-late January.
Industry trade shows: CES and Mobile World Congress are right around the corner in January and February 2013. Last year, Mindspeed had big news coming out of each trade show. Since we have seen the LTE launch this past year I am expecting to hear more service providers and OEMs announce roll-outs and new design wins which should bring Mindspeed to the forefront.
In August, Qualcomm (NASDAQ:QCOM) acquired Israeli start-up, Design Art for $150 million. Design Art is in direct competition with Mindspeed's Trancede SoC products, but Mindspeed believes that it has a lead time of 1 to 2 years over the competition. If takeover fever takes hold of the sector then I see Broadcom (BRCM), or Cavium Inc. (NASDAQ:CAVM) as potential suitors.
Mindspeed has a large institutional holder base. Last quarter only one of its top ten holders sold shares and only 18,000 shares at that, while its top two holders Federated Funds and Kopp Investment Advisors both added a couple of hundred thousand shares to their positions. To me, this is very bullish.
I want you to think of how many cell phones you have in your household. I believe that over the past ten years this number has increased by a factor of 2 or 3. All this data coming into and out of your home needs to be packetized prior to reaching the base station in your neighborhood. In order to alleviate stress on the network and keep connect speeds fast enough to keep consumers happy, I believe that each household will be fitted with a small Femto base station which is very similar to a wireless modem. Mindspeed which owns 31 design wins with multiple key players all around the globe and is the best placed company in the space.
I believe the company will present at the Needham Conference this upcoming January 15th in NYC. The company could come with CES news behind them and an upbeat presentation in front of growth fund managers could see buyers come into the stock.

Chart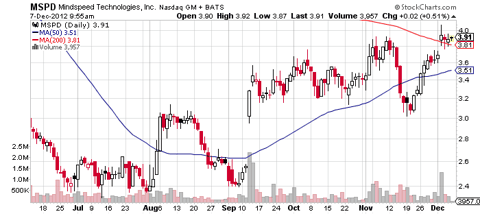 Looking at the daily chart, we can see that Mindspeed has had a nice move of late. After making a bottom at $2.40 in September, Mindspeed gapped up to $3.00 on four times average volume. For the last four months the stock has digested that move by moving sideways in a trading band between $3.00 and $3.80. This week, Mindspeed finally broke out above $3.90 on three times average volume and is currently forming a flag pattern on extremely low volume (technically positive). I expect it to break out to the upside in the next few days and based on its past move, I see Mindspeed making a move to $5.50.
As always, investors should do their own homework and due diligence before making any investment decisions.
Disclosure: I am long MSPD. I wrote this article myself, and it expresses my own opinions. I am not receiving compensation for it. I have no business relationship with any company whose stock is mentioned in this article.