It seems, as of this writing, that the players in Washington may likely continue playing their favorite game of kick the can down the road, not making any decisions regarding the fiscal cliff. The idea of going over the cliff, once considered inconceivable, is now being floated and spun in numerous trial balloons from both sides of the aisle. As responsible, prudent investors, we are not allowed the luxury of playing games. We need to make contingency plans.
Should we indeed go over the cliff and markets respond negatively because of it, dividend paying companies -- and, specifically, dividend-focused ETFs -- may provide some measure of defense in a downward moving environment.
In the difficult summer of 2010, the broader market, as represented by the S&P 500, was down close to 16% before rallying later that year. Interesting to note is the fact that dividend-paying companies represented by the mid-caps in the iShares Dow Jones Select Dividend Index Fund (NYSEARCA:DVY) and the large caps in the SPDR S&P Dividend ETF (NYSEARCA:SDY) provided a cushion on the downside and better performance as the market recovered.
Click to enlarge images.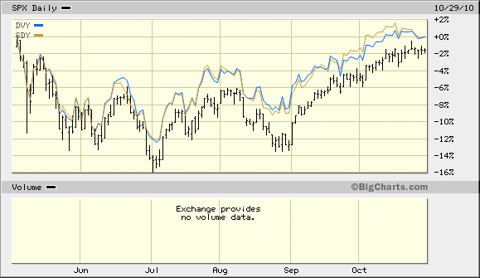 This observation held true in other instances of market turbulence, including August 2011 through October of that same year: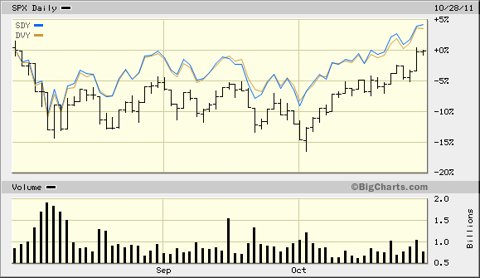 Again, in May of this year through June: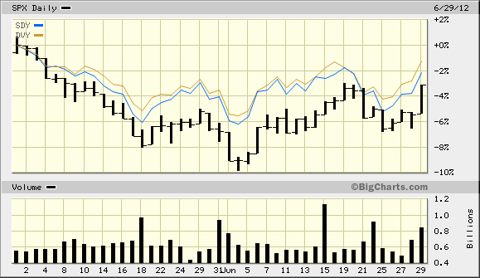 And, most recently, the troubles between October and now: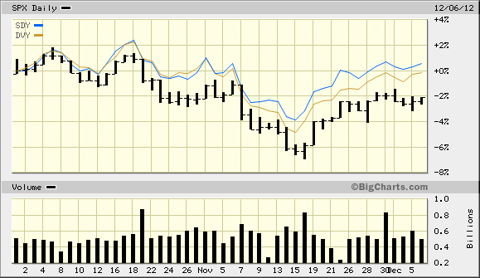 So, why do dividend companies fare better in market downturns? They do for several reasons:
1. Cash. Shareholders like seeing those dividend payments come into their brokerage and IRA accounts. Your stock might go down a few bucks, but you also know that you'll continue to receive a "cash bonus" for holding it. Then, in times of trouble, you'll consider selling something else first.
2. Efficient and effective management. Companies don't like to ever reduce a dividend. If management knows it has a dividend to keep, it tends to spend money wisely. It puts off the remodel of the executive office until revenues improve.
3. Their earnings are "real." When dividends are paid regularly, shareholders know that the revenues and earnings reported by the company are genuine, hard dollars in the coffers -- and not just creative accounting.
A lot has been said about the tax ramifications of owning dividend paying companies if the dividend tax rate returns to a higher level. As we face the fiscal cliff, I am currently more concerned about the market ramifications near term than the tax ramifications for the longer term. I can adjust after we get some real legislation from Washington. But if I can cushion my downside and increase my gains when the market begins to perform again -- all while keeping at least a portion of my portfolio in equities, in case the market fools us all and shrugs off the cliff entirely -- then that is something that appeals to me.
My brief study showed that, at least for the periods I studied, the SDY and DVY appeared to be the better choices for this particular strategy. Do some research of your own and see if repositioning some of your go-go growth into slower, but steady, names make sense for your portfolio.
Time may be short, but while Washington dithers, the prudent investor is doing some homework and completing assignments.
Other dividend ETFs to consider researching include: Vanguard Dividend Appreciation (NYSEARCA:VIG), iShares High Dividend Equity Fund (NYSEARCA:HDV), Vanguard High Dividend Yield Index Fund (NYSEARCA:VYM), WisdomTree Dividend Top 100 Fund (NYSEARCA:DTN), and First Trust Morningstar Dividend Leaders (NYSEARCA:FDL).
Disclosure: I am long DVY, VIG; they are a part of my core portfolio and I've held them for years. I wrote this article myself, and it expresses my own opinions. I am not receiving compensation for it (other than from Seeking Alpha). I have no business relationship with any company whose stock is mentioned in this article.