Commodity Chart Of The Day
Daily Coffee
(click image to enlarge)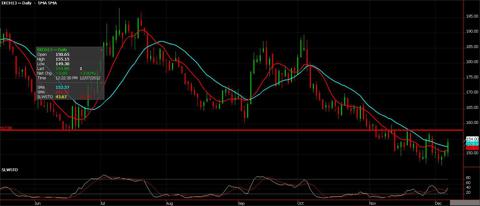 I certainly try to do my part in helping demand, as some of my clients remain in bullish trades in coffee (I just downed my third cup of JO as I write this piece). Regular followers should know I have been recommending scaling into coffee for several weeks, as prices have been at devalued levels in my eyes, as futures factored in a monstrous crop on SA. My clients were positioned in back ratio spreads in March, and in recent dealings, I advised them to buy back their bottom leg at a profit. Now with the movement the last three days, which could prove to be an interim low, we have an opportunity to make money on the top leg.
With a little help, this week may turn out to be the first positive one in coffee futures in 10 weeks. Last week's low trade was rejected as coffee bounced off near two and a half year lows. Do I think this will be the next bull market? Not likely, but a bit more appreciation and a successful trade? A positive development today would be a settlement above the 9 and 20 day MAs, identified by the red and blue lines. My first upside target where I would be looking to let go of remaining March calls is the red horizontal line, around $1.56/1.57.
Risk Disclaimer: The opinions contained herein are for general information only and not tailored to any specific investor's needs or investment goals. Any opinions expressed in this article are as of the date indicated. Trading futures, options, and Forex involves substantial risk of loss and is not suitable for all investors. Past performance is not necessarily indicative of future results.
Disclosure: I have no positions in any stocks mentioned, and no plans to initiate any positions within the next 72 hours. I wrote this article myself, and it expresses my own opinions. I am not receiving compensation for it. I have no business relationship with any company whose stock is mentioned in this article.