VIX - Market Sentiment
Friday, S&P futures were moving higher into the open after positive employment numbers fueled investors yet again. This pop was quickly faded after selling pressure resumed after another negative consumer confidence number. Overall, the futures stayed in a very narrow 8 handle range top to bottom after the market opened today causing pretty much a snooze fest the second half of the trading day. A check on the NYMO oscillator continues to show the move back to a more neutral state. The NYMO closed yesterday with a reading of 21.90 with overbought and oversold at +/- 80.
The lack of movement again put pressure on the spot CBOE Volatility Index (VIX) moving lower throughout the session. Volatility ETF (NYSEARCA:VXX), 2x ETF (NASDAQ:TVIX), and alternative 2x ETF (NYSEARCA:UVXY) actually held up pretty well today all things considered. First move today was a buyer of the December 23 calls 5K times for .20 offer. This trade was quickly followed by a buyer of the December 27 calls 7K times for .10 offer. This helped to support front month futures keeping these ETNs from losing less than one would expect today. This will help protect for large selloff between now and December expiration. Another large player came in today selling the December 17 puts 15K and used proceeds to buy the February 20 calls 15K times. This could be the beginning of a large sentiment roll as this is more than likely the same trader who owns almost 100K of those 17 puts. Net premium on call side shows overall calls bought and puts sold on the day to the tune of 6.7M calls and 890K puts.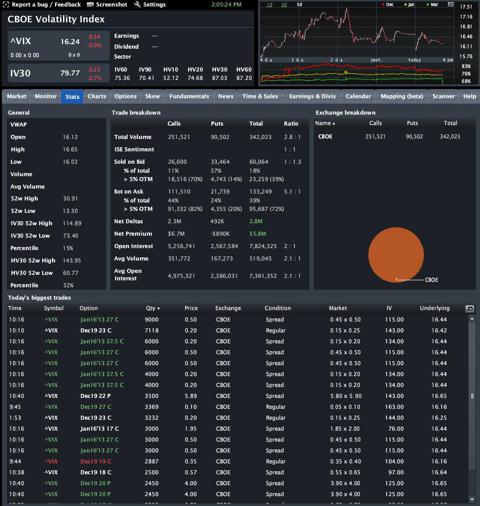 Statistics and Screenshot Provided By LiveVol
VIX futures are below.
Yesterday
· December VIX futures 16.53
· January VIX futures 17.83
· February VIX futures 18.88
Today
· December VIX futures 16.25
· January VIX futures 17.35
· February VIX futures 18.30
Options Paper
On a fairly light trading day, option volume was again dominated by the typical players. The leaders being S&P ETF (NYSEARCA:SPY), Apple (NASDAQ:AAPL), Bank of America (NYSE:BAC) and the NASDAQ ETF (NASDAQ:QQQ). These 4 tickets made up almost 2.9M of the 9.8M contracts which had traded when writing this article. Other big players today were Citigroup (NYSE:C), Facebook (NASDAQ:FB), Hewlett-Packard (NYSE:HPQ), Cisco (NASDAQ:CSCO) and SandRidge (NYSE:SD) all trading more than 100K each. It is important to note HPQ is a dividend steal by MM's so keep this in mind. A follow up to yesterday's sonar report (here) I talked about ASML Holdings (NASDAQ:ASML) regarding unusual put activity. Sure enough after looking at open interest today it does appear to have been a put roll moving a large bearish bet from the 60 strike to the 62.5 strike. Again this trader is protecting himself against long shares or outright betting against a drop in ASML below the 61 level in the next 15 days. Keep your eyes on this stock as it could move.
TiVo (NASDAQ:TIVO) is a name which has been in both the OTM call buying and OTM put buying in recent weeks. Today, TIVO saw one bull step up big buying more than 800K worth of May 14 calls paying up to .75 more than 8,700 times. This is against an open interest of just 1.25K and caused volatility to spike which is a clear indication of option buying pressure. TIVO on massive volume has just broke out over long-term resistance and now this bull clearly sees more upside in the future. TIVO now trades at a 52-week high and this trade will really profit with a run in TIVO stock above the 14.75 level between now and May expiration. Calls outnumbered puts more than 5.6:1 on more than 5x average daily volume.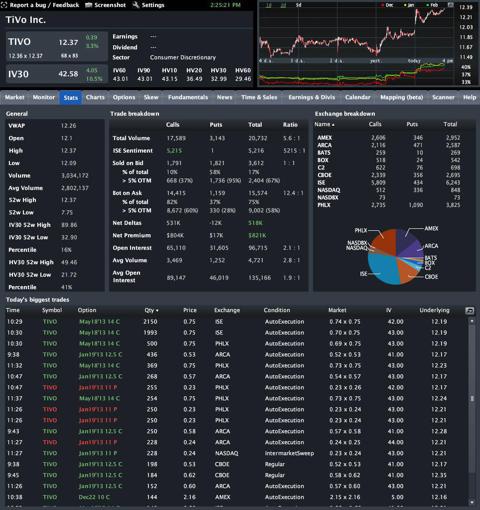 Statistics and Screenshot Provided By LiveVol
Popular ETFs and equity names with bullish / bearish paper:
Bullish Option Flows - ISE & % OTM calls bought on offer
AK Steel (NYSE:AKS) 86%
Texas Instruments (NYSE:TXN) 61%
Weatherford (NYSE:WFT) 55%
Best Buy (NYSE:BBY) 52% - more speculation
Quiksilver (NYSE:ZQK) 51% - Possible call roll
Halliburton (NYSE:HAL) 10K of 20.5K OTM calls bought
Bearish Option Flows - ISE & % OTM puts bought on offer
Centurylink (NYSE:CTL) 86% of the 5.2K OTM puts bought
Celsion (NASDAQ:CLSN) 83% of the 3.1K OTM puts bought
Arena Pharma (NASDAQ:ARNA) 80%
Express Scripts (NASDAQ:ESRX) 75%
Micron Tech (NASDAQ:MU) 66%
Ultra Silver ETF (NYSEARCA:AGQ) 2.5K of the 4.1K OTM puts bought is not good for me
Nike (NYSE:NKE) 53%
Union Pacific (NYSE:UNP) 52%
Anadarko Petroleum (NYSE:APC) 51% - I've been long this name through leaps for a year
Speculative Play Friday
This week's speculative play Friday is following a very large bull in consumer staples name Procter & Gamble (NYSE:PG). A very large call purchase went off yesterday as more than 27K July 72.5 strike calls were bought for 1.51 ask. This 4.077M bet went off at 11:53:20 yesterday as shown in the trade log below.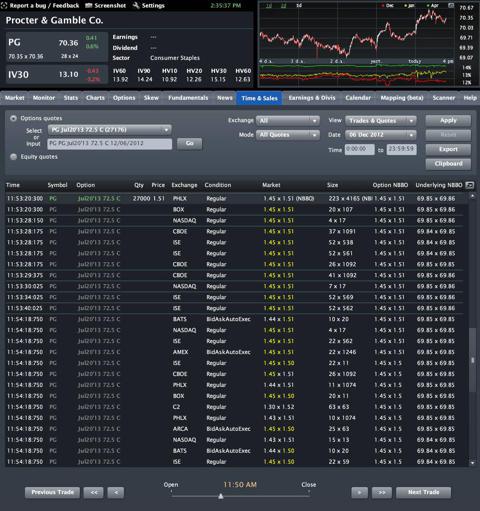 Now wait, the bull case for this gets even better. This trade follows another 4M+ bet which was executed back on November 28th where the same strike calls were bought another 27K times paying 1.51 ask at the time again as shown in the trade log below.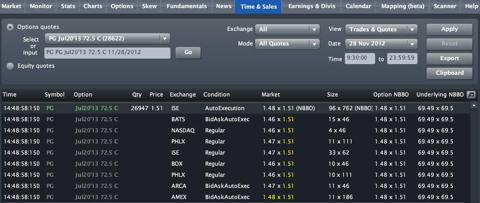 This effectively has the trader long 5.4M shares of PG @ 74.01 and would profit an insane amount if PG were to rise 10% from here. A 10% move in this stock higher would profit this trader a whopping 18M+ on a simple 8M bet. The trader could sell the calls today for a nice 500K in profit right here, but I don't think that is the case. My trade on this is simple; on any pullback, I will be adding to my long calls I mentioned on Twitter. Additionally, I will use any price drop or pop in volatility to sell puts to reduce the effect of time decay. My hope is to get into a synthetic long selling the 70 strike puts and buying the 70 strike calls with the proceeds. For more leverage, one could use the 72.5 strike calls and sell the 67.5 puts.

As always happy trading and stay hedged.
Remember equity insurance always looks expensive until you need it!
Disclosure:
I am long: AGNC, AGQ, APC, KERX, MNST, MTGE, PG
I am short: DB, FXE, LYV, SPY
Trades today: Closed RIMM short, Trimmed DB puts
Disclaimer: The opinions in this document are for informational and educational purposes only and should not be construed as a recommendation to buy or sell the stocks mentioned or to solicit transactions or clients. Past performance of the companies discussed may not continue and the companies may not achieve the earnings growth as predicted. The information in this document is believed to be accurate, but under no circumstances should a person act upon the information contained within. I do not recommend that anyone act upon any investment information without first consulting an investment professional as to the suitability of such investments for his or her specific situation.
Disclosure: I have no positions in any stocks mentioned, and no plans to initiate any positions within the next 72 hours. I wrote this article myself, and it expresses my own opinions. I am not receiving compensation for it (other than from Seeking Alpha). I have no business relationship with any company whose stock is mentioned in this article.