Facebook (NASDAQ:FB) will finally hit the Nasdaq-100 Index, and is on its way to joining a few sector exchange traded funds. This could pave the way for more social media companies in the future.
"The company is a lot more seasoned now," Francis Gaskins of IPO Desktop Premium, a website devoted to IPOs, said in a report. Being in the Nasdaq-100 "takes away some of the stain of the botched IPO."
Investors and fund managers are watching Facebook shares, as the company will be included into the Nasdaq-100 Index the morning of December 12, 2012. This also means the stock will be included in the $30.9 billion PowerShares QQQ (NASDAQ:QQQ). The fund will take the place of First Trust Dow Jones Internet Index Fund (NYSEARCA:FDN) as the largest ETF to hold the company, reports Benzinga.
The inclusion within the tech index is a major feat for Facebook, which has struggled since the May 18 IPO that hit the market with a loud thud. The Nasdaq-100 is considered a big-time, big-name technology index, which also holds heavyweights such as Apple (NASDAQ:AAPL) and Google (NASDAQ:GOOG), reports Financial Review.
Shares of Facebook are currently trading around $27.71, which is 44% higher than the low of $19.21 per share seen on November 9. The stock has gained value in recent weeks despite concerns about a series of post-IPO lockup expirations that released hundreds of millions of shares for sale on the open market.
"Inclusion in the Nasdaq-100 should be a positive for (Facebook), since a bunch of index funds and ETFs now have to buy to maintain a match with the benchmark," Joseph Bonner of Argus Research said in email to USA Today.
PowerShares QQQ
(click image to enlarge)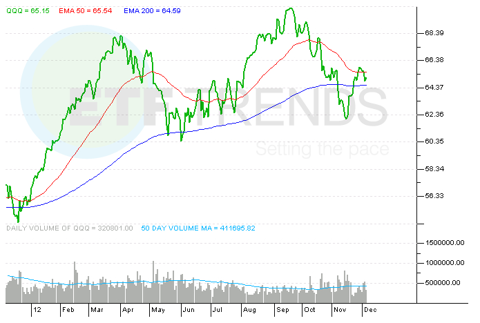 Tisha Guerrero contributed to this article.
Full disclosure: Tom Lydon's clients own QQQ, AAPL, FB and GOOG.
Disclosure: I am long QQQ, AAPL, FB, GOOG. I wrote this article myself, and it expresses my own opinions. I am not receiving compensation for it. I have no business relationship with any company whose stock is mentioned in this article.