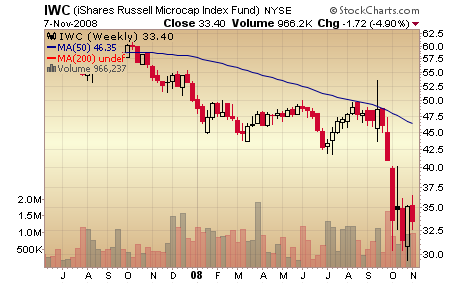 Peak-to-trough, the market meltdown lopped off over 50% from the Russell Microcap Index (see weekly chart of IWC ETF above).  The charts look even worse for many individual equities, particularly on the OTC BB.  Remember that OTC BB stocks are excluded from the Russell Microcap Index, which is really a blend between microcaps and smallcaps.
There are three reasons why a bottom may be in for the Russell Microcap Index and the ETF:
During the meltdown, the severe drop in individual issues suggested that a lot of traders were willing to get out at any cost, or were forced to sell due to margin calls.  At some point, and I think we may be there now, most who would consider selling are already sold out.   The new buyers have a much lower cost basis and are more likely to be patient as the market and individual stocks fluctuate.
The index is already stretched far below its 50-week moving average, a sign that it is severely oversold.  This never means it can't get worse; but it does increase the odds that the next sharp move is up towards the MA line.
Seasonally, November and especially January are strong months for microcaps.  December is traditionally negative, but in light of the selling we have already seen, this year may be an exception.  Here are the annualized microcap returns by month from July 1926 to December 2004, courtesy of Dartmouth's Kenneth French and University of Chicago's Eugene Fama:
| | |
| --- | --- |
| January | 159.82% |
| February | 25.10% |
| March | 1.21% |
| April | 12.86% |
| May | 6.85% |
| June | 6.57% |
| July | 22.64% |
| August | 8.16% |
| September | -7.75% |
| October | -14.60% |
| November | 7.97% |
| December | -1.94% |
DISCLOSURE: Many microcap positions.  No position in IWC.