Freeport-McMoRan Copper & Gold (NYSE:FCX) should probably consider changing its name to Freeport-McMoRan-Plains Copper, Gold, Oil & Gas after the company announced it plans to merge with oil and gas companies Plains Exploration & Production (NYSE:PXP) and McMoRan Exploration (NYSE:MMR).
Following the merger announcement Freeport-McMoRan's stock took a nice haircut as shown below: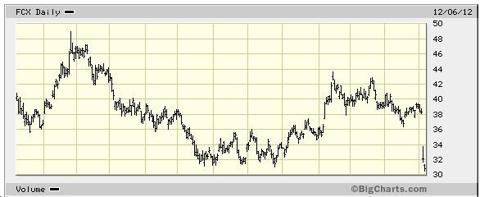 Some of Freeport-McMoRan's investors weren't too happy with the merger as evidenced by the stock price above and also from the company's December 5, 2012 webcast related to the merger, with some webcast participants vocally indicating their not seeing any advantages related to the merger.
Richard Adkerson, CEO and President of Freeport-McMoRan, noted the merger provides a larger and more diverse company. The merger will provide a company which will be more agile for maneuvering the larger price fluctuations which often occur in the commodities markets.
Mr. Adkerson noted the companies involved in the merger were high quality, long-life, low cost and expandable and Mr. Adkerson also indicated he expects the cash flows form the companies to fund future capital expenditures related to the respective companies. Mr. Adkerson further noted the new company would continue to be focused on mining, however the merger now gives the company exposure to low cost natural gas with a long term investment view. The merger enables Freeport-McMoRan to jump from a mid-size mining company to a major player in the mining and oil/gas business segment.
Mr. Adkerson noted the merger converts Freeport-McMoRan from a 100% mining company to a company with a 75% mining segment and a 25% oil and gas segment. The CEO of McMoRan further indicated the merger will increase the company's exposure in North America from 30% to 50%. Additionally, Mr. Adkerson indicated it was taking advantage of the current low-cost financing environment in order to pursue the merger.
Jim Bob Moffet, Chairman of Freeport-McMoran, indicated that while the price of natural gas is low in the U.S., the price of natural gas in Asia is still at a premium. Additionally, following the Japanese Tsunami, nuclear power is not viewed very attractively and energy produced from coal is also not viewed very favorable due to environmental issues, which leaves natural gas in an attractive position. Mr. Moffet further noted the merger enables Freeport-McMoran to use its experience in creating a low-cost mining company in order to create a low-cost oil and gas company. Mr. Moffet also indicated that this deal represents a much better opportunity to investors than a straight copper mining company.
James Flores, Chairman, CEO and President of Plains Exploration, noted that Plains Exploration has a very high margin business and without the merger would have had to divest of its natural gas business in order to fund its Gulf of Mexico opportunities, but as a result of the merger will not have to divest of its natural gas position. Mr. Flores further commented that Freeport-McMoRan's decision to buy natural gas when it is low is a smart move.
This could be a very opportune time to enter a position for Freeport-McMoRan, as the company's stock price is near its previous support level in the $31 range as shown in the chart above. However, the stock could exhibit some additional volatility as unhappy investors exit, so a prudent investment might be one that has a protected downside. A married put looks attractive, as it provides for unlimited upside with limited downside. A married put position can be entered by purchasing a put option against a long stock. The expiration month for the put option is typically selected several months out in the future in order to reduce the per day cost of the "insurance."
Using PowerOptions, a number of married put positions were found for Freeport-McMoRan with expiration in May of 2013 as shown below: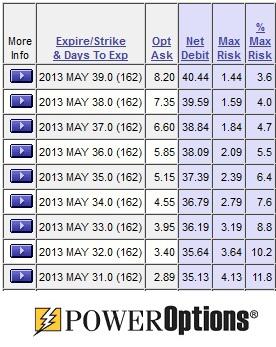 The married put using the FCX 2013 May 34 put option looks attractive, as it has a maximum potential loss of 7.6%. However, when including expected dividend payments during the holding time, the maximum loss is reduced to 6%. So, even if Freeport's stock price drops all the way to zero, the maximum loss which can be sustained is 6%. The details for entering the Freeport married put trade are shown below:
Freeport McMoRan Married Put Trade
Buy FCX stock (existing or purchased)
Buy FCX 2013 May 34 Put at $4.55
A profit/loss graph for one contract of the Freeport-McMoRan married put position, including expected dividend payments, is shown below: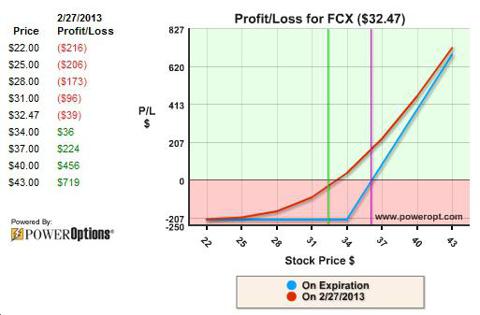 For a stock price below the $34 strike price of the put option, the value of the married put position remains unchanged. Additionally, for an increasing stock price the value of the married put position also increases. And, if the price of the stock increases to above the $34 strike price of the put option, then income methods may be applied in order to receive income and reduce risk as taught by RadioActiveTrading.com.
Disclosure: I have no positions in any stocks mentioned, and no plans to initiate any positions within the next 72 hours. I wrote this article myself, and it expresses my own opinions. I am not receiving compensation for it (other than from Seeking Alpha). I have no business relationship with any company whose stock is mentioned in this article.