Gold is headed for its 12th consecutive annual gain, the longest bull market in at least nine decades. The price of the precious metal has increased by 10% this year alone, as central banks from across the globe engage in easing monetary policies to spur economic growth. Countries from South Korea to Russia to Brazil are increasing their gold reserves, boosting their holdings of the yellow metal. Moreover, investors are holding a record amount in gold-backed exchange traded funds. Holdings in SPDR Gold Trust (NYSEARCA:GLD), the biggest gold-backed ETF surged to a record high as the fund reported an inflow of 2.4 tons on Tuesday. In the past two years central banks have turned from net sellers to net buyers, with majority of the demand coming from emerging markets and Asia.
Both central banks' and investors' interest in gold has been a major support to high gold prices, and the combination of weaker growth and loose monetary policies is only going to further support prices of the precious metal.
Kinross Gold Corporation (NYSE:KGC)
Kinross Gold Corporation, together with its subsidiaries, engages in exploration, acquisition, and mining of gold bearing properties. The company is also involved in extraction and processing of ore containing gold and silver. The Canadian based company has mines and projects in Canada, United States, Brazil, Russia, Ecuador, Mauritania, Ghana, and Chili.
The company defines its operating segments by mines, each significant mine is considered a separate segment. Geographically South America with 35% provided the biggest chunk of 2011 production; however, increased production at Fort Knox in the most recent quarter resulted in North America accounting for the highest production of any region.
KGC, Canada's third biggest gold producer, has positively grown its reserves and resources base in recent years. From 2005 to 2011 the Canadian miner's reserves grew from 33.7 million ounces to 108.1 million ounces, an increase of 221%.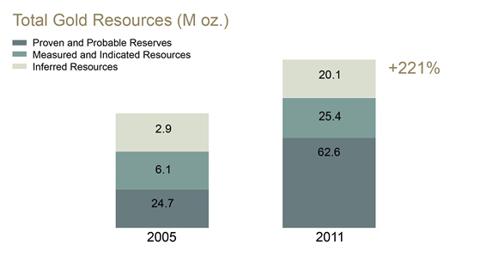 Source: Kinross
The Canadian gold miner reported third quarter operating results on 7th November, beating analysts' expectations by 16%. The company reported earnings of $0.22/share against the consensus estimates of $0.19/share. The beat was driven by higher-than-expected production and lower-than-forecasted costs. Reported earnings of $224.9 million were up 9% YoY.
Production was up 6% YoY, as strong production results from North America (up 27% QoQ), primarily driven by Fort Knox operations, Russia (up 8% QoQ), and West Africa (up 5% QoQ), combined with improving operating costs performance, more than offset lower expected production at Paracatu and higher exploration / development expenses. The company reported attributable margin of $972/oz for the third quarter down $46 from 3Q11.
Why we like KGC
We like KGC for the following reasons:
Potential value in Tasiast
Company's cost cutting initiatives
Growth potential
Renewed focus on managing increasing capex, improving margins, and maximizing cash flows
Recent stock outperformance
Our outlook on gold
In early 2012 the Canadian miner established new parameters for project spending and timeliness, deciding to optimize their project pipeline and focusing resources on top priorities such as Tasiast and Dvoinoye.
The Tasiast expansion project in Mauritania remains company's top development priority. Kinross acquired the West African mine after it bought Red Back Mining Inc, the Vancouver based mining company in Sep 2010. Rather than finalizing a processing option for Tasiast, Paul Rollinson, the newly appointed CEO has decided to undertake a pre-feasibility study for the construction of a mid-sized, expandable 30Ktpd mill at Tasiast. This study will be compared with the 60Ktpd mill option in 1Q13. The 60Ktpd mill remains the base case; however, the company will select a processing option or a combination of options once an impairment test is carried out at the end of the quarter. With the capital expenditure of $3.7 billion and annual capacity of 1.3 million ounces, Tasiast is a big investment for the company but the incremental ounces expected to be at the cost of ~$500/oz are significantly lower than the 2012 companywide guidance of $693/oz. We believe the potential value that Tasiast can add to the company's earnings is not priced in the stock and provides a good buying opportunity for investors.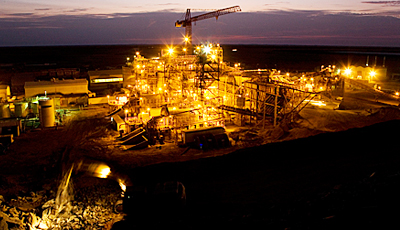 Source: Kinross
Underground development at the company's Russian project Dvoinoye is 37% complete and surface development is 22% complete. The mine remains on schedule to deliver first ore to the Kupol mill in the second half of 2013. Annual production from this Russian mine is expected to be 330,000 ounces.
KGC's other projects such as Lobo-Marte and FDN are progressing but Tasiast remains KGC's top priority.
Costs Controls
The company recently announced a new cost cutting program "The Kinross Way Forward". The new initiative is a systematic framework aimed at maximizing margins and cash flow through optimization of mine sequencing, capital efficiency (2012 capex reduced by $200 million to $2.2 billion), contractor management (focusing on nature of the contracts to lock best possible price), improving productivity and cost controls, energy consumption reduction combined with procurement of lower-cost power, inventory system enhancements, and working capital curtailments. As part of this program the company has already identified reductions of $200 million in capital expenditure, cutting its forecast capex for 2012 to $2.0 billion from $2.2 reported earlier. Approximately two-third of the reduction is from development capital with and one-third from sustaining capital.
Moreover, to mitigate production loses or spot price purchases, the company under its new cyanide procurement scheme has contracted for long term, fixed rate supply with a preferred supplier starting early 2013. Additionally the company is making efforts to minimize the impact of rising rubber prices, to this effect KGC has taken two steps 1) the company has secured sufficient supplies of tier 1 tires through 2013-end, 2) at some sites the company has achieved 12k hours on large-class, haul truck tires, which is way better than the industry average.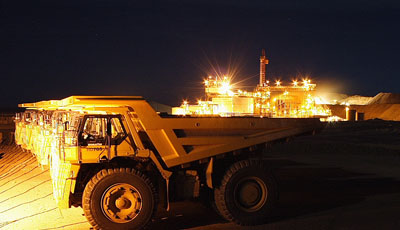 Source: Kinross
Valuations & Financials
We also like KGC for its cheap valuations; the company is trading at P/B value of 0.84, while its competitors ABX, NEM, and AngloGold Ashanti (NYSE:AU) are trading at 1.2, 1.34, and 2.1 respectively. The company has debt to equity ratio of only 16% compared to 50% of ABX, 37% of NEM, and 60% of AU.
The company also has a strong liquidity position. KGC increased and extended its current credit facility by taking a new term loan facility of $1B on 17th Aug. With this improved liquidity the company is in a strong position to repay its senior convertible notes, should the holders want company to repurchase, on March 15th, 2013. With high strike price of $28.04 per share the holders of these notes are out-of-the-money.
Both EBIT and EBITDA have increased significantly in the past five years. While EBIT increased by more than 500%, EBITDA in the last five years increased by 440%.
The stock has outperformed its three biggest competitors in the last three months. While Kinross is up 7.6% in the last three months, the other three stocks Goldcorp (NYSE:GG), Newmont (NYSE:NEM), and Barrick Gold (NYSE:ABX) are all down, GG by 9.5%, ABX by 12.3%, and NEM by 11.4%. Moreover, KGC also outperformed SPDR Gold Trust , the biggest gold-backed ETF, which is down 0.1% in the same period.

Source: Google Finance
If we go back a little further and look at the 6 months performance, still KGC outperformed its peers and the SPRD Gold Trust. In the last 6 months KGC's stock gained 9.3%, while the second best performer GLD gained 4.4% only.

Source: Google Finance
Dividends
The company pays dividend semi-annually and compared to its peers (ABX: 2.3% and NEM: 3.1%), KGC has a modest dividend yield of 1.7%; however it is higher than GG's dividend yield of 1.4% and AU's 0.6%. Moreover as you can see from the graph below KGC's dividend yield has increased significantly over the years (Dec '08: 0.65%, Nov '12: 1.7%).

Source: Y-Charts
Conclusion
As we said earlier we don't think the potential value of Tasiast is priced in the stock, which will help stock appreciate in value in future. Moreover the stock is trading at cheap valuations and the company has improved its liquidity position. We also like KGC's new cost control initiatives. Gold prices, which are expected to rise through 2013 in the wake of easing monetary policies by central banks across the world, and increased liquidity, are further supportive of our case on KGC. As you can see from the chart below KGC has been the best performer since the announcement of QE3. The stock outperformed its three biggest competitors ABX, NEM, and GG by handsome margins.

Source: Reuters
Kinross is currently trading at $9.63, whereas sell side has a 12 month mean target price of $13.33 and high target of $17.90, representing an upside of 38% and 86% respectively. Kinross is listed on both the New York Stock Exchange and the Toronto Stock Exchange; you can invest in either country.
Disclosure: I have no positions in any stocks mentioned, and no plans to initiate any positions within the next 72 hours. I wrote this article myself, and it expresses my own opinions. I am not receiving compensation for it (other than from Seeking Alpha). I have no business relationship with any company whose stock is mentioned in this article.