General Moly (NYSEMKT:GMO) is a U.S.-based mineral development company, headquartered in Lakewood, Colorado. The company is to grow into the largest pure-play molybdenum producer in the world and a molybdenum supplier of choice to customers around the world.
GMO owns and operates two primary molybdenum projects, both in Nevada, USA. The Mt. Hope project is one of the world's largest molybdenum development projects and is a joint venture between General Moly (80% ownership) and POSCO (20% ownership), one of the world's largest steel producers based in Korea. The Liberty project is wholly-owned by General Moly, contains both moly and copper, and is another major project following Mt. Hope.
Permit Application Review:
In 2006, GMO started the paper work and bank feasibility study. Numerous of test wells have been drilled and studied. Then many conflicts and disputes arise in the process of application. Especially for the Water Rights, the legal fighting lasted for more than 5 years. Many rounds of attack and defense cost large amount of GMO and the Eureka County's energy. The commissioner of Eureka County, Fiorenzi Leonard, has been fighting on this issue in all his term. However, he lost his reelection this summer.
The reelection result could be found on Eureka County website.
After the ruling from Nevada State District Court, Eureka County submitted another appeal on the water right issue to Nevada State Supreme Court. At the same time, Eureka County also published an article to explain why they appeal and what their object is. They try to get more protection for farmers and ranchers, and they are not to opposite to the Mt Hope project. This article is published in July, 2012, on Eureka County's official website.
Since June 14, 2012, GMO's progress on application of permit accelerated quite a lot.
September 5, 2012, GMO announced the completion of Preliminary Final Environmental Impact Statement ( PFEIS). This is a milestone for GMO's permit application.
October 12, 2012, Final Environmental Impact Statement Notice of Availability (NOA) for the Mt. Hope Project was published in the Federal Register.
Nov 17, 2012, GMO announced that the U.S. Bureau of Land Management ("BLM") has issued a Record of Decision ("ROD") authorizing development of the Mt. Hope Project in Eureka County, Nevada. The Record of Decision is effective as of November 16, 2012.
Nov 20, 2012, GMO announced that the State of Nevada Division of Environmental Protection (NDEP) has issued a Reclamation Permit for the Mt. Hope Project.
Nov 26, 2012, GMO announced that the State of Nevada Division of Environmental Protection has issued a Water Pollution Control Permit for the Mt. Hope Project.
Then Bruce D. Hansen, Chief Executive Officer of General Moly, said:
"We are pleased to receive the Water Pollution Control Permit from the Nevada Division of Environmental Protection and conclude the permitting process required for the construction of the Mt. Hope Project. I want to thank our team as well as our regulatory agency partners for their long hours, hard work and commitment to getting the job done right."
All the required permits are obtained. GMO started a new journey to construction and production.
Dec 4, 2012, GMO announced that its 80% owned subsidiary, Eureka Moly, LLC, has initiated cultural clearance activities at the Mt. Hope Project.
These information can be found on the official website of GMO.
Analysis of GMO's Future
1. The uncertainty of permits is over
As GMO has obtained all the required permits, the uncertainty is over. These permits are more and more valuable in now days. More and more people are making various appeals on mining projects, especially for Moly Projects. People worry about pollution control, and sustain ability of these projects. July 1, 2012, a proposed Moly Projects in Sichuan, China, leaded to big protest from thousands citizens. The protest turned to a dangerous riots and caused the injury of hundreds protesters. Finally, the local government announced the termination of that Moly mining project which is invested by Sichuan Hongda Mining Group.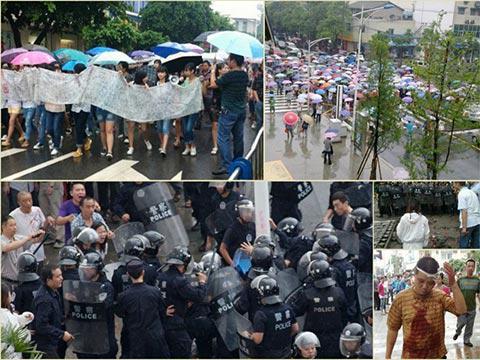 Protest of Sichuan Hongda Mining Group Moly Project
The details about the protest could be found via the BBC and Wiki.
The biggest investor of GMO is Sichuan Hanlong Mining Group, China. I did a research on the relation of Sichuan Hanlong Mining Group and Sichuan Hongda Mining Group. It turned out that the CEO of Hanlong Ltd, Liu Han, and the CEO of Hongda Mining Ltd, Liu Canglong are brothers with the same grandmother. They have very good relationship also. That failed project is a big bet on Moly mining, but no hint was announced where the needed mineral will be obtained. Personally, I guessed there is some relation to the Mt Hope Project, though I don't have solid evidence yet.
The failure of this moly project is a valuable lesson to Mr. Liu Han, and Hanlong Mining Group. They will try their best to get Mt Hope project done and get the expected resource. In my point of view, the value of the Permits of Mt Hope is far beyond what they are now. The relation between Hanlong Mining Group's CEO and Hongda Mining's CEO could be found in this Chinese website, Sina.com.cn.
2. Good Management Team
Bruce D. Hansen, Chief Executive Officer of General Moly, has leaded the company for years. Since 2008 financial crisis, the worldwide mining industry fell to recession and the market became more challenging. Under this difficult environment, Mr. Hansen managed to main the finance sustain ability, keep making progress on the permit applications, and deal with kinds of conflicts and appeals. Recently, GMO got all the permits and initiated construction. He and his management team did a great job in recent year.
3. Capital Raising and Finance Stability
Hanlong Mining Group and GMO has finalized the details of 745 M$ loan in Feb, 2012. Hanlong Mining Group will help arrange 650 M$ loan from China National Developing Bank. The major requirement of them is the receipt of permits for Mt Hope. Now, the burden is cleared. As said in GMO's previous statement, this money will be available in less than 3 months.
In my point of view, in these finance operations, Hanlong Mining Group is the pioneer of China government. Now, China has accumulated more than 2 Trillion $ currency deposit. They don't want to keep the paper money in hand. They want to buy mines and resource with paper money. The Mt Hope project is a good opportunity to achieve this target for China. There is no reason to question about the finance stability of Mt Project.
If there are some risks, the risks should come from the political conflict between China and United States. In this globalization environment, this possibility is farely low in near future.
The details of their aggreement can be found on GMO's website.
4. Price of Moly
GMO has signed contracts with Hanlong Company and other companys for the first 5 years production of moly at 15$/lb, 4$ higher than the market price of moly today. Within these 5 years, GMO could get more than 100% return for its all investment.
5 years later, the market may gradually improve and recover from the ongoing recession. Even not, the previous outcome already beat the investment already.At the same time, the life line price for the moly industry is around 9.5$/lb. There is not much room the moly price's falling.
Summary
GMO is a good opportunity for patient investors. They will have solid performance and good return in the future. But it may takes more than several months to reach my prediction.
Disclosure: I have no positions in any stocks mentioned, and no plans to initiate any positions within the next 72 hours. I wrote this article myself, and it expresses my own opinions. I am not receiving compensation for it (other than from Seeking Alpha). I have no business relationship with any company whose stock is mentioned in this article.
Disclaimer: This is what I am thinking. I just share my thinking to anyone who is interested in GMO. I am not to persuade you to buy or sell the stock of GMO. You need to make your own decision for your money. Statements herein that are not historical facts are "forward-looking statements" within the meaning of Section 27A of the Securities Act, as amended and Section 21E of the Securities Exchange Act of 1934, as amended and are intended to be covered by the safe harbor created by such sections. Such forward-looking statements involve a number of risks and uncertainties that could cause actual results to differ materially from those projected, anticipated, expected, or implied by the Company. These risks and uncertainties include, but are not limited to, metals price and production volatility, global economic conditions, currency fluctuations, increased production costs and variances in ore grade or recovery rates from those assumed in mining plans, exploration risks and results, political, operational and project development risks, including the Company's ability to obtain required permits to commence production and its ability to raise required financing, adverse governmental regulation and judicial outcomes.