This article is a continuation of a monthly series highlighting the top net payout yield stocks that was started in June (see article). The series highlights the best stocks for the upcoming month. Please review the original article for more information on the net payout yield concept.
November Returns
Below are two charts highlighting the monthly returns of the top 10 stocks from November (see original list here). Due to limitations with YCharts, the chart was broken into the Top 5 and Next 5 lists.
The Top 5 stocks had a horrible month, with both Seagate Technology (NASDAQ:STX) and Kohls Corporation (NYSE:KSS) reporting double-digit negative returns. In addition, ConocoPhillips (NYSE:COP) and Goldman Sachs (NYSE:GS) had negative months, exceeding the S&P 500 drop of only 0.52%. Motorola Solutions (NYSE:MSI) had the only strong month, with a 2% return.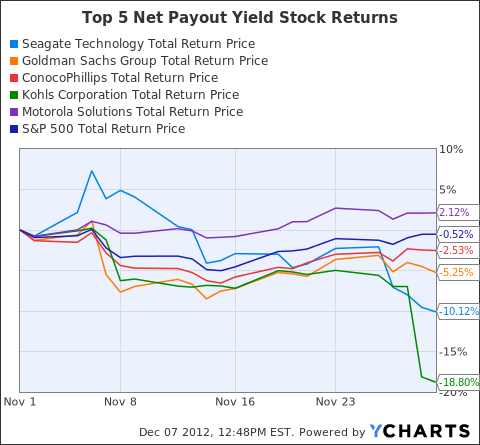 STX Total Return Price data by YCharts
The Next 5 stocks had a better month, with a big gain by Limited Brands (LTD) that exceeded 10%. In addition, Dell (NASDAQ:DELL) and AstraZeneca (NYSE:AZN) had solidly positive months. Unfortunately, Intel Corporation (NASDAQ:INTC) and WellPoint (WLP) were crushed, with loses near 10%.
INTC Total Return Price data by YCharts
With only four out of 10 stocks beating the market, the list substantially underperformed the market. Surprisingly, four stocks had nearly double-digit losses that are very uncommon for companies with market caps exceeding $10B.
The list is full of retailers, healthcare, and tech companies that most investors won't touch. These results highlight the concerns over the influx of tech companies in the top yielding stocks. Even in the large cap sector, those stocks tend to be more volatile.
December List
The list encountered some significant changes since November, as several companies dramatically reduced stock buybacks year-over-year in Q3. As the Q3 data was updated, the yields plunged for those stocks. Both Goldman Sachs and Intel fell off the list for this reason. Limited Brands dropped off the list primarily due to the 10% gain in November pushing the yield down.
Several stocks joined the list due to the plunging yields. DirecTV (DTV) rejoined the list in the fourth position, solely based on a huge buybacks of 16.5%. Annaly Capital Management, Inc. (NYSE:NLY), Amgen (NASDAQ:AMGN), and Ameriprise Financial, Inc. (NYSE:AMP) joined the list, with yields around 13%. Previously, these yields were below the top 10 requirements, but an error with the data source caused a slight decrease in most yields.
Top 10 Net Payout Yield Stocks For December
Company

Buyback Yield

(%)

Dividend Yield

(%)

NPY

(%)

Seagate Tech

23.6

5.10

28.70

Kohl's

17.6

2.87

20.47

Motorola Solutions

15.0

1.91

16.91

DirecTV

16.5

0.00

16.55

ConocoPhillips

11.7

4.64

16.34

WellPoint

14.2

2.06

16.26

Annaly Capital

0.00

13.59

13.59

Ameriprise Financial

10.2

2.97

13.17

Amgen

11.4

1.62

13.02

Dell

9.4

3.40

12.80
* Data sourced from SmartMoney.com.
Conclusion
After a strong October, the Top 10 had a very disappointing month in November. The best part of this investing concept is that investors don't have to worry about panicking at the bottom with these stocks. Stocks with strong balance sheets and huge cash flows provide solid support in weak markets. Not to mention that the large dividends and huge buybacks provide more support the lower the stock drops.
Fundamental investors in the net payout yield concept can focus directly on these 10 stocks absent any adjustments. As in our Covestor model, a stock such as DirecTV remained in the portfolio, as the yield only slightly slid out of the top yielding stocks. In order to reduce costs, portfolio adjustments aren't necessary unless a stock dramatically reduces the yield, as was the case with Goldman Sachs and Intel.
The fiscal cliff and the fear of an increase in dividend tax rates could have impacted the performance in November. Be prepared for a volatile December, as investors might be inclined to trim these stocks at year-end.
Disclosure: I am long AMP, COP, DTV, GS, KSS, MSI, NLY, WLP. I wrote this article myself, and it expresses my own opinions. I am not receiving compensation for it (other than from Seeking Alpha). I have no business relationship with any company whose stock is mentioned in this article.
Additional disclosure: Please consult your financial advisor before making any investment decisions.