On November 8, 2012, Groupon (NASDAQ:GRPN) reported earnings that disappointed the market. The following day the stock fell a stomach-churning 30% to fresh all-time lows. A week later, on November 15th, shares short GRPN settled 21% higher than levels on October 31st, producing short interest 21% of GRPN's float. In just two more weeks, GRPN's stock price surged 57%.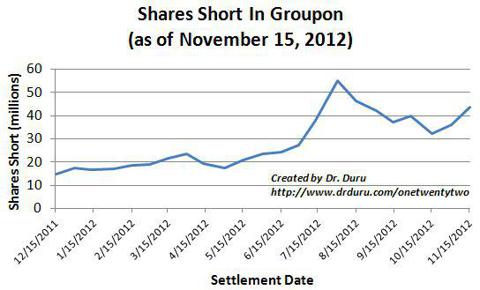 Click to enlarge
Groupon shares short are off the highs but November earnings encouraged a fresh surge in short interest
Source: NASDAQ.com short interest
This is the crowded theater into which someone (or some traders) yelled "fire" on Friday, December 7th with breathless rumors of Google (NASDAQ:GOOG) potentially acquiring GRPN, sending GRPN to a 23% one-day gain. This rumor had enough meat on it to motivate Bloomberg TV to spend two and a half minutes discussing the prospects. Reporter Cory Johnson failed to find any good reason for such an acquisition. Instead, he spent time explaining how GRPN's massive cash balance is greatly reduced by liabilities (merchant payables) and accrued expenses and warning how GRPN's coupon business has ground to a halt.
While rumors of an acquisition are questionable at best, there are other reasons to get bullish on GRPN for at least the next month or so. The stock's recent ability to print such large gains on strong buying volume is indicative of the potential for even more gains. For example, traders may already be positioning for the "January effect" where the most beaten up stocks tend to rally after tax-related selling subsides. This year is particularly interesting given common fears over increases in taxes starting in 2013 which could boost traditional tax-related trading. This window of upside opportunity reverses my bearish opinions from March and April where I recommended that investors stay away from GRPN.
A short squeeze is not likely the complete explanation for GRPN's recent success since the total 43.5M shares short are less than the 50.9M shares traded Friday alone (a 175% increase over the 3-month rolling average). Granted, the run-up from the bottom has put every new short from the first two weeks of November underwater and should intensify the pressure on shorts in the final weeks of this year to exit the trade. But we cannot verify a short squeeze until the next update on short interest comes in another week or so. As the chart above suggests shorts may actually be in the process of increasing their bearish bets.
Here are the stock charts for context.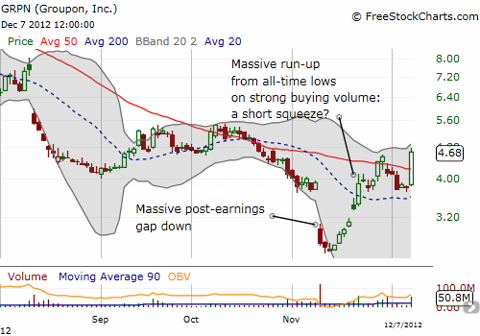 Click to enlarge
Groupon's impressive surge off all-time lows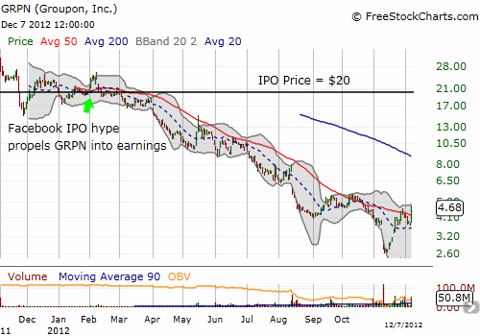 Click to enlarge
...the surge off the bottom does little to repair a dismal year where GRPN is still down 77% from its IPO price
Source: FreeStockCharts.com
GRPN is probably a stock that should never have gone public. This year has been a complete disaster. However, note the record volume surge in GRPN after its November earnings report. The subsequent strength in the stock seems to confirm GRPN has finally printed a bottom. The crescendo of selling may have washed out the last motivated sellers. This potential bottom forms the foundation for a year-end rally.
After GRPN reported earnings in early November, it solidified its status as one of the most hated stocks of a dismal lot of stocks related to the internet and social networking. Even analysts are sour on GRPN: of 23 analysts covering the stock, 19 rate GRPN as a hold and 3 rate GRPN a strong sell; one lone analyst stubbornly gives GRPN a strong buy rating.
GRPN's collapse has produced one of the lowest valuations amongst internet-related stocks. Even with the current run-up, GRPN has a price-to-sales ratio of just 1.1.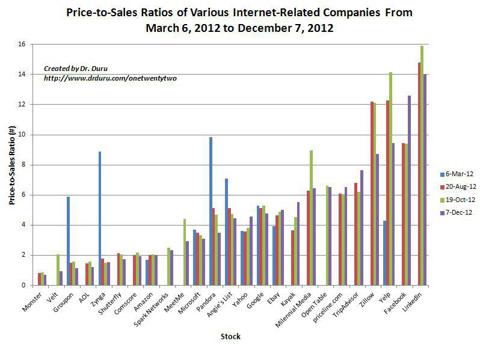 Click to enlarge
Price-to-Sales Ratios of Various Internet-Related Companies From March 6, 2012 to December 7, 2012
Source: Data collected at select times from Yahoo!Finance
The above chart tracks how the price-to-sales ratio has changed over the course of the year for a select group of internet-related stocks. I sorted the chart in ascending order from left to right based on the latest price-to-sales ratios. GRPN in particular has gone from one of the most highly valued to one of the least valued of these stocks in just nine months. (Note that I did not track all stocks in March).
This precipitous decline in relative standing is understandable. In GRPN's last earnings report, the company confirmed that revenue growth has come to a standstill. The first three quarters of the year each delivered $559 to $569M in revenue and guidance for the fourth quarter of ~14% growth simply matches the seasonal uptick the company saw in the fourth quarter of last year. Stock-based compensation expense matched operating income in the third quarter and drove net income to zero. As GRPN has slashed marketing expense every quarter to maintain EPS numbers, the growth in active customers has slowed to a trickle. GRPN grew active customers just 3.9% in the third quarter.
A contrarian might look at this entire situation and rationalize that the business has finally hit rock bottom or at least that sentiment against the stock cannot get much worse (until the next negative catalyst of course - like earnings in February).
The options trading in GRPN adds a final element of intrigue. The open interest for December expiration is heavily concentrated on puts. In particular, there are 21,252 put contracts open at the December $3.50 strike. This open interest is 3 to 4 times the size of all other open interest. According to Etrade.com, this huge open interest arrived on October 26th and has held relatively constant since…even after the puts nearly tripled in value after GRPN's disastrous November earnings. Yet, from that point to today, the overall put/call open interest has steadily dropped from an all-time high of around 1.9 to 1.0. In other words, traders are potentially getting more bullish based on the steady accumulation of call options and/or shorts have been increasingly hedging their bearish bets (note I have learned to interpret options trading with a heavy dose of caution). Since the current put/call ratio is still at the 76th percentile for the past 52-weeks there is still plenty of room for more bullishness. Friday's rumor-stoked trading sent call volume soaring. From weeklies expiring December 14th to options expiring in January, call volume greatly overwhelmed put volume.
So while the occasional vicious rumor should continue to goose GRPN higher, there is plenty of additional/potential tinder laying around to send sparks flying: "bargain-hunting" for playing the January effect, a wash-out of motivated sellers, a likely extreme in negative sentiment, call option buying, and maybe even a short squeeze. At a bare minimum, I would not want to be short GRPN under the current circumstances. Instead, I will be looking for an opening (and an excuse) to get long GRPN.
Be careful out there!
Disclosure: I have no positions in any stocks mentioned, but may initiate a long position in GRPN over the next 72 hours. I wrote this article myself, and it expresses my own opinions. I am not receiving compensation for it (other than from Seeking Alpha). I have no business relationship with any company whose stock is mentioned in this article.
Additional disclosure: I am also long AOL (calls), YHOO, and net short FB