A new industry report claims sun and wind energy may interrupt the power grid, creating a new set of obstacles for inventors, investors and ETFs within the industry.
By adding electricity generated by the sun and the wind to the nation's power grid, the reliability of the current system and the frequency of blackouts are at stake.
The North American Electric Reliability Corporation says in a report scheduled for release today that unless appropriate measures are taken to improve transmission of electricity, rules reducing carbon dioxide emissions by utilities could impair the reliability of the power grid, reports Matthew L. Wald for The New York Times.
Basically, the actions of implementing wind and solar energy would place stress on a transmission system not designed for large power transfers over long distances. Imposed carbon emission rules are going to increase demand on natural gas and make power generation susceptible to interruptions.
Greenhouse gas issues and electric utility reliability are battling and so far there has been no resolution.
Could our aging electrical grid hamper the growth of alternative energy ETFs in the long run? One possible solution to the problem would be more use of "demand-side resources," deals with customers to cut consumption in periods of high energy use.
Will Barack Obama help the issue? One of his big pushes will be for improvements to the country's infrastructure.
Claymore/MAC Global Solar Energy (NYSEARCA:TAN) is down 58.8% since its April 15 inception.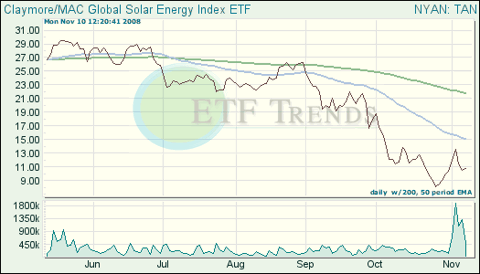 PowerShares Global Wind Energy (NASDAQ:PWND) is down 54.6% since its July 8 inception.