Actionable Items:
Highest Positive Spread: Morgan Stanley China A Share Fund (NYSE:CAF)
Focus Stock: ING Emerging Market High Dividend Equity (NYSE:IHD)
Last Week's Focus Stock: Cohen & Steers Selected Preferred & Income (NYSE:PSF)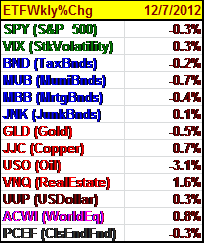 Week of 12/7/12: The S&P 500 was up by 0.1% points for the week. The S&P 500 equity's index and bonds prices were a negative 0.3%. Oil was lower by 3.1% and copper prices was up by 0.7%. Real estate prices advanced by 1.6% and world equity markets was up by 0.8%. The U.S. dollar was up by 0.3%. The S&P trading volume was up by 1.8% on 3.4 trillion. Real estate was a leading segment for ETFs.
Spending Losses and Tax Cuts: While Boehner is still refusing to raise taxes the long-and-short of it is that he is willing to do so. We need to boost the tax rates and lower spending ($16.3 trillion) so we can get on a creditable path. Depending on what the sequestering and tax rates is the market will need to significantly lower the deficit and borrowing.
CEF Weekly Review: On average, the 13 closed-end fund (CEF) types registered a share price decrease of 0.8% for the week ending 12/7/12. The high-low spread (average percentage price change difference between the highest and lowest fund types) registered this week was +3.0% versus last week's high of +2.9%. On an aggregate unweighted basis, the weekly average price change for the approximately 525 CEFs in the GrowthIncome database was -0.8%.
The PowerShares CEF Income Composite (NYSEARCA:PCEF), an ETF that invests in taxable fixed-income CEFs, declined 0.3% for the week. PCEF is now up 7.0% yield-to-date on price appreciation. Currently, PCEF's trailing twelve months' yield is 8.0% (YTD monthly total return of 15.0%).
CEF Weekly Fund Type Performance: The leader in the CEF index was WrldEqFnds at a 1.0% gain for the week. The rest of the fund types were -0.1% to -2.0%. Interest rates where again on the rise as industrial bonds didn't have much of a change to move with record industrial bonds. InvGrdBndFnds (-2.0%), USMrtgBndFnds (-1.5%) and National and Single munis (-1.4%) were laggards.
Highest Focus Stock for the Week: Morgan Stanley China "A" Shares price increased 12.1% with a change of a positive 4.4% for the NAV. This would indicate a positive PrcNAVSprd of 7.7% (prices change relative to NAV change-negative at best). The average shares volume traded for 3 months was 192,784 shares. Wednesday through Friday was 664,600, 425,500 and 458,460, respectively. China is signal that the leading indicator will point to a rebound.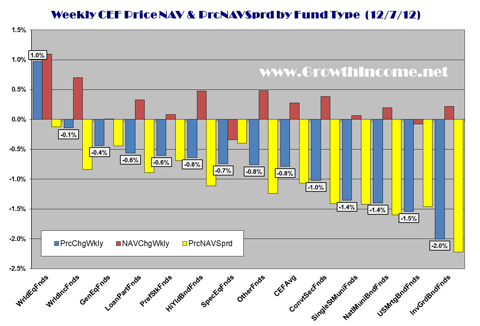 Lowest Spread and Focus Stock for the Week: ING Emerging Market High Dividend Equity share price declined -2.5% and its price advance was 1.2% from NAV; its PrcNAVSprd declined 3.7%. The portfolio is an equity security primarily of issuers in the emerging market. The annual quarterly yield is 10.4% and its premium to discount is about 4.3%. The last dividend was $.36 cents per share (10/1/2012) and it was off the $0.40 per share in July. Last dividend would be in December 2012.
Last Week's Focus Stock: Last week we had Cohen & Steers Selected Preferred & Income . The stock was off 0.8%. The ex-date is 12/19/2012 for a distribution of $0.172 per month.
Disclosure:
I am long PCEF, CAF. I wrote this article myself, and it expresses my own opinions. I am not receiving compensation for it. I have no business relationship with any company whose stock is mentioned in this article.