Introduction
I have not seen a focus article in the last couple years on the Corporate Executive Board Inc (NYSE:CEB) on Seeking Alpha. This is alarming since the company continues to grow in earnings, and share appreciation at a phenomenal rate.
Qualitative Analysis
Corporate Executive Board is a consulting firm that helps to drive corporate performance, they accomplish this by identifying and building upon proven practices that address key emerging and recurring business challenges.
They have a range of consulting products: assessing key performance trends and risks, organizing and managing critical talent in an organization, bench mark the leadership through comparative analysis, etc.
This company specializes and provides insight for corporate executives on how to better manage their business. This sounds fairly redundant, but the company plans on sustaining their growth by delivering on their four basic priorities.
1) Create "must have" data and insights by applying unique research methodology to the large datasets they produce and obtain.
2) Build brand strength through member impact by leveraging targeted service strategies and amplifying the CEB brand and message structure.
3) Global business through select broadening of product portfolio and continued penetration of international points of sale.
4) Deliver innovative products and services by identify new member decisions and works flow to support.
For most investors this sounds like gibberish, but the basic run down of their expansion strategy is simple. Develop new products, expand into more international markets, look for niche markets, and identify new business opportunities.
In summary their product sounds redundant (like usual B2B jargon), they have some really large clients, which keeps me fairly optimistic that the "specialized must have insight" really is specialized must have insight. Their largest clients include: Ikea, Trimas, Henkel, Nestle, British Airways, City National Bank, Social Security Administration (division of the U.S. government).
Technical Analysis
On December 7, 2012 Corporate Executive Board was the biggest gainer on the Standard & Poor's 400, rallying by 4.49%. The mid-cap stock boasts great performance on a technical basis, as it was able to break above the 200-day MA and sustain upwards by 5%. This implies that Corporate Executive Board may be on a longer-term up-trend that may last throughout 2013.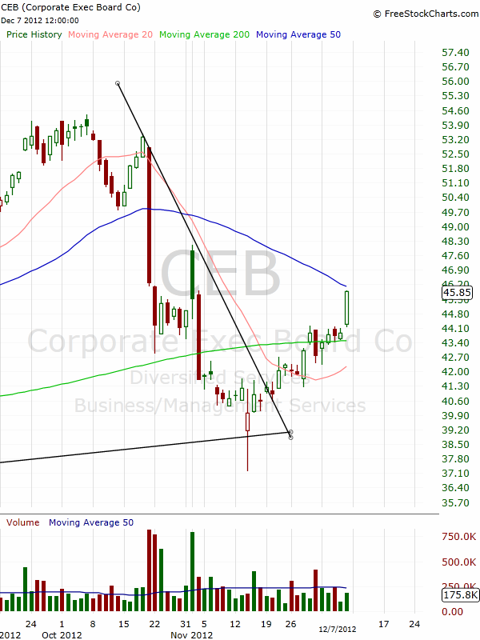 Click to enlarge
(Chart from freestockchart.com)
Notable resistance areas include 46.20, 53.20, and 54.60. The 54.60 area is the most important area to watch for.
Street Assessment
Analysts on a consensus basis have strong expectations for the company going forward.
| | | | | |
| --- | --- | --- | --- | --- |
| Growth Est | CEB | Industry | Sector | S&P 500 |
| Current Qtr. | 36.00% | 75.40% | 10.50% | 8.70% |
| Next Qtr. | 28.30% | 47.50% | 4.30% | 14.90% |
| This Year | 64.10% | 2.10% | 6.30% | 5.60% |
| Next Year | 19.10% | 20.80% | 4.20% | 13.20% |
| Past 5 Years (per annum) | -4.45% | N/A | N/A | N/A |
| Next 5 Years (per annum) | 16.27% | 14.48% | 14.08% | 9.16% |
| Price/Earnings (avg. for comparison categories) | 17.48 | 14.64 | -21.55 | 15.52 |
| PEG Ratio (avg. for comparison categories) | 1.07 | 2.06 | 0.19 | 0.12 |
(Table and data from yahoo finance)
The company shows great potential, analysts on a consensus basis have a 5-year average growth rate forecast of 16.27% (based on the above table).
| | | | | |
| --- | --- | --- | --- | --- |
| Earnings History | 11-Dec | 12-Mar | 12-Jun | 12-Sep |
| EPS Est | 0.55 | 0.38 | 0.36 | 0.46 |
| EPS Actual | 0.5 | 0.53 | 0.54 | 0.78 |
| Difference | -0.05 | 0.15 | 0.18 | 0.32 |
| Surprise % | -9.10% | 39.50% | 50.00% | 69.60% |
(Table and data from yahoo finance)
Not only that, the average earnings surprise percentage is 35.6% (based on averaging the surprise % in the above table).
Forecast and History

Click to enlarge
(Table created by Alex Cho, data from shareholder annual report, and price history is from yahoo finance)
The EPS figure shows that throughout the 2008-2010 period revenues dropped as the company was adversely affected by the great recession. Once the United States exited the recession in 2010-2011, the earnings improved.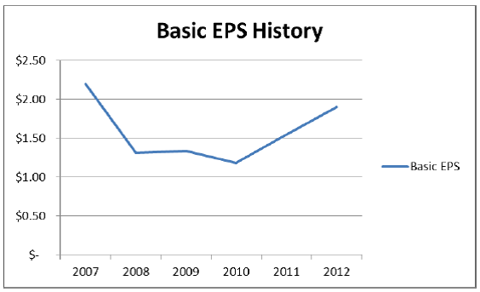 Click to enlarge
(Table created by Alex Cho, data from shareholder annual report)
By observing the chart we can conclude that the business is cyclical and is affected by macroeconomics. Therefore the largest risk factor to Corporate Executive Board Inc is the slowing of international gross domestic product growth. So as long as the world economy continues to grow, the company will generate outstanding returns over a 5-year time span based on the forecast below.

Click to enlarge
(Forecast and table by Alex Cho)
By 2016 I anticipate the company to generate $4.25 in earnings per share. This is because of their recent streak of beating analyst estimates, improving global outlook, and the continued success of their product offerings. The forecast is proprietary. Below is a chart with a forecasted stock price over the next 5-year period.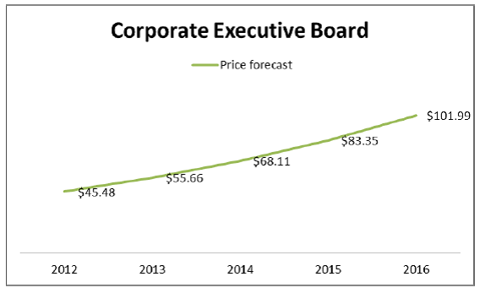 Click to enlarge
(Forecast and chart by Alex Cho)
Investment Strategy
Currently CEB is trading at $45.85 per share. This implies that the stock is trading near the forecasted price level of $45.48 for 2012. However, because 2012 is going to be over in approximately 20 days, it is likely that the stock will trade into the 2013 forecasted price point of $55.66. Earlier I mentioned a key resistance level on the chart was $54.60. This is where purely technical traders will sell their stock positions, but it is also close to my 2013 forecasted price point. The end take-away, there is time to buy the stock before it trades even higher!
Short Term
Over the next couple months, the stock is likely to appreciate from $45.86 all the way up to $54-55. This implies 22% upside from current levels. The technical chart readings implied a strong up-trend in price action, which supports my price target. The forecast, and the strong market sentiment indicates that a buy at $46 and a sell at $54-55 is both profitable and likely to happen.
Long Term
CEB is a great investment, I anticipate CEB to deliver upon the price and earnings forecast despite the risk factors of a global economic slowdown. Therefore by 2016 I stand by my price forecast of $101.99.
Conclusion
Corporate Executive Board is a great investment over both the long and short-term. The lack of coverage is absolutely surprising. The company is a growth stock, and so as long as the economy grows, Corporate Executive Board will continue to grow over the next five years.
Disclosure: I have no positions in any stocks mentioned, and no plans to initiate any positions within the next 72 hours. I wrote this article myself, and it expresses my own opinions. I am not receiving compensation for it (other than from Seeking Alpha). I have no business relationship with any company whose stock is mentioned in this article.