VJ Day, Honolulu Hawaii, August 14, 1945 from Richard Sullivan on Vimeo.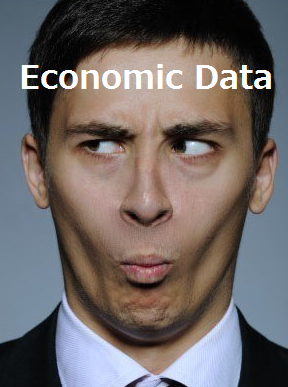 Out of the gate this morning was the whopping surprise in the monthly employment report (146K jobs added vs. 85K expected and prior 171K) and the unemployment rate dropped (7.7% vs. 8% expected and prior 7.9%). This looked great didn't it? But it wasn't. And, algos don't look too far under the hood at details but those were awful. The largest gain was in retail (part time holiday workers) followed by Hospitality and Leisure and Waste Services (Sandy?), while Construction jobs lost 20K. More importantly, the labor participation rate (only 63.6%) declined again as the number of people out of the work force increased by a stunning 540K people. In the end, more than 200K workers stopped looking for work.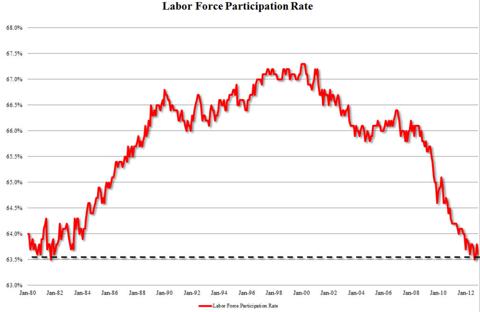 Further inside the numbers are two charts that really indicate what's happening within age groups.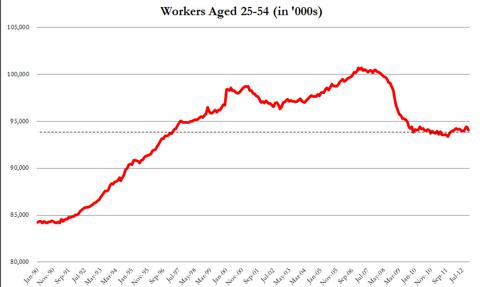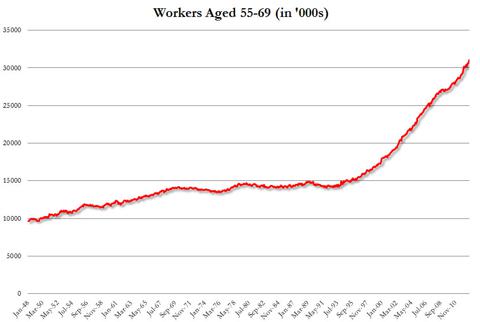 Stocks rallied initially on the employment report as algos jumped on the headline beat, but then settled lower after the largest miss in history for Consumer Sentiment (74.5 vs 82 expected and prior 82.7). The combination of these two reports became a head scratcher for investors. Consumer Credit expanded to $14.2 billion vs, $12 billion expected with most of this allocated to the expanding Student Loan bubble. The latter is now over $1 trillion with 11% now over 90 days past due. (Isn't it curious how "$ trillion" is now ubiquitous in our dialog?)
Meanwhile, in fiscal cliff news, House Speaker John Boehner had a mini-press conference where he stated: "Obama is slow-walking to the fiscal cliff." An hour later, House Minority Leader Nancy Pelosi gave a rambling press conference which was relatively hard to understand. She indicated (something rumored) that raising the tax rate to 37% vs. 39% as expected she may not know if that will bring in enough money. Frankly, even taxes at 39% won't bring in enough money to change the deficit and debt much. Frankly, it's all a game, but we must assume negotiations are continuing among parties behind closed doors.
In China markets rallied on the "belief" economic data released this weekend will be positive. The euro (NYSEARCA:FXE) continued to fall as the German Bundestag cut economic forecasts reiterating what the ECB forecast Thursday. Naturally this meant the dollar (NYSEARCA:UUP) rose but moderated after employment and Consumer Sentiment data was given a second look.
Large cap stocks (IBM, CVX, MCD, WMT and so forth) continued to climb while tech fell once again led by renewed selling in Apple (NASDAQ:AAPL). The assumption with some stocks like Apple has to do perhaps as forced hedge fund liquidations add collateral damage to other investors as stops are hit as selling feeds on itself for now. Financials (NYSEARCA:XLF) and banks (NYSEARCA:KBE) were also leaders.
Bonds (NYSEARCA:IEF) were weaker and this may be a defensive move as the Fed meets again next week. Commodities (NYSEARCA:DBC) (NYSEARCA:USO) weakened on the higher dollar and fears over weakening global economic growth. Gold (NYSEARCA:GLD) was flat overall and may also be seeing some hedge fund liquidation as many very large funds have heavy weightings in the metal. (Paulson's funds for example) Speaking of hedge funds, the mammoth SAC hedge fund has seen fund managers now named as co-conspirators in the insider trading case recently uncovered by the SEC.
In the late Friday news dump is a note from MarketWatch that key SEC commissioner Aguilar is willing to allow floating NAV money market funds. This could drive money away from brokerage accounts and be a big deal.
Volume on Friday was again quite light while breadth remained mixed.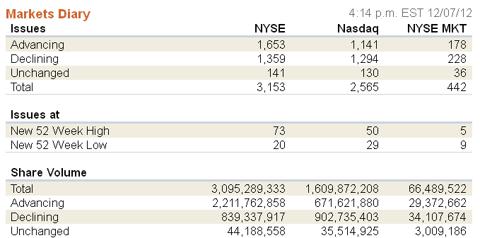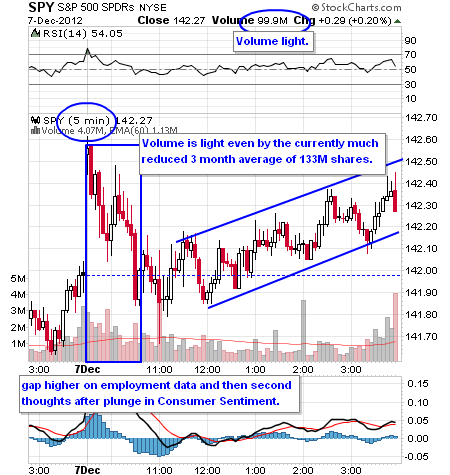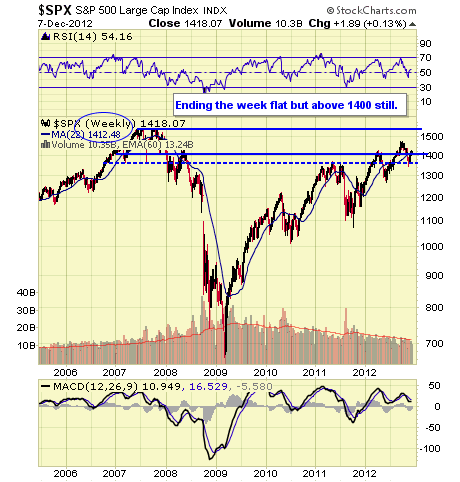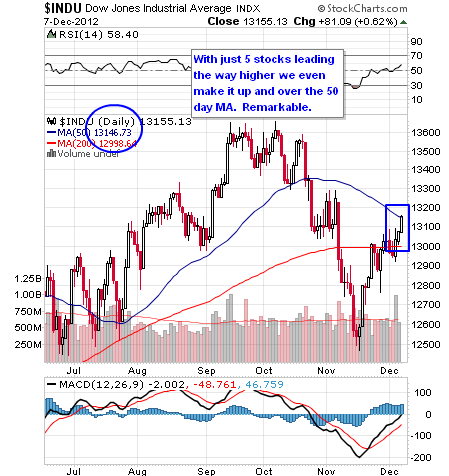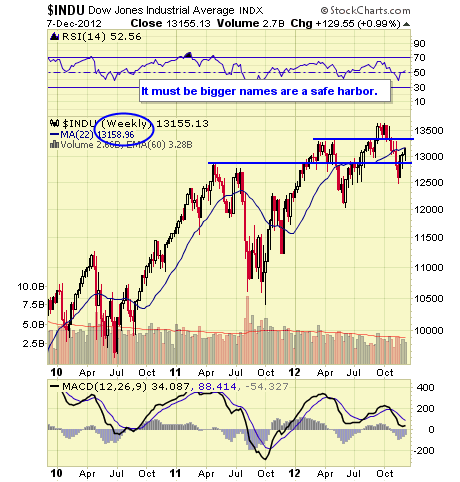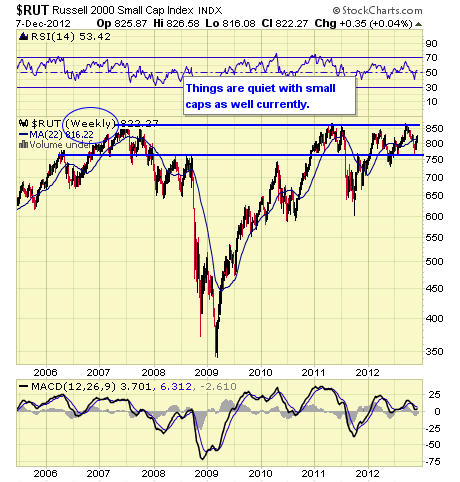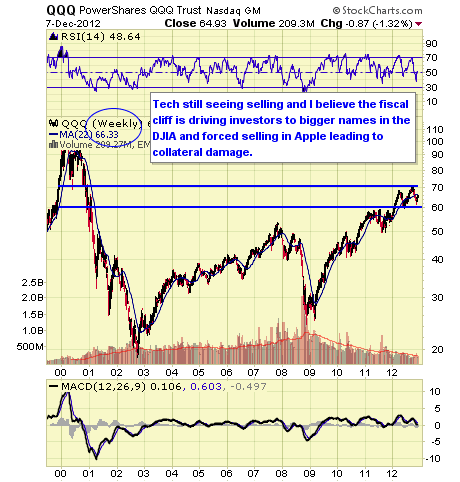 Continue to U.S. Sector, Stocks & Bond ETFs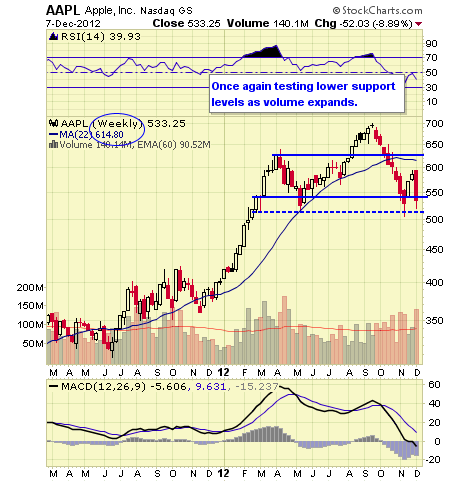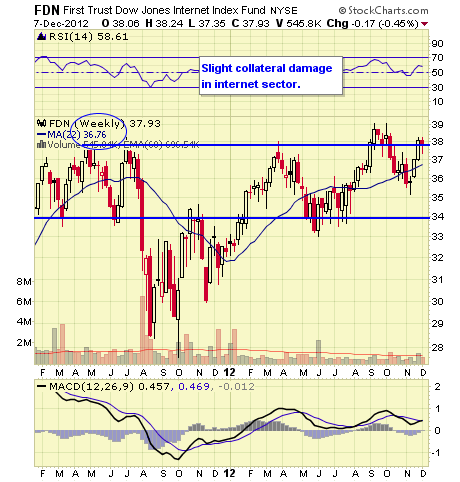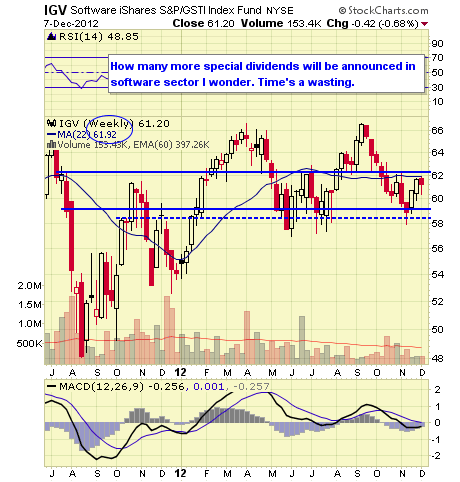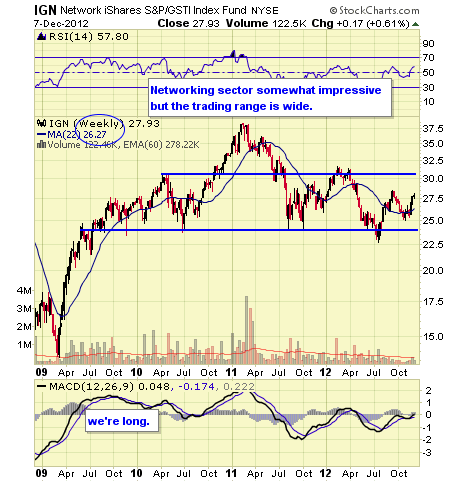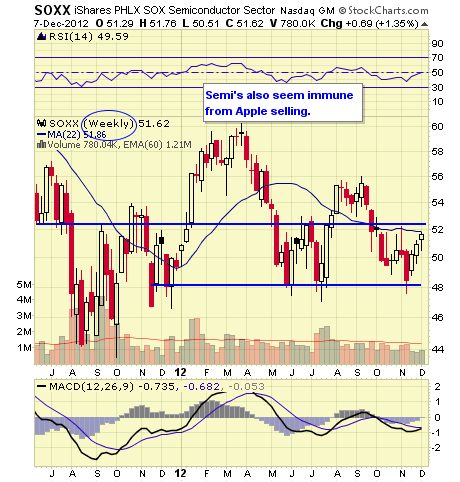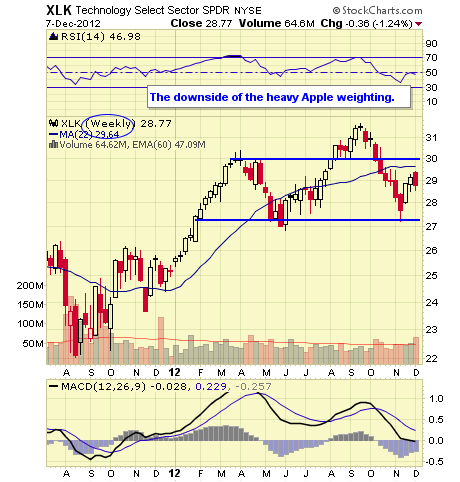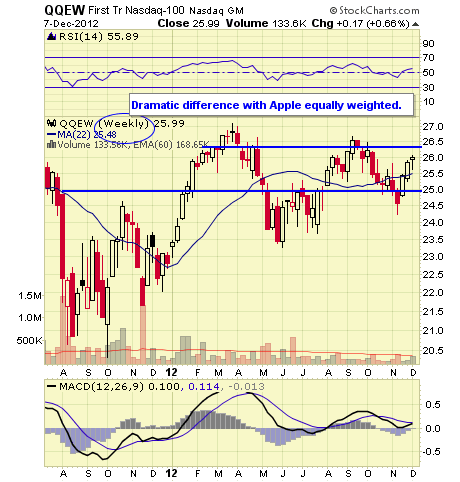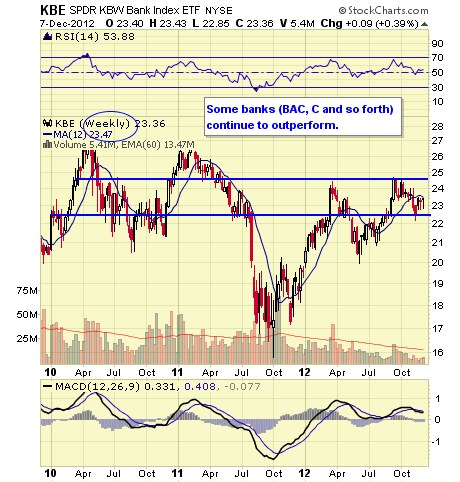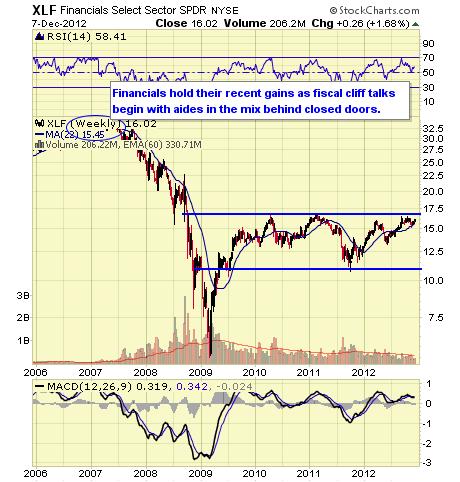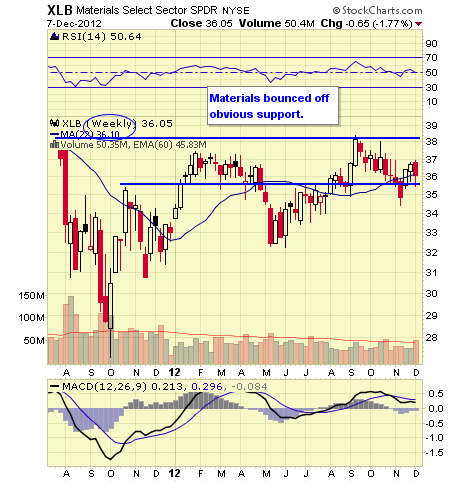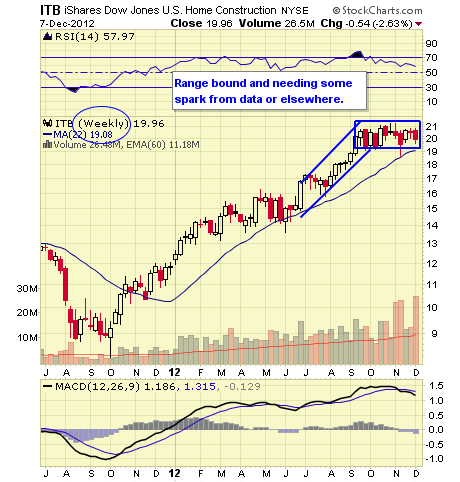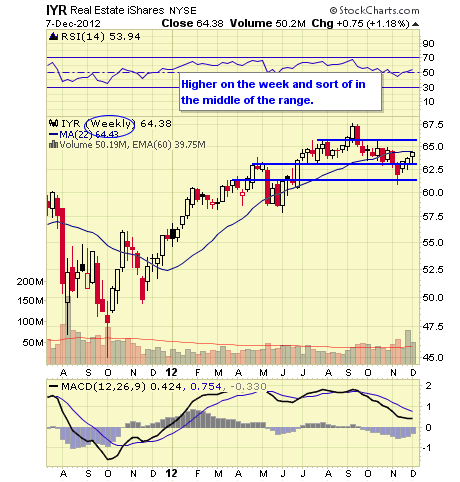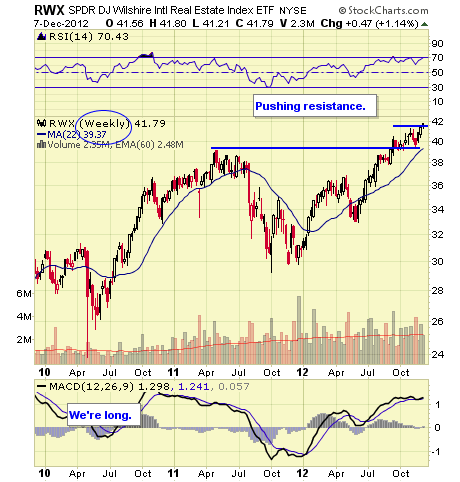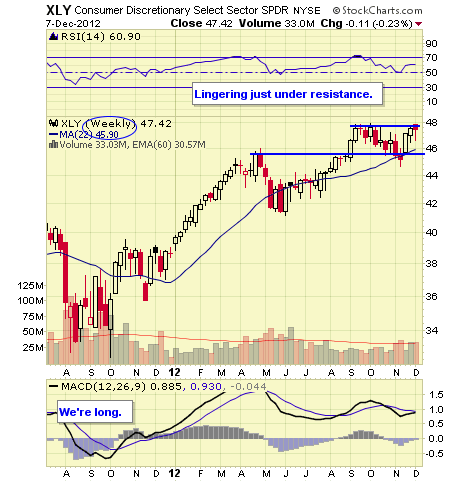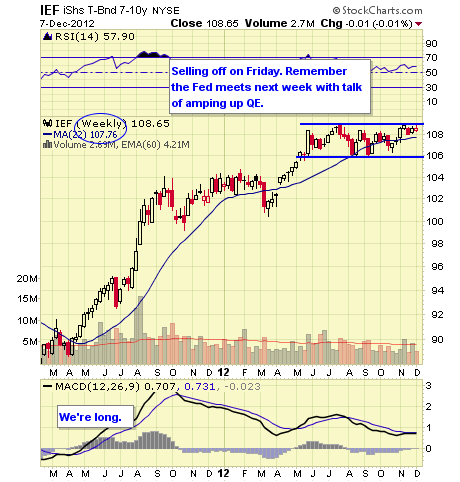 Continue to Currency & Commodity Market ETFs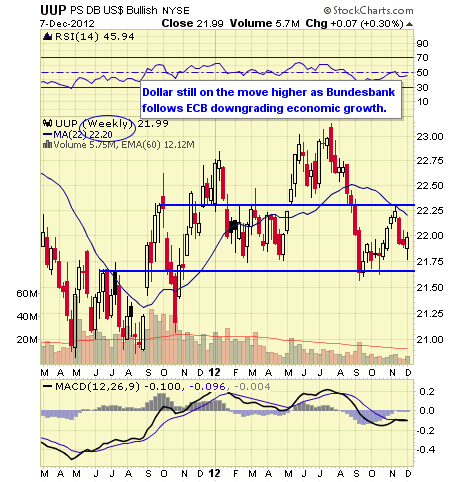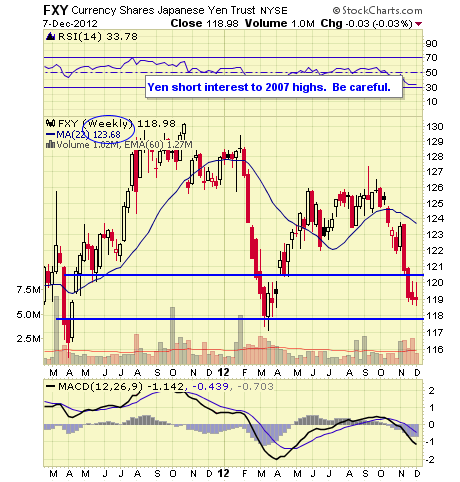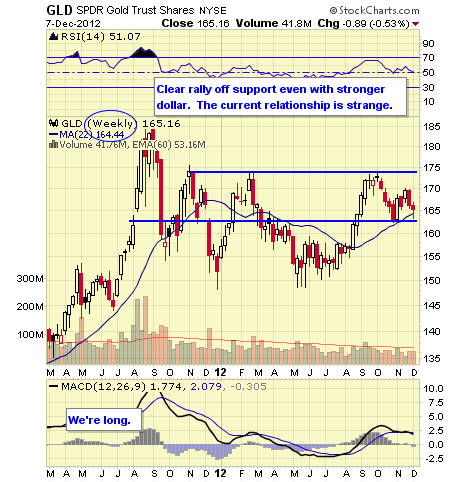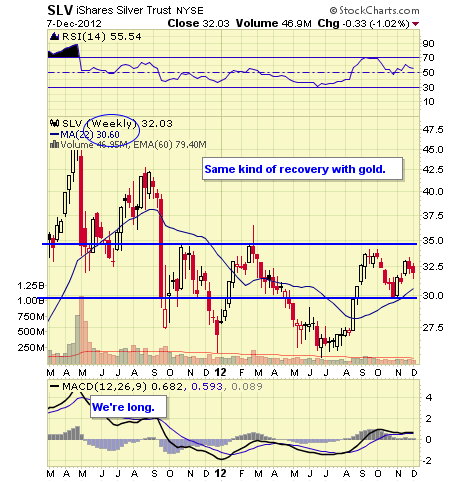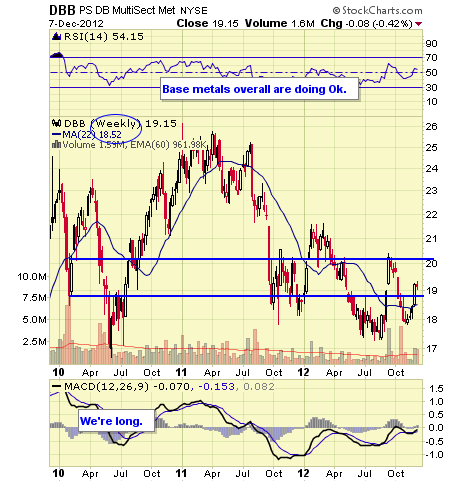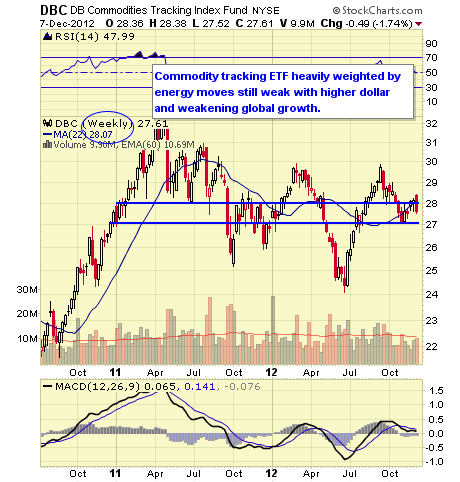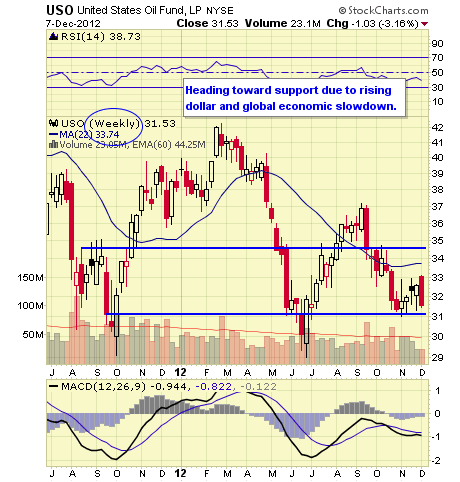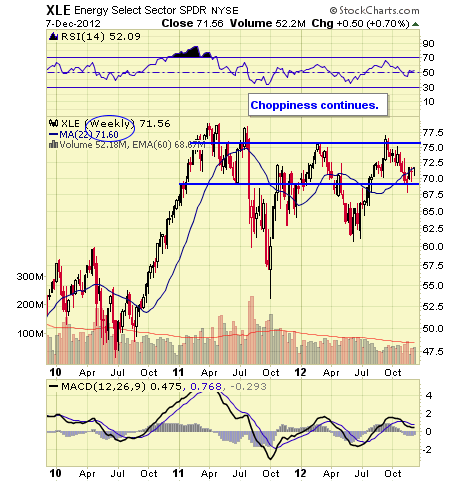 Continue to Overseas Sectors & ETFs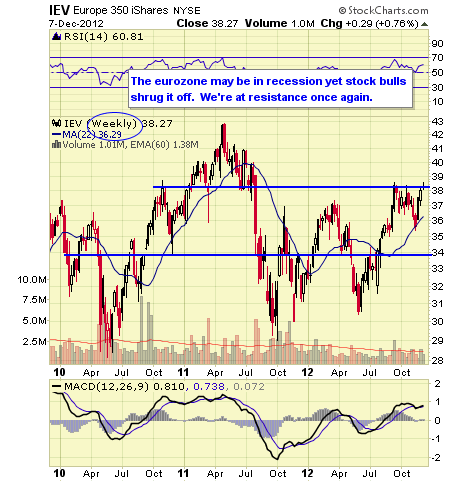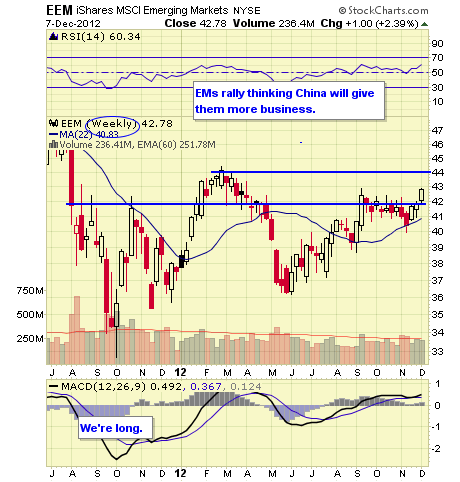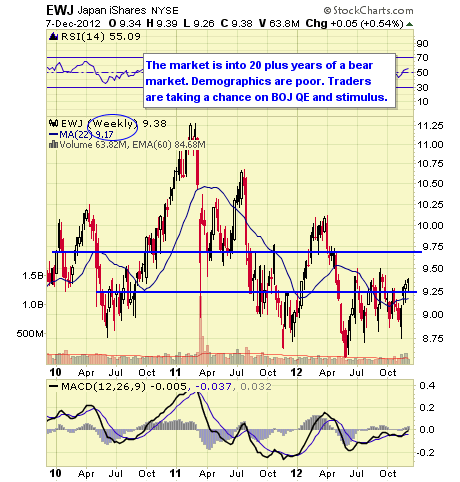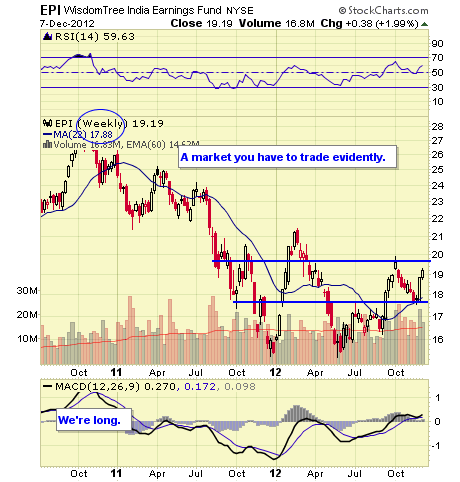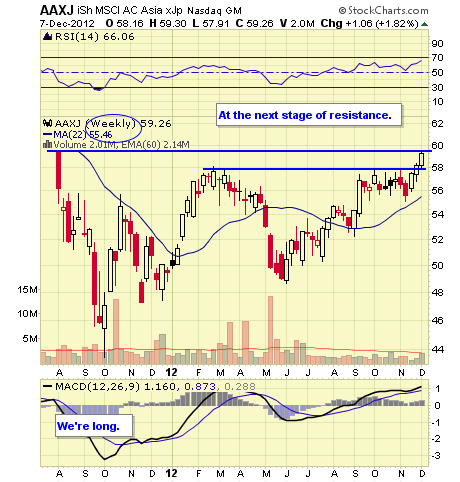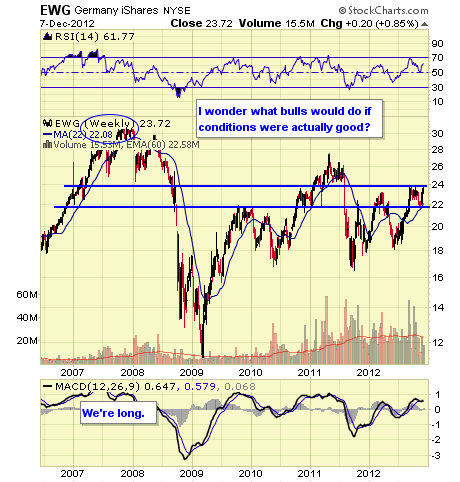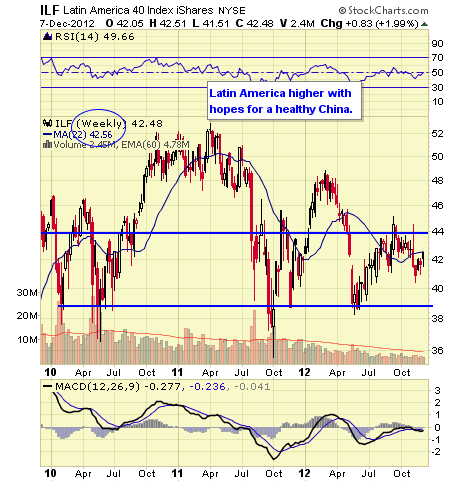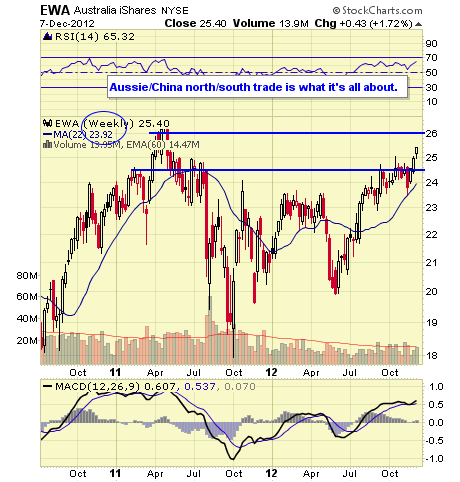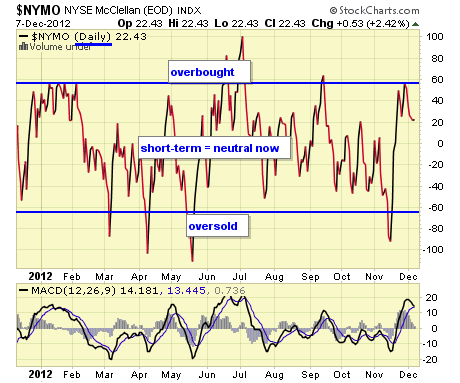 The NYMO is a market breadth indicator that is based on the difference between the number of advancing and declining issues on the NYSE. When readings are +60/-60 markets are extended short-term.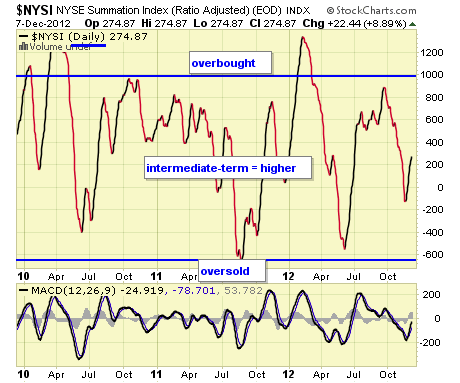 The McClellan Summation Index is a long-term version of the McClellan Oscillator. It is a market breadth indicator, and interpretation is similar to that of the McClellan Oscillator, except that it is more suited to major trends. I believe readings of +1000/-1000 reveal markets as much extended.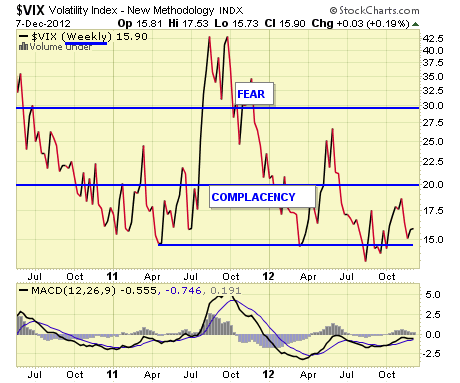 The VIX is a widely used measure of market risk and is often referred to as the "investor fear gauge". Our own interpretation is highlighted in the chart above. The VIX measures the level of put option activity over a 30-day period. Greater buying of put options (protection) causes the index to rise.
Continue to Concluding Remarks
Under the hood. the employment report was poor no matter how the media spins it. The nail on poor data was Consumer Sentiment which was quite poor and may be somehow connected to fears over the fiscal cliff stalemate.
There must be some conviction for investors in emerging markets and large cap U.S. sectors the fiscal cliff is no big deal. Or, maybe it's just a "trading window" in the seasonally strong holiday period. One thing is a fact the sector rotation continues even in thin trading.
It's the Pearl Harbor anniversary and while it's also not VJ day (Victory over Japan) I'm always moved by the video of the latter. Having lived in Honolulu previously for 35 years, I knew quite a few veterans who stayed back and called Hawaii home. One, now passed away like many others, is in this video.
Disclaimer: The ETF Digest maintains active ETF trading portfolio and a wide selection of ETFs away from portfolios in an independent listing. Current "trading" positions in active portfolios if any are embedded within charts: Lazy & Hedged Lazy Portfolios maintain the follow positions: VT, MGV, BND, BSV, VGT, VWO, VNO, IAU, DJCI, DJP, VMBS, VIG, ILF, EWA, IEV, EWC, EWJ, EWG, & EWU.
The charts and comments are only the author's view of market activity and aren't recommendations to buy or sell any security. Market sectors and related ETFs are selected based on his opinion as to their importance in providing the viewer a comprehensive summary of market conditions for the featured period. Chart annotations aren't predictive of any future market action rather they only demonstrate the author's opinion as to a range of possibilities going forward. More detailed information, including actionable alerts, are available to subscribers at www.etfdigest.com.
Disclosure: I have no positions in any stocks mentioned, and no plans to initiate any positions within the next 72 hours. I wrote this article myself, and it expresses my own opinions. I am not receiving compensation for it. I have no business relationship with any company whose stock is mentioned in this article.