The quote "Bulls make money, bears make money, pigs get slaughtered" is most associated these days to the Mad Maestro of Mad Money, Jim Cramer. However it is actually an old Wall Street saying that counsels against excessive greed and impatience. I think the saying is pertinent here in the last month of the trading year. It definitely should be paid heed to for those investors who have racked up huge gains in some of the high P/E stocks whose stock prices have gotten ahead of their valuations. They could be highly vulnerable should investors decide to sell to lock in gains and avoid a much steeper capital gains tax rate in 2013. For those wanting to maintain their positions, I would advise to look into buying out of the money puts or selling covered calls on those positions to protect gains or to narrow losses should a sell-off occur. Here are three high PE stocks that have lots of potential cap gains that could be potential losers over the next three weeks.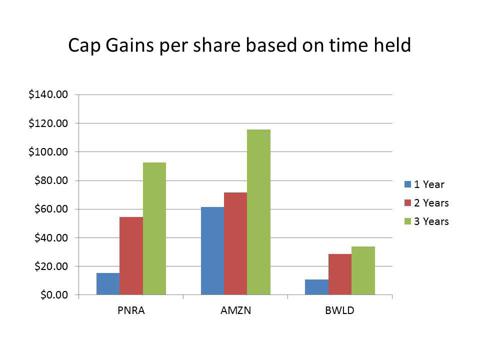 Panera Bread (NASDAQ:PNRA) - The stock has already dropped some 10 points over the last month but I believe shares still have room to fall. The restaurant industry is likely to face numerous headwinds over the next few years including higher agricultural commodity input costs due to QE efforts from the Fed and our continued ethanol policy driving 40% of corn production into fuel, much higher employee costs due to Obamacare and increased unionization efforts aimed at low income industries. The shares are still selling near the top of their five year valuation range based on P/S, P/CF and P/B.
Amazon (NASDAQ:AMZN) - This online retailing juggernaut continues to defy gravity at over 140x forward earnings. I think the shares are vulnerable given they are selling at the very top of their five year valuation range based on P/E, P/CF and P/B. The company will also face earnings headwinds given they are going to have to charge sales taxes on more and more of their transactions and face years of extra costs building out their distribution network. Consensus earnings estimates for FY2012 and FY2013 have come down sharply over the past three months, but have not been reflected in the share price yet.
Buffalo Wild Wings (NASDAQ:BWLD) - This company faces the same long term headwinds as Panera Bread. The company has missed earnings estimates each of the last two quarters and consensus earnings estimates for both FY2012 and FY2013 have come down over the last two months. Football season has less than two months left to it which also could erode sentiment on the stock as it is so associated with football in its advertising and football weekends represents some of the best sales days of the year. The company is also highly vulnerable if chicken wing prices rise (20% of operating costs).
On the flip side of avoiding being a "Pig", Apple (NASDAQ:AAPL) offers an opportunity to make money on the "bull" side. The shares have fallen some $170 a share since their peak around two months ago. Some of this decline is due to cap gain tax avoidance given the huge run up in the shares over the past three years (see chart). Everything from eroding market share in the Tablet space, supply problems in meeting iPhone 5 demand and even the "Death Cross" have been offered up as reasons behind the shares recent decline.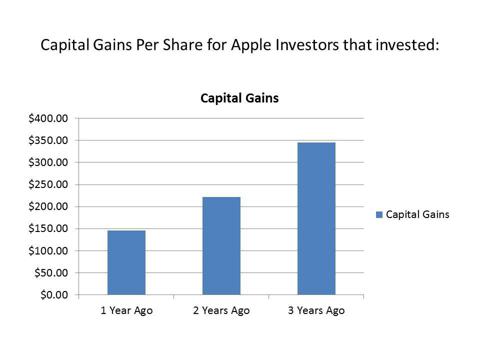 In my opinion, Apple is a solid long term buy and pullbacks like this should be viewed by investors as early Christmas gifts. The time to worry about Apple will be when its iStores are not packed with some of the highest spending per square foot in retail or when you go to Starbucks and every other person is not playing on an Apple product (iPhone, iMac, iPad,…etc..). At less than 10x forward earnings after subtracting cash, I would use the recent sell-off to add shares in this undervalued tech juggernaut.
Disclosure: I am short AMZN, PNRA. I wrote this article myself, and it expresses my own opinions. I am not receiving compensation for it (other than from Seeking Alpha). I have no business relationship with any company whose stock is mentioned in this article.
Additional disclosure: I am also long AAPL