Although not proof positive of better times ahead, we were encouraged last week to see a break of a negative trend in the money flows into emerging markets funds.
For the week ending November 5, there were net inflows of $413 million into emerging markets stock funds. This is a significant improvement from the previous week, when there were net redemptions of $1.6 billion. Two weeks ago, the net outflows from emerging markets funds totaled $750 million.
Year to date, the outflows are estimated at $45 billion, nearly 40 percent of the cumulative inflows from 2003 through 2007.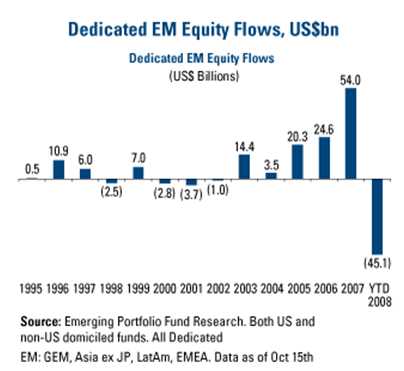 Much of this can be explained by the sector's underperformance — all of the countries represented in the MSCI Emerging Markets Index are down in 2008, many of them more than 50 percent. This compares to the 37 percent decline in the S&P 500 this year.
It is worth noting that, even with the bleak results in 2008, the MSCI EM Index has still outperformed the S&P 500 by more than 200 percent since 1998.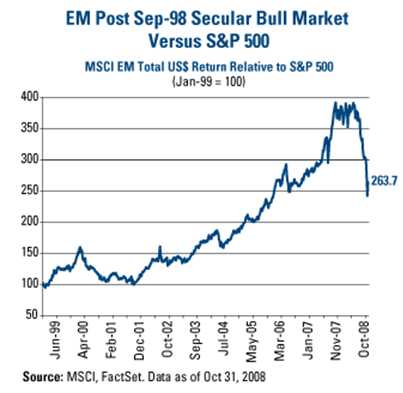 What might explain why investors could be interested in emerging markets now?
First, as we've said earlier, it's important to not lose sight of fundamentals, which in the long run will be the driving force in the markets. In terms of valuations, the trailing price-to-earnings ratio hit an all-time low of 6.5x in mid-October, with an equity risk premium of 1,100 basis points.
It is likely that investors are noticing these compelling valuations, as in the last two weeks higher stock prices in the emerging markets universe have driven trailing P/E up to 8.2x. While these P/Es have risen, emerging markets are still trading at a 27 percent discount to the developed markets universe.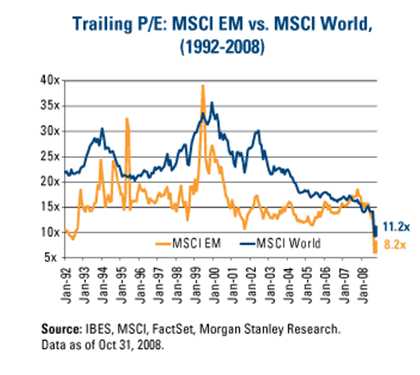 The table below illustrates the valuations within the BRIC group and emerging markets as a whole.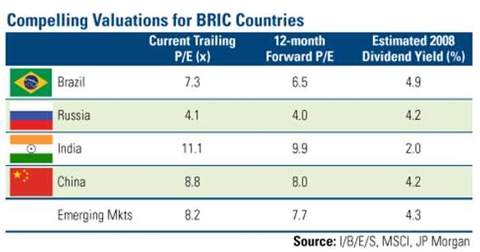 Click to enlarge
Another development worth noting is that many emerging markets' economies are not as leveraged as those of developed countries, which reduces bankruptcy risk and presents opportunities for the financial services sectors in selected markets.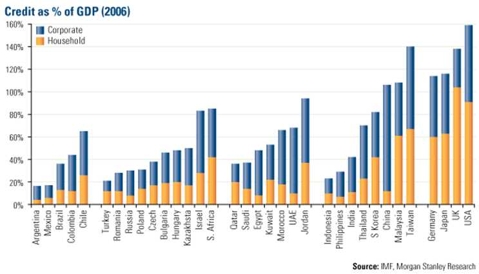 Click to enlarge
International investors are understandably watching developments in the United States, the world's largest economy and a very important market for emerging markets exporters. It is very likely that a prolonged recession in the U.S. would significantly dampen demand for emerging markets products.
However, as the graphs below illustrate, in the last few years we have seen a gradual increase in emerging market nations trading with each other. At the same time, the U.S. portion of the emerging market exports declined by a third since 2000.
Not surprisingly there are big differences between emerging market countries in terms of their dependence on the U.S.—Mexico's exports, for example, account for 25 percent of its GDP, while for Poland and Turkey the impact is only 1 percent.
Click to enlarge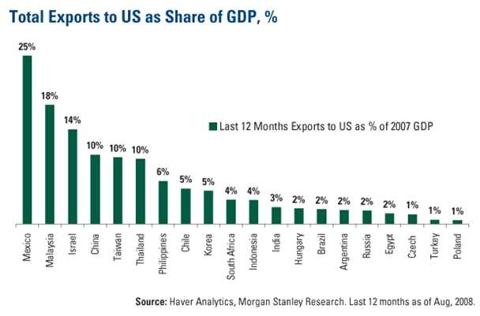 Click to enlarge
A new research report from Morgan Stanley points out that strong intervention by developed market governments to support their financial sectors is a key positive for emerging markets, as is reduced inflationary pressure, which will allow the emerging nations to follow a looser monetary policy.
The same report, however, also highlights some potential negatives: price weakness in commodities, upon which many emerging economies are dependent, and a continuation of the dollar's recent rally, which could further hurt exports.
Disclosure: None.